The Future Is Now With The BMW Vision Next 100
The Ultimate Driving Machine just went into warp drive.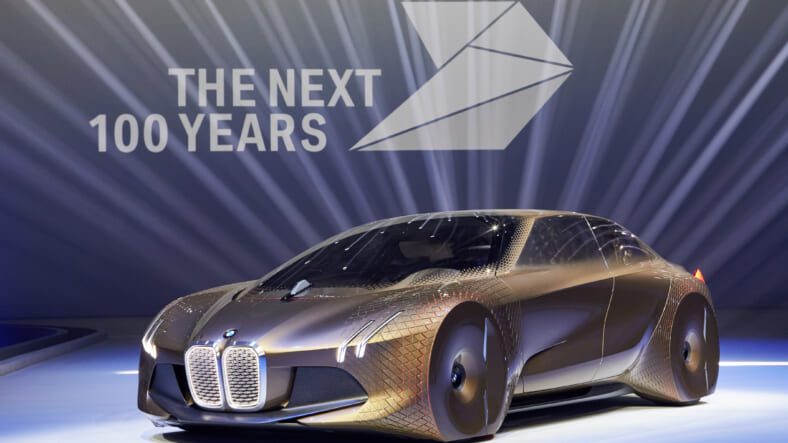 In commemoration of its hundredth anniversary, BMW revealed its futuristic Vision Next 100 concept car to illustrate the trends we can expect to see bloom during the Bavarian brand's second century.
Recognizing, as it does with the current i8 hybrid sports car, that a spoonful of sugar helps the medicine go down smooth, BMW's designers have wrapped the sci-fi-inspired four-door in a body that looks like a sports coupe. "Our objective with the BMW VISION NEXT 100 was to develop a future scenario that people would engage with," stated Adrian van Hooydonk, Head of BMW Group Design in a release on the space age car.
Naturally, the Vision Next 100 is continuously connected to data services. Safety technology that BMW brands "Alive Geometry" surveys the car's surroundings to guard against collisions.
Of course, sooner rather than later in the next 100 years, cars will become autonomous, so the Vision Next 100 offers an "Ease" mode in which the front seats face each other for conversation during autonomous operation.
As a BMW Ultimate Driving Machine, there is still a "Boost" mode too, which sees a steering wheel emerge from its hiding place in the dashboard as the front seats pivot around to face forward. 
The car's computer systems then provide support to the driver, with information on the driving line, turn-in point for corners and optimum speed to serve as a computerized driving coach.
BMW will bring the Vision Next 100 and other components of its 100th anniversary celebration to the U.S. at the New York International Auto Show later this month.
For the latest car news, follow @MaximRides and Dan Carney on Twitter.