BMW's Armored X5 Protects Against AK-47 Bullets, Grenade Blasts and Drone Attacks
This badass Beamer is built to protect passengers from absolutely everything.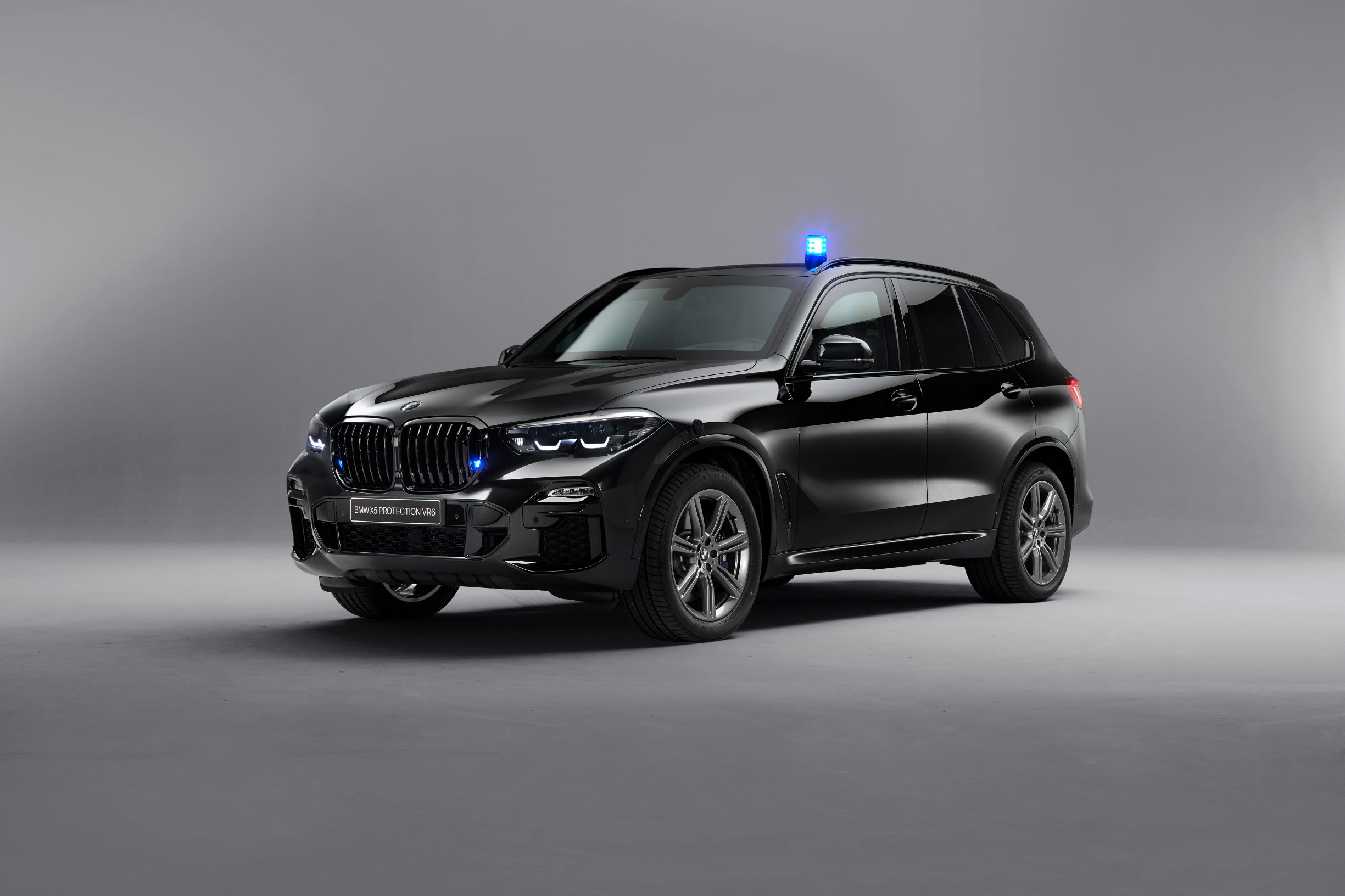 Much like Land Rover's bulked-up Range Rover Sentinel, BMW has fortified its luxurious X5 crossover to keep at-risk VIPs safe from all manner of mayhem, including gunfire, grenades and bombs.
At the core of the BMW X5 Protection VR6 is the armored cabin. Molded components constructed from high-strength steel blend seamlessly into the doors, side frame, roof and front wall. An aluminum splinter shield protects the undercarriage, and each 33 mm-thick glass panel is reinforced with an internal polycarbonate layer. 
A special sheathing ensures that the tank closes automatically following an attack in order to prevent fuel spillage, and run-flat tires with reinforced sidewalls allow the driver to make a getaway even after taking damage. 
How much damage, you ask? The security-glazed body is rated to protect against rounds as large as 7.62 × 39mm, a caliber commonly found in the AK-47 assault rifle and certain AR-15-style platforms. 
The cockpit can withstand lateral blasts of 15 kg of TNT at a distance of just over 13 feet, and the floor's armor plating will protect against DM51 frag grenades. Even after an explosion, all windows remain firmly in position, preventing the formation of gaps between the armor and the body.  
BMW also offers further fortifications as options. Enhanced underbody reinforcements made of fiber composite will hold up against significantly larger HG85 frag grenade blasts, and an armored roof reinforced with security steel will protect against drones or small aircraft equipped with up to 200 grams of C4. 
Other available upgrades include LED front flashers in the radiator grille, rear flashers, roof-mounted light beacons, a roof antenna with additional receiver for digital radio, and additional armor-plating for the vehicle batteries.
Because all components were developed specifically for this model, the armored X5 is deceptively tough and "virtually indistinguishable" from the regular X5.
As Car and Driver notes, the suspension and brakes have been calibrated to compensate for the increased weight, so the 4.4-liter, 530-horsepower V8 can still push the armored X5 to 60 mph in an impressively brisk 5.9 seconds and an electronically limited top speed of 120 mph. 
BMW didn't reveal a price for the X5 Protection VR6, but larger vehicles with after-market armoring like this Mercedes-Benz AMG 63 cost up to $1.2 million, so your guess is as good as ours.