The Brabus 800 Widestar Is a Killer Custom Mercedes G-Wagon
This 800 horsepower off-roader is bad to the bone.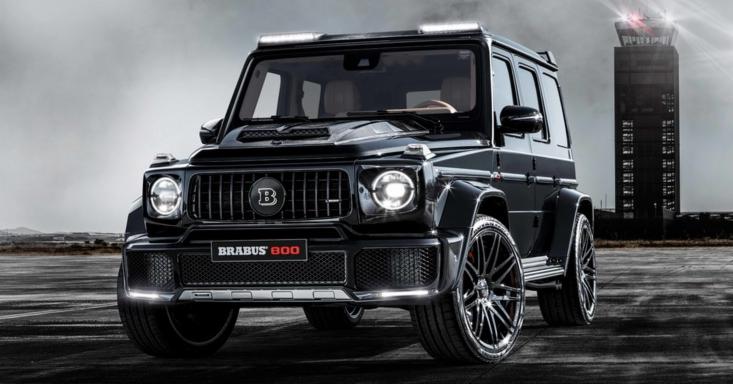 Brabus
The "Final Edition" of Brabus' menacing 2018 Mercedes-AMG G63 builds was perhaps the baddest G-Wagen we'd ever seen…until now. 
The German tuning house just unleashed an even more impressive super SUV that's based on the 2019 G63, and it's called the Brabus 800 Widestar.
As the name suggests, the brutish ute is four inches wider than stock and runs a 4.0-liter, twin-turbo V8 that produces a whopping 800 hp. That's 100 more horses than the larger 5.5-liter V8 in the aforementioned Final Edition offered and 215 more than you get in the standard G63. 
That enormous output combined with a nine-speed automatic transmission make the Widestar good for a 4.1-second zero-to-60 mph time. Amazingly, the admittedly boxy off-roader is just a half-second away from catching the aerodynamic Lamborghini Urus in a sprint. 

As with all Brabus jobs, performance is only half the story. The Widestar is decked out with glossy black carbon fiber on the hood, spoiler, spare wheel cover and fender flares. 
A stainless-steel exhaust system with its own "Coming Home" and "Sport" modes let you choose how loud the engine roars, while enlarged 23-inch custom "Platinum Edition" wheels with high-performance tires make the 4×4 ready for off-road duty.
The all-leather interior is among the most luxurious we've seen from Brabus. The premium cuoio-colored upholstery with "Rising Diamond"-stitching contrasts brilliantly with the murdered out exterior. 
For drivers who want to manually control the tranny, there are slick aluminum shifters on the steering wheel. 
Much like the Rolls-Royce Phantom Tranquility that debuted at this year's Geneva Motor Show, the Widestar's roof is embedded with multi-colored LED lights that mimick the star-lit night sky. 
Brabus has yet to reveal the price of this beauty, but feel free to reach out here if you want to transform your new G-Wagen into an 800 Widestar.