Breitling and Triumph Celebrate Cafe Racer Culture With Stylish Watch & Motorcycle Collab
The historic British brands' first-ever collaboration will get your motor runnin'.
Breitling and Triumph join forces for the first time with a stylish, limited edition watch and motorcycle collab celebrating cafe racer culture.
The venerable British brands have an intimate connection to the culture of stripped-down motorcycle customization that arose in 1960s London and migrated to the U.S. in the 1970s.
Breitling's Top Time Triumph chronograph features an ice blue dial that harks simultaneously to shades of the 1951 Triumph Thunderbird 6T and the Breitling Top Time Ref. 815 of the 1970s.
Looking more closely at the dial, the Breitling and Triumph logos sit at 12 and 6 o'clock, while the distinctive brushed finish forms a bow-tie motif around the subdials. Top Time enthusiasts will recognize this "Zorro dial" design, named for its resemblance to the iconic swordfighter's mask.
Other features include a calfskin leather strap, a Breitling Caliber 23 movement with a 48-hour power reserve, and a cool caseback emblazoned with an etching of Triumph's historied parallel-twin engine.
That brings us to the bikes, of which 270 will be built (Buyers will also have exclusive to the Breitling Top Time Triumph Owner's Edition, featuring a sunray-finished dial and a serialized caseback matching the moto.)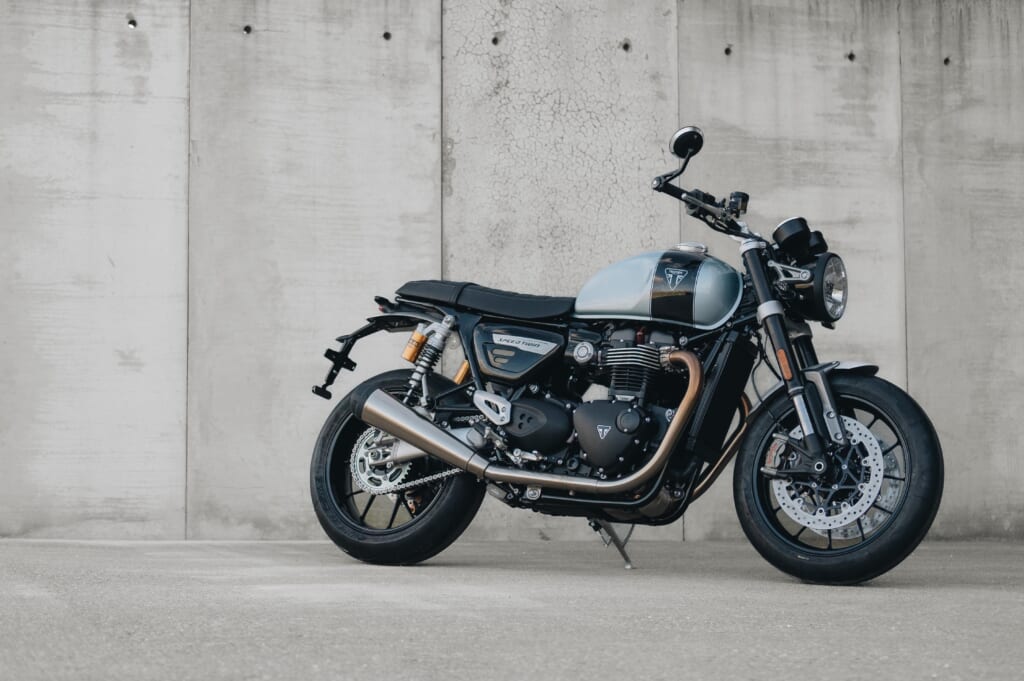 The color scheme complements the chronograph while also paying homage the Triumph Thunderbird 6T piloted by Marlon Brando in 1953's The Wild One. But the build is based on the Speed Twin, which derives 100 horsepower and 83 pound-feet of torque from a 1200cc parallel twin.
It also comes equipped with an upgraded chassis featuring a fully adjustable Ohlins piggyback twin-rear suspension, plus a host of timepiece-inspired touches.
Billet-machined aluminum clutch and alternator embellishers with a dark anodized finish showcase a Breitling logo, and a perforated black leather seat with contrasting gray stitching complements watch strap.
But a favorite feature will likely be the dash's speed and RPM gauges, crafted to match the Top Time Triumph tachymeter's style.
Priced at $5,500 and $18,300, the Top Time Triumph watch and Speed Twin Breitling bike are available now.