AC/DC Singer Adds Jaguar Project 7 Supercar To His Killer Collection
It's a long way to the top if you wanna beat Brian Johnson's collection of 18 luxury cars.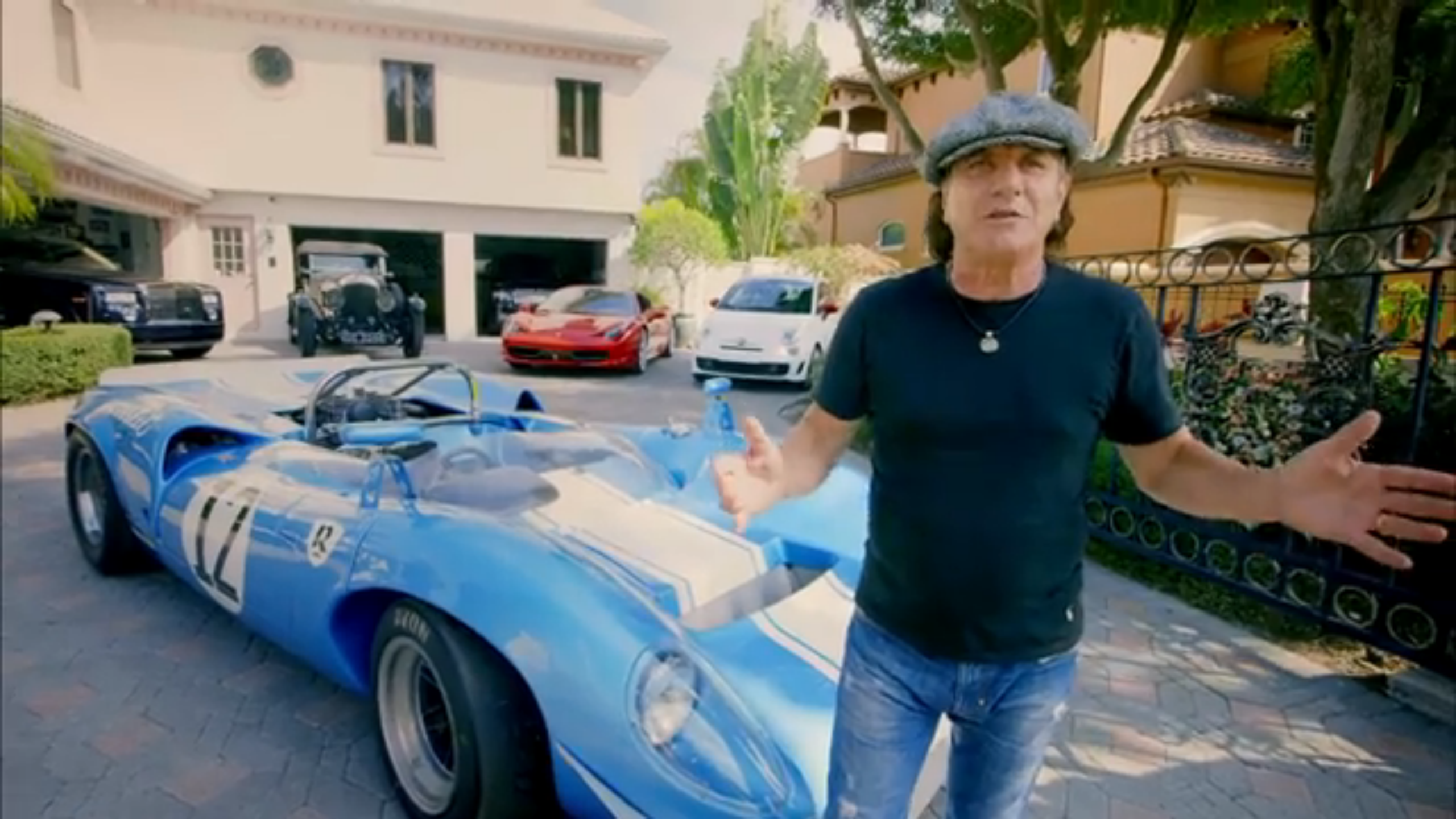 Brian Johnson is best known as the lead singer of AC/DC, but in collector circles, he's famed as a connoisseur of some of the finest cars to ever turn a wheel. The latest addition to Johnson's enviable fleet of 18 is Jaguar's limited edition F-Type Project 7, a track-centric open-topped roadster.
"I love it," Johnson gushed in a statement released Tuesday by Jaguar. "It's a proper supercar and boy oh boy does it have some grunt to it. While it's blisteringly fast, I feel so safe in it. I love the steering, the handling, and those carbon ceramic brakes are amazing. The discs are as big as the wheels on my racing Mini. Just listen to that noise from the exhaust, who needs a stereo when you have a soundtrack like this?"
What's not to like? The 567-hp two-seater rockets to 60 mph in 3.8 seconds, tops out at 186 mph and looks great doing it.
" tml-embed-width="560″ tml-embed-height="315″ tml-render-layout="inline
Johnson has a great appreciation for the English marque's heritage, buying his first Jaguar in 1972. That was a classic Mark II sedan, the car whose styling inspired the more recent Jaguar S-Type. Later, he owned a 1973 E-Type V12 convertible, but sold that to his brother-in-law about ten years ago.
Now, when Johnson isn't touring with AC/DC—which sold more concert tickets than any other act in 2015— he spends time playing with his various expensive toys kept at his Florida home. 
"I drive all my cars at least twice a week," he said. "These are living things that need to be exercised. My favorite drive with the Project 7 is my local State Road 64 from Bradenton over towards Sebring. It's full of bends, elevation changes and lovely long straights. You can really open it up."
With 18 cars in his collection, driving them all regularly should keep him busy. Among his top rides is his beloved Rolls-Royce Phantom. 
"It is one of my favorite cars ever built," he explained on his show, Cars That Rock, on Britain's Quest network. "Since I was a kid there was something magical about Roll-Royce. It epitomizes everything I think about English motorcars." 
Speaking of classic English cars, Johnson also loves his vintage Bentley 4.5-liter Vanden Plas. "You had to have a lot of money, you had to have a lot of balls to get in one of these cars racing around Brooklands," Johnson observed. "A lot of people died driving them. They got five 24 Hours of LeMans wins. It just oozes Britishness."
All well and good, but Johnson's absolute favorite four-wheeled plaything is his Ferrari 458 Italia. 
"I just love this car. It is probably one of the most beautiful Ferraris I've seen since the Dino or the 250 Testa Rossa, which were also stunners. I know there's gonna be a lot of people saying that's wrong and disagreeing with me. I really don't care. For me, Ferrari got it bang on with this motorcar. Everything: the speed, the style, the comfort. It drives gorgeously, and I feel great in it."
And isn't that all we want from our favorite Ferrari?
For the latest car news, follow @MaximRides and Dan Carney on Twitter.