This Miami Motorcycle Shop Builds Some of the World's Best Bespoke Bikes
Moto Studio's two-wheeled creations have the need for speed.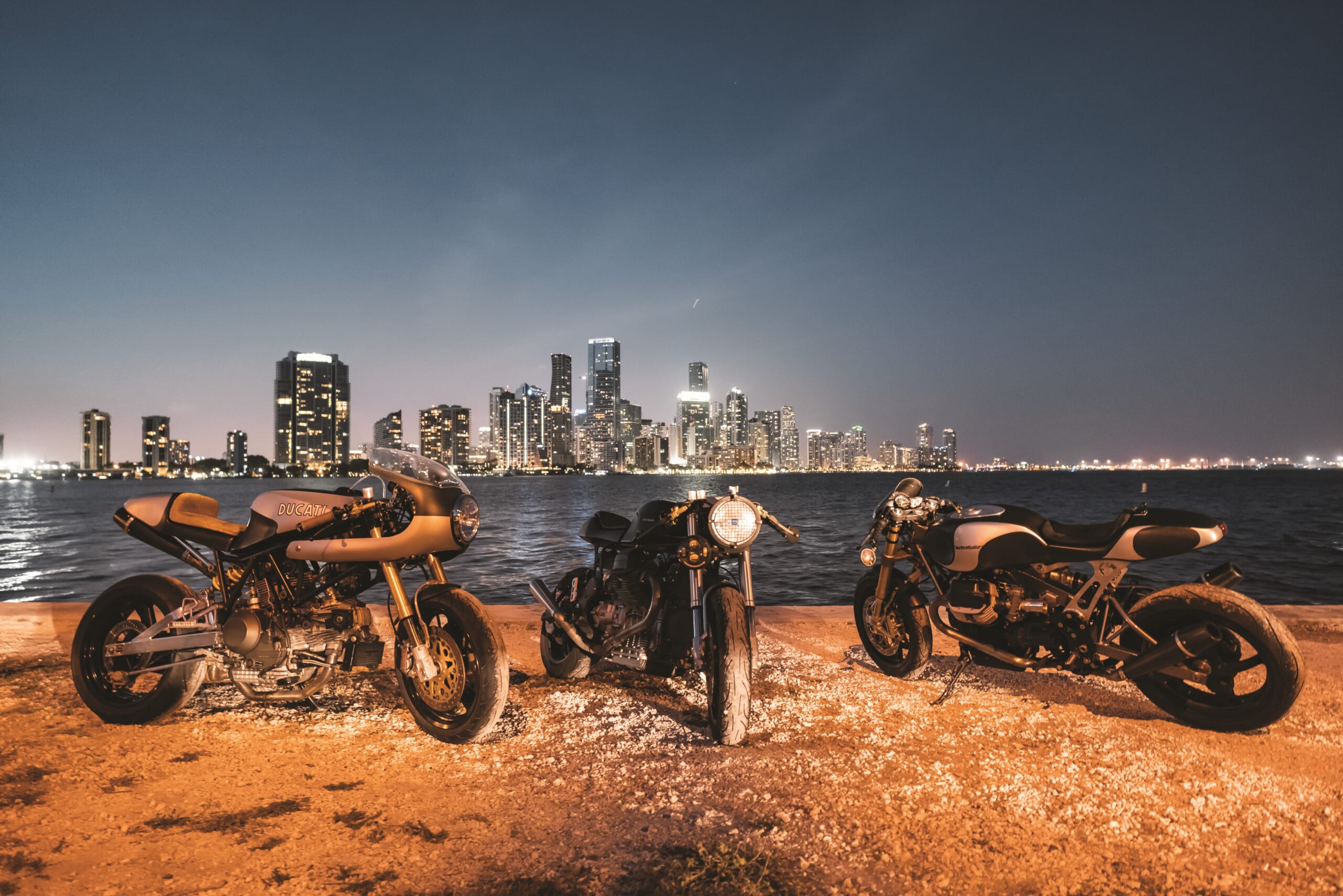 In the 1950s, with time on their hands
and adrenaline in their veins, London's
rebellious youth rolled up their sleeves
and started modifying BSAs, Triumphs, Nortons, Vincents and other Britishbuilt motorbikes to go much, much faster.
Channeling Marlon Brando in The Wild One
while wearing UK-made Lewis Leathers,
they convened at the Ace Cafe to swagger
and swap stories and spare parts — hence the
term "café racer" was born.
Getting from the Cafe to the Hanger
Lane roundabout and back before the jukebox stopped is said to have earned you membership in the infamous "ton-up club", only
possible with modified bikes that could easily
do 100 mph, i.e. the "ton."
Some modern machines can almost get there in first gear, but at
the time it took Glengarry Glen Ross-sized brass balls: no fuel injection, no variable valve timing, and no Kevlar body armor to protect you
if it all went sideways.
Fast forward 50 or so years. Suddenly everything is "bespoke" again. 
And once again
everyone wants a one-off special motorcycle.
Only this time around tinkering has become
an eccentric profession; filled with alchemists
who build custom masterpieces. With exotic
hearts, advanced materials, and systems that
would confound even the most sophisticated
Ace Cafe racers of old. 
These bespoke pieces
of art are there to be ridden. But also shown
off at the weekend. The rebel rocker genome
edited by a true specialist.
That would be Bruce McQuiston. Part
speed freak, part sculptor, part eccentric
tinkerer. He's a man who has had a need for
speed for a long time, paired with an appreciation for beautiful form and materials. Not
 to mention that he looks like a Bond villain.
McQuiston followed a degree in sculpture by
making a living as a race car driver, and racing
coach and engineer. At some point he decided he wanted a café racer — and also to man
up and sculpt his own. Hence Moto Studio
was born in Miami a few years back.
As with AMG, or Brabus, the approach was to take something good and
make it great. McQuiston prefers twin cylinder Ducatis and Moto Guzzis for their
character and torque. But we have hopes
of persuading him to do a Triumph triple.
"We did one BMW that was pretty cool,"
he concedes, but notes that it was "just as
passionless as any other appliance in your
house." 
Every build is a heady combination
of "contemporary materials, functional design and nostalgic ties to important motorcycles of the past."
"No matter what I do, I cannot escape
my mechanical sensibilities," McQuiston tells
Maxim. 
"Two of the key elements required in
both riding a motorcycle and creating sculpture are perception and control. While my
goal is to control the design of the sculpture,
I want to bring out the beauty from these
magnificent materials and allow them to have
an influence in the design process."
Each Moto Studio machine is as unique
as its creator, its owner, and its name: Cafe
Nero. Goldmember. High Roller.
The process begins afresh with every new client,
whose measurements are taken, much like a
custom suit. A donor bike is found. 
Everything is peeled back to a pile of pieces. Engine
rebuilt, and made much more powerful. All new systems. Hand crafted exhausts, frames,
tanks, swing arms and suspension. Carbon
fiber, solid blocks of aluminum, and bespoke
parts everywhere. 
By the time the process
of transformation is complete what was a
500-lb. heavyweight with the manners of an
enraged sumo wrestler has become a lean,
mean, damned handsome racing machine.