This Limited Edition Version of the 1,480 HP Bugatti Chiron Sport Is Even More Extreme
Boasting a a top speed of 260 mph, this fearsome French supercar is ready to rumble.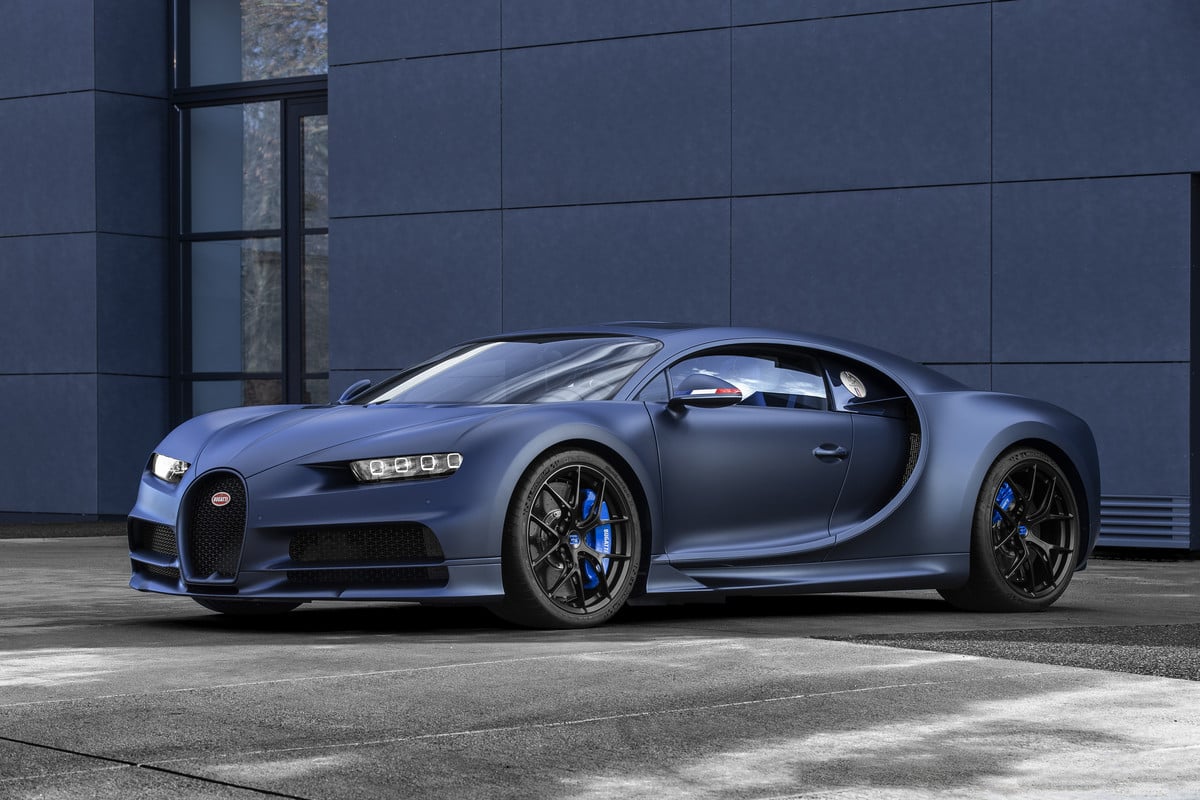 110 years ago, industrial designer Ettore Bugatti founded his own automobile brand in Molsheim, France. Today, they make the most extreme hyper-luxury sports cars in the world, and to celebrate that landmark anniversary, the marque is offering 20 examples of a special edition carbon fiber "110 Ans Bugatti" Chiron Sport. 
The ultra-exclusive ride is painted matte Steel Blue in a special process that gives it "a sheen like hot-rolled steel" along with exposed carbon fiber also tinted blue with red, white and blue detailing echoing the colors of the French flag, most notably on the underside of the rear spoiler and outer casing of the side mirrors. 
The 8.0-litre W16 engine with four turbochargers delivers a neck-snapping 1,480 hp rocketing it from 0–62 mph in less than 2.4 seconds with a top speed of 260 mph, making it one of the most powerful cars ever built.
Bugatti President Stephan Winkelmann calls it "the most powerful, highest-quality, fastest and most comfortable grand [tourer] in existence – a blend of elegance, quality, unique character and power." 
The car's massive alloy wheels are painted "Nocturne" matte black with French racing blue brake calipers. It also has an enormous Sky View roof consisting of two fixed glass panels above the driver's and passenger's seats.
The French tricolor theme also extends to the lavish interior. The two headrests and the back rests of the leather sport seats are embroidered with the French flag in a vertical position along with a 110 Ans Bugatti logo, as is the 12 o'clock mark on the leather and carbon fiber steering wheel. 
The interior is upholstered in Deep Blue leather with door trims, sides and seat inserts covered in Alcantara, contrasting with French Racing Blue elements on the contours of the seats, stowage compartments, belt trims and leather window buttons. 
Topping it off is a specially crafted medallion in the central console stowage space, made of solid silver with enamel inserts, commemorating the special edition. 
And while the price of the car hasn't been announced we can safely say it'll be stratospheric.