This Completely Bonkers Bugatti Yacht Has an On-Deck Fire Pit and Hot Tub
We want one of these badass beauties.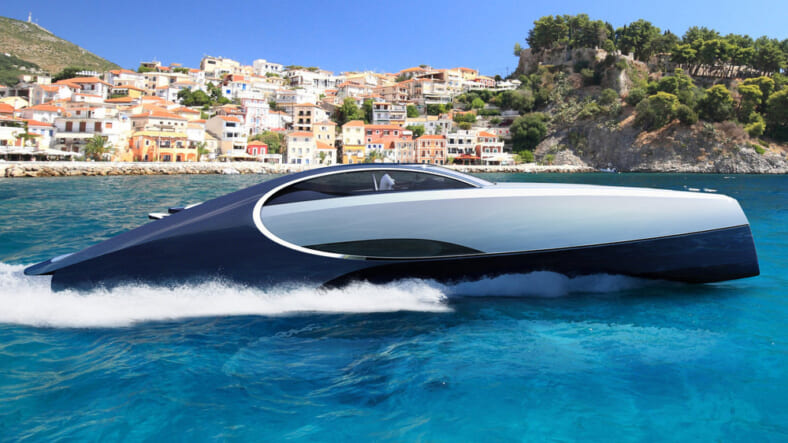 Palmer-Johnson
Ultra-luxury automakers regularly explain that their handcrafted machines do not compete for sales with other cars, the compete with jets, helicopters, yachts and mansions. 
So it makes sense that Bugatti would team with yacht builder Palmer-Johnson to produce a co-branded boat that takes design inspiration from Bugatti's incredible $2.6 million Chiron supercar.
The companies claim a combined five world speed records between them for their cars and yachts, giving them a common lineage of speed.
Palmer-Johnson aims to build just 66 of the Bugatti Niniette 66, a design masterpiece that comes with an on-deck fire pit and hot tub. It is also 66 feet long, and has a bracingly fast top speed of 44 knots.
As a sport yacht, like a Bugatti sports car, it is intended to carry only two passengers, though it also has accommodations for a captain to operate the boat.
Among the Niniette 66's interesting design features is a hull with integrated side sponsons that act as outriggers to provide extra stability on the water, while the slim main hull permits higher speed and reduced fuel consumption.
It also uses a water jet propulsion system, permitting operation in shallow Caribbean waters without concern for bottoming the prop.
The Niniette's helm even includes a Bugatti steering wheel and a futuristic infotainment display providing the pilot all relevant information.
Surely, the Niniette is a perfect match for those Chiron customers taking delivery of their cars at the Geneva Motor Show–or other billionaire types who are in the market for perhaps the most badass sport yacht ever built.