Bugatti President Stephan Winkelmann On Hypercar SUVs, W16 Engines and the Future of Luxury
The supercar boss sat down with Maxim to talk about running one of the world's most desirable luxury car brands.
Bugatti
Three years ago we first visited Bugatti headquarters in Molsheim,
France — the gilded 19th-century Château Saint-Jean, a palace complete with museum and ultra-modern atelier — to witness the handbuilding of their newest hypercar, the Chiron. 
Bugatti's then head of
sales and marketing, Dr. Stefan Brungs, made a comment at the time
underscoring the rarefied air that Bugatti occupies, declaring that the
guys who drive Rolls-Royces own private suites at the football club,
but the guys who drive Bugattis — they own the football club. 
That
brought everything into focus, and has remained emblematic of the
marque that sits so far above even the pinnacle automotive brands.
In January of last year Stephan Winkelmann, who was born in Berlin and raised in Rome and once served as a paratrooper, took the reins
of the vaunted hypercar manufacturer. Bugatti's newly minted President brings with him an admirable resumé heading two of the most
coveted performance brands in the world. 
https://www.instagram.com/p/BuqahGkFp-o
He ran Lamborghini from
2005 to 2016, launching landmark vehicles like the Huracán and Aventador, and raising the Raging Bull's sales to their highest point yet.
And in 2016 he briefly took over Audi Sport (formerly Quattro) before
moving to what is arguably his most challenging post yet: leading Bugatti into the future.
Winkelmann arrived just before Bugatti unveiled the Divo, a $5.7
million limited run hypercar (only 40 units) that sold out in a few weeks.
Powered by Bugatti's legendary 8.0-liter W16 engine — which features
four turbochargers — the vehicle is the latest automotive scion in a
bloodline that includes the legendary Type 35, which won Bugatti the
first Monaco Grand Prix in 1929. It then went on to claim over 2,000
more victories, making it what some have called the most successful
car in racing history.
As the brand prepares to celebrate its 110th anniversary, we sat
down with Winkelmann to discuss the challenges of heading such an
illustrious manufacturer, why it's important to maintain the cultural essence of the luxury marque, and of course what comes next:
After more than a decade at pinnacle car brand Lamborghini, you've
moved on to Bugatti. How did the experience at Lamborghini prepare you
for Bugatti?
Well, it's clear that 11 years of Lamborghini taught me a lot, and especially all the projects we did. The main projects were the Aventador,
the Huracán, and the starting and first years of the Urus [SUV]. 
Plus
all the daily concerns of the motorsports. So all those projects taught me how to plan, how to look forward, and how to keep cars young
over the lifecycle. Now at Bugatti, as the pinnacle of the pinnacle, it's a whole new experience, it's a completely different brand. Being at the
tip of the spearhead, it's something where you have to be extra careful
with whatever you do. 
And all the things that you want to engage and
develop and bring to market have to overachieve the expectations of
our type of customers, and also of the million fans we have around the
world.
You have built extreme supercars before at Lamborghini, like the
Reventón, Aventador J, Veneno, Sesto Elemento, etc. — these very limited production vehicles with obscene power, carbon fiber, severe body
designs, and so on. Is the level of attention Bugatti requires above and
beyond even those?

The attention is beyond those extreme cars for sure, because the level
of detail, the level of quality, the level of technology we have inside [Bugatti] is unparalleled. Just look at the W16 engine with 1,500 horsepower: we have something which is a unique selling proposition, not only in
the super sports car industry, but in the entire industry of the automotive world. 
Both the Chiron and the Divo embrace two worlds in a
perfect way. Usually when you have a super sports car brand, you have
a car which is very fast, and a car which has an outstanding design, but
you're missing always something, let's say, on the comfort side. 
https://www.instagram.com/p/BtyaPCMlfBL
But with
Bugatti we are getting the best out of two worlds: Here we have a car
that has a high level of comfort, but also linked with an outstanding,
incredible acceleration, which is something I've never experienced in
my life before. So this is something incredible and not comparable to
any other brand in the world.
Because Bugatti's parent company, Volkswagen Group, is an international conglomerate, and there is so much shuffling of executives and engineers between brands, is it irrelevant what country the brands are from?
Or do these companies still have profound cultural roots — do you feel the
German character of Audi Sport, the Italian nature of Lamborghini and
the Frenchness of Bugatti?

Yes, I feel that. I think that you nailed it, because every brand that you named has roots in their own country, and therefore for me it's a privilege not being a Frenchman and running Bugatti, and not having been
an Italian — even if I grew up in Italy, and I'm more Italian than German — to run a company like Lamborghini. I am blessed.
Can you explain how Bugatti has remained French?

First of all, it is clear it is the people. So when I arrived I prepared my
speech in French, and they very much appreciated my bad French a
year ago, and this was a good sign, because they really feel the Frenchness of this company. Also the behavior and the way that we speak and
treat our customers. 
For example, when they come here to visit the
Molsheim experience, we have our cook prepare French cuisine,
which everyone appreciates. So there is immediately a deep dive into
an atmosphere, which can be only named as French. And this is some
thing that I really appreciate.
I was lucky enough to visit the Château Saint-Jean a few years ago, and it
really is one of the most spectacular places of provenance of any brand,
across any industry. It's such an impressive place to woo customers, a
peerless tool to have at your disposal.

Yes, for sure. And also let's say the natural way our people live in this
environment is always astonishing to me, to have this historic site. It's
very natural, and the customers feel it and breathe it because it's not
only about the building — it's also about the people and how they be
have, and how they live in it, and how they propose, let's say, the legacy
of [founder] Ettore Bugatti. And so therefore I'm really grateful and
honored to run this company.
You go under that big stone gate, and then you pull up to the château, and
there's somebody there waiting for you with a flute of champagne. The experience is so mind-blowing — brands could spend a billion dollars on a
showroom and nothing would compare.
Yeah, roots and history are not replaceable. Time matters in this sense,
so if you have a legacy, this is important. Everybody is really impressed
about this location. Obviously Europeans, but perhaps Americans and
Asians even more.
That's a perfect segue: you cannot replace time. And here we are on the
110th anniversary of Bugatti. Can you give me a brief snapshot of where
we are right now, and maybe what's coming up?

With the Divo, I think it was a good test for me, for the team, in front of
customers, in front of you guys, the press, to see how ready the brand is
for more. And we say this test was very successful, and let's say we are
planning a lot. 
I don't know what we can realize — because it's also a
matter of huge group decisions, how much you can do at the end of the
day — but the brand really is able to do more than what we are doing
today. 
For the time being [with the anniversary], we have a huge opportunity to refocus on the brand, on the history in the rearview mirror.
But not too [intensely into the past] because everything we do has to to
have a bright look into the future.
https://www.instagram.com/p/Btqk8ltlhys
Both the Chiron and Divo have been very successful products for you. Is it
true that all Divos sold out in four weeks? How many Chirons have you
sold in total?

The Divo is sold out and we are starting the deliveries in the year 2020.
So all 40 cars are gone. And the Chiron is sold out until the second part
of 2021…. We have sold almost everything until the end of 2021, three
years sold out, so we still have a bit more than 100 out of 500 [Chirons]
available.
I know that you can't reveal specifics about future product, but you were
one of the big proponents for the Urus at Lamborghini, which has a lot of
experts speculating you will have a similar mind frame for Bugatti. Can
you address the potential of a Bugatti SUV?

If I would be able to decide today on my own, I would say we would not
do a Bugatti SUV. This would not be the car which we imagine as a second model for Bugatti. We have analyzed almost every body style
and also alternative body styles that are not on the market yet, and for
us, the SUV is not the car we would like to see as a second model for
Bugatti.
What about the Galibier concept? Is a big executive saloon type of car
more likely, or is that one permanently shelved?

So the saloon, the sedan segment in my opinion is a segment that is
losing momentum. It's going down in terms of volume, so we don't
think this would be the car for the future of Bugatti as a second model,
as well.
You've made a point of stressing that in Bugatti's history, it's had fourdoors, it's had coupes, it's had sports cars, open-air cars, it's had everything.

So therefore it's important to look back and to understand history, and
to have important and strong roots that are reaching the past, but it's
also important to look ahead and always to surprise, and always to be
ahead of what you might expect today or tomorrow.
Let's talk about the potential for powertrains. Right now, with the W16,
you have the most brilliant, apex internal combustion engine. I just don't
see how you could get much better. So what's next? Do you see an electrified
version of the W16? Do you anticipate going completely electric? Are you
always going to offer W16 engines?

What I can tell you for sure is that there is a foreseeable end for the W16.
This is something we cannot avoid; it will be in this sense, the last of a
kind. But I also have to say this is not going to happen tomorrow or the
day after tomorrow. So we still have a good lifecycle, we have still a lot
of plans for this engine, but I also have to say that this is really the last
one that we are going to develop like this.
https://www.instagram.com/p/Bs-zfuvFALR
And we have to say two things: On one hand, cuts are necessary. If it
comes from outside like legislation, environmental issues, social acceptance, all these things come together, and you as a company — also as a
leader of the company, as entrepreneur — you have to be ready to look
at the next step. And like in the past, there were innovations that were
great and very much appreciated — even though what you had before
was, let's say, the pinnacle — you should never be afraid to look forward
and to go into new ground.
If this is electrification, then it will be an electrification that is worth
stepping in because it will be a Bugatti electric engine. And I see this is
a possible future for us; we are studying every opportunity, and therefore I'm not afraid. And if you look back, Ettore Bugatti and also one of
his sons, they drove different things, and they were always surprising
and very enthusiastic about the things that they did.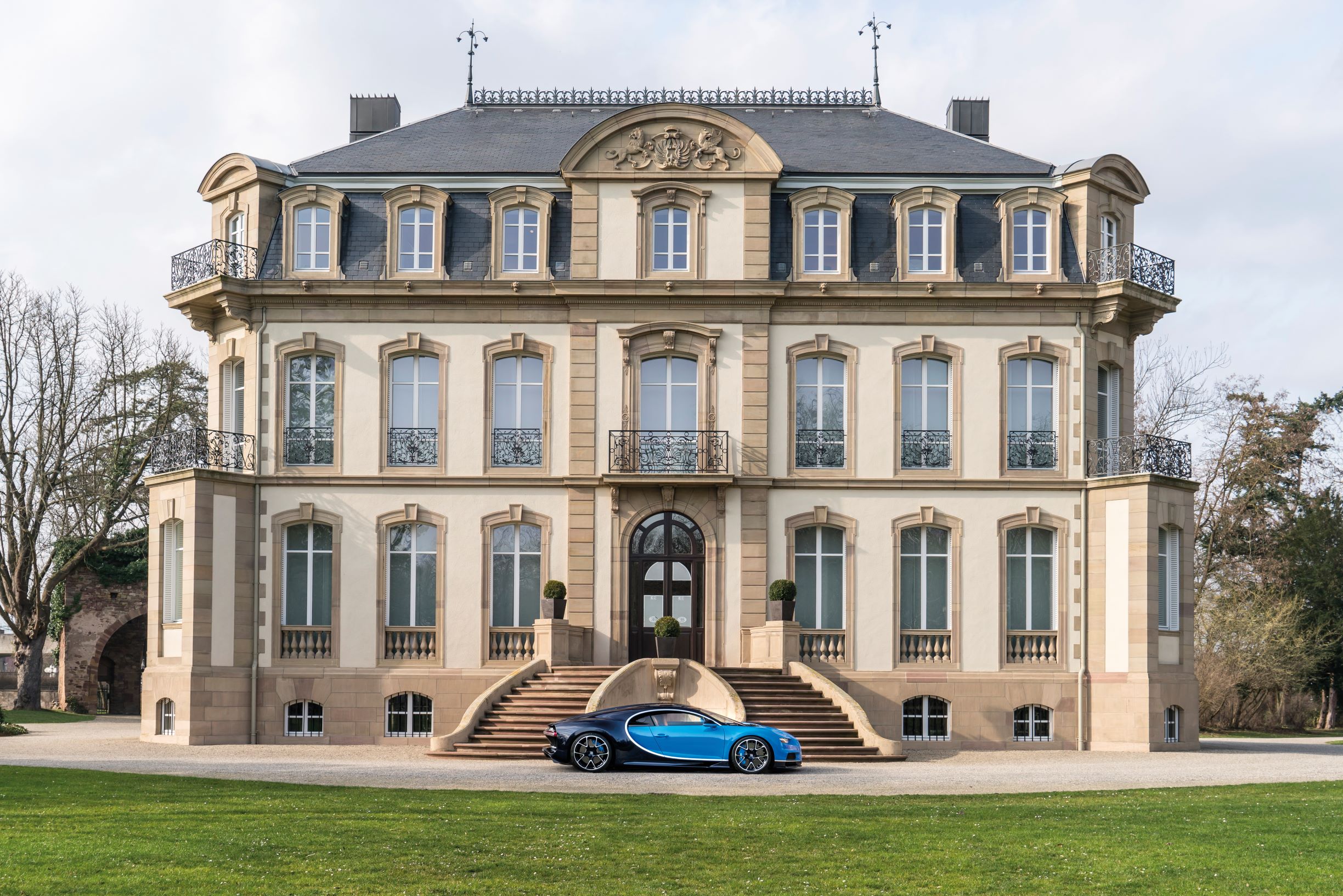 When I look into
my team, I have the same impression, and I'd say we are not [too] tired
to prove that we can do also something different than the W16.