A Drop-Top 50th Anniversary Chevy Camaro Is the Ultimate Way to Cruise Florida's Gulf Coast
Welcome to the land of sun, steak and strippers.
(Photo: Maxim)
While we're pretty sure no one has conducted an official study, Florida's west coast has got to have a higher per-capita concentration of bikini-packed beaches, drool-worthy steakhouses, and, yes, mega strip clubs than any other piece of land in America. (There aren't any beaches in Vegas, dum dum.)
Throw a brand-new 50th Anniversary Chevy Camaro Convertible into the mix, and you have the makings of a killer mini-road trip. We spent a long weekend along I-75 in this roofless beauty and can confirm that these are the must-stop spots to eat, stay and play.
Take a sun-soaked ride down the left coast of the most bizarro state in the Union. (Sorry, New Jersey.)
Eat:
There's not much we can say that will boost the reputation of Tampa-based meat palace Bern's Steak House, which we think—with apologies to Peter Luger's and St. Elmo's—is the best steakhouse in the nation. Founded by beef visionary Bern Laxer in 1956, the compound-like Bern's (seriously, you could see Pablo Escobar holed up inside) not only has any size and cut of beef you could possibly desire—we went with the butter knife-tender Chateaubriand—but also boasts the biggest wine list of any restaurant on Earth.
Housed in Bern's cavernous cellar—through which they're more than happy to give any curious diner a tour—are over half a million bottles, including Depression-era French red wine, pre-WWII Sauternes, and Madeira from the 17th century. (You don't want to drop that one.) There's also a separate wing devoted entirely to sweets, the Harry Waugh Dessert Room, so you can get some exercise before housing their mind-blowing Bananas Foster.
Sarasota has a reputation as a playground of the rich, but you'd never know it when you're posted up in the backyard of Owen's Fish Camp listening to live bluegrass and chowing down on boiled peanuts, peel 'n' eat shrimp and oyster po' boys.
Billing themselves as a "southern country style restaurant set in a cool, comfortable, urban setting," Owen's combines a killer atmosphere with fresh-off-the boat seafood and a great craft beer selection. You'll likely have to wait a good hour before sitting down—nope, they don't take reservations—but crack open a can of Dale's Pale Ale, have a seat on a tree stump, and stop complaining, ya knucklehead.
Need a nightcap to wash down all that seafood? Get a French 75 at State Street, just a 5-minute stumble from Owen's.
Stay:
When your favorite things in life are sleeping and eating, a hotel that is entirely devoted to both is pretty much heaven. Tampa's Epicurean Hotel was actually built in collaboration with Bern's— which is directly across the street—and is named after the Greek philosopher Epicurus, who believed that "pleasure is the greatest good." We can get behind that.
Located in the hip South Tampa neighborhood of Hyde Park—this is the closest to Brooklyn or Portland you're gonna get in the Sunshine State—this trendy property is far more than a hotel. Besides the spa, gym, outdoor pool, restaurant (the highly rated Élevage), and rooftop bar, there's a wine store filled with many of the same vintages as Bern's, a chocolate-filled pâtisserie, and even a kitchen theater that has hosted Iron Chef-like competitions.
The rooms maintain the culinary theme, with butcher-block-style cabinetry and food-and-drink related artwork everywhere you look.
Yeah, these people are as obsessed with eating as we are.
Positioned between the bay and downtown, Hotel Indigo Sarasota is a chic-but-not-stuffy boutique property that was the perfect place to give the Camaro the night off—and for us to see what the seaside city had to offer.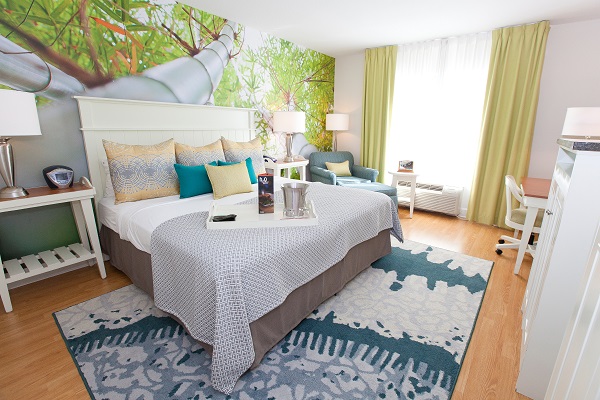 The bright, tropical-themed rooms are, thankfully, more jungle-sexy than Golden Girls chic, but most of our time there was spent downstairs at the H20 Bistro and Bar. While there's a full menu of locally-sourced bites—we hear seafood bruschetta is the order—we chose to avail ourselves of the wide variety of local microbrews and craft cocktails.
Oh, and the Indigo's free shuttle service to any local spot eliminates the need for awkward Uber chitchat.
Play:
Regularly named one of the best strip clubs in the world—yes, such lists exist—Tampa's legendary Mons Venus bills itself as "home of the most beautiful women in the world." We're not going to argue with them (mostly because the bouncers look so tough), but we defy you to find a more fun place to rid your wallet of singles.
https://www.instagram.com/p/i2qlKMl6CJ
With a notoriously liberal touching policy that has created controversy throughout the club's history, Mons Venus also lays claim to the dubious distinction of having an owner that actually invented the lap dance.
Welcome to Florida, folks.