Dominate Winter With This Sleek, Snow-Tracked Bike
You'll be unstoppable.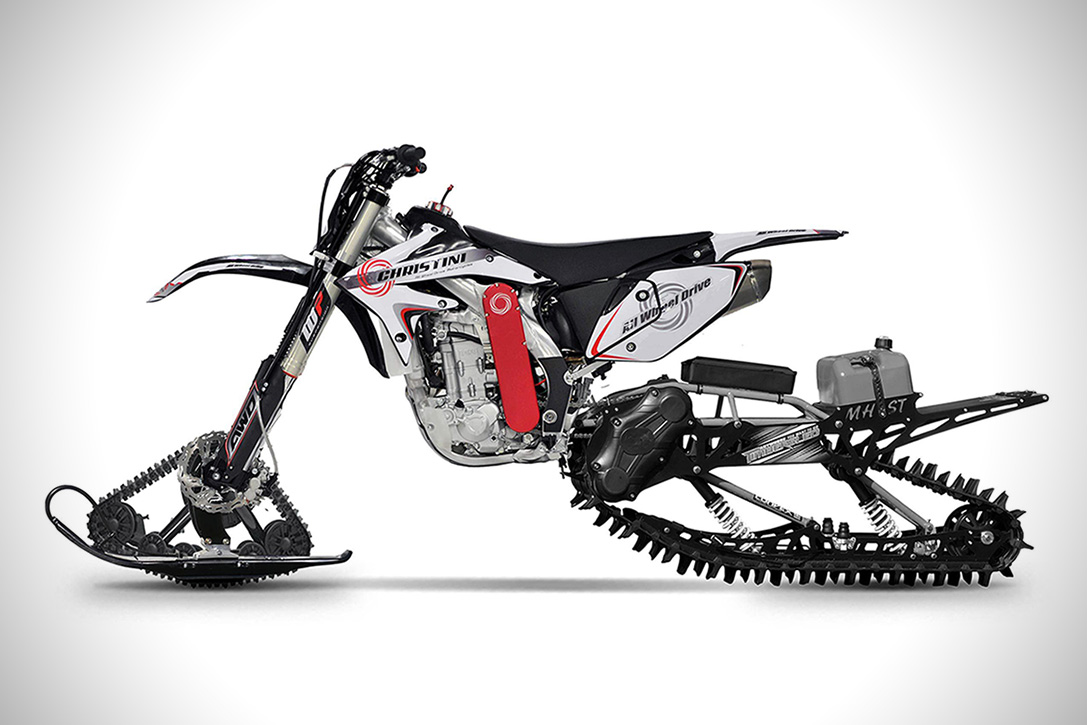 Christini Technologies
It seems like a dream; the ability to float effortlessly over snow and ice, going where you want, when you want, even when snow has blanketed your town. Philadelphia's Christini Technologies makes intrepid two-wheel drive motorcycles, and in case a pair of churning tires might not cut it, the company is developing a snow track system to make their bikes truly all-season.
The Christini motorcycle is based on the design of the 2005-'06 Honda CRF450X motocrosser, with the 46-horsepower engine converted from a carburetor to fuel injection and with Christini's front-wheel drive system added. The snow tracks also work with the company's 300cc two-stroke bike.
The patented mechanical All Wheel Drive system delivers power from the motorcycle transmission to the front wheel through a series of chains, shafts and one-way clutches, allowing for improved performance on any terrain.
The primary benefit of the front track comes when riding on hard-packed snow, where it gives added control, reports Steve Christini in a Facebook post. "Much like the AWD system on our stock bikes, it does as much for steering as it does for traction," he said.
The bike's price starts at $8,395, and is available now. Unfortunately, the bolt-on snow track system is not yet available and pricing has not yet been set.