'The Grand Tour' Star Jeremy Clarkson Talks Favorite Rides, Horrific Crashes, And Why the New Season Is Must-Watch TV
"We got so fed up with people saying the show was too scripted."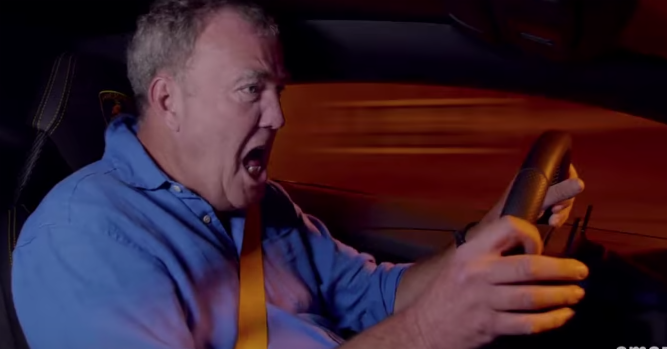 Image: YouTube
What did you do for your summer vacation? Jeremy Clarkson didn't have time to write his report as The Grand Tour resumes on Amazon December 8, so he told Maxim about what he's been doing since the new car show's debut season ended.
Clarkson (the tall one) and his mates Richard Hammond (the short one) and James May (the professorial one) famously left their hugely popular BBC show Top Gear following Clarkson's firing for punching a crew member and launched The Grand Tour last year as a second act.
The Grand Tour's uneven debut season had fans of the normally funny trio wondering if they had left their collective mojo in a locker back at the BBC as stilted attempts at humor landed with one thud after another.
So changes were coming for the second season, that much was certain. However, brushes with death forced The Grand Tour to make even bigger changes than originally planned.
That's because the three hosts took their habitual competition into the realm of trying to top each other in defying death, as each wound up in a hospital. Clarkson conceded that Hammond likely won, after he heavily crashed the Rimac One electric supercar on a rural hillclimb course and it burst into flames.
"Hammond's is the most spectacular," Clarkson noted, because his own malady was invisible but nearly deadly pneumonia. "My right lung filled with pus."
May finished in third place with a non-life-threatening hospitalization that at least kept his in the race. "We are all completely broken," Clarkson concluded.
But The Grand Tour isn't. "There are one or two bits that we need to change and we are in the process of changing that as we speak." Hopefully this will allow the quick wit evident in our chat with Clarkson to resurface organically on the show.
The hosts' hospitalizations cut into the available time for The Grand Tour central piece, which was that they would visit a new location each week and host the show there from a giant tent.
So for season two, the tent is pitched in the English countryside near Clarkson's estate for the duration. From there they describe their pre-recorded globe-trotting events, as they did from the BBC studio in the Top Gear days.
This puts the focus on the films shot on locations around the world. "It is really concentrated on the films," Clarkson said. "The films have always been the most popular things."
The films highlight the exotic testing locations, including Dubai, Switzerland, Colorado and Croatia, and Clarkson promises that they've topped themselves this time. "We have done an astonishing amount of travel this season. The best film was Mozambique. And Namibia is a mind-blowing country." In total, Clarkson says southern Africa is his new favorite place. "We tried to out-Bono Bono." We'll have to tune in to see whether they succeeded in topping the U2 frontman.
And the criticism that season one felt stilted and scripted, with gags like the weekly celebrity who apparently dies a gruesome death just before appearing on the show?
"Because we got so fed up with people saying 'It is too scripted,' we decided, 'Here's the meeting point, lets go with no script and no idea what we are doing.'" The point seems to be to illustrate the need for planning, but Clarkson insists that it turned out well. "There are some very funny bits in it."
After so many years as an automotive journalist and television presenter, Clarkson has the credentials to back up his judgment on this. So we also took the opportunity to tap his experience on some other topics.
After driving so many incredible machines over the years, which one ranks first? "The Lexus LFA. I always think of how I can get it. I miss that car every day."
The LFA was Lexus's no-holds-barred effort to build the ultimate supercar, complete with a Formula One-inspired V10 engine. Clarkson touted the car on Top Gear, but in television's contrived arguments, it was impossible to tell whether he genuinely liked the LFA as much as he said. He did.
"The engine, that V10!" he enthused. "The noise was like a baleful, soulful, wonderful animal."
He's also encountered some less stellar forms of transport. The worst was a Fabryka Samochodow Osobowych Polonez from Poland, which Clarkson describes as a "Soviet Fiat." "It was beyond tragic," he stated.
Of course, few Americans have ever even heard of an FSO Polonez, let alone had to drive one, so Clarkson had some examples we might know too. "The late '80s Buick Skylark. That was a diabolically bad car." Plus there was that Chrysler Sebring convertible rental car, but we all know better than to judge a car based on experience in a rental, because who knows what it has been through?
But we do know a bit of what Clarkson and company have been through preparing for a new and improved Grand Tour. Now we can tune in December 8 to see if their efforts have steered the show back onto the course that attracted so many fans of Top Gear.