This Super Rare Alfa Romeo Worth Millions Is Going Up For Auction
Absolutely gorgeous.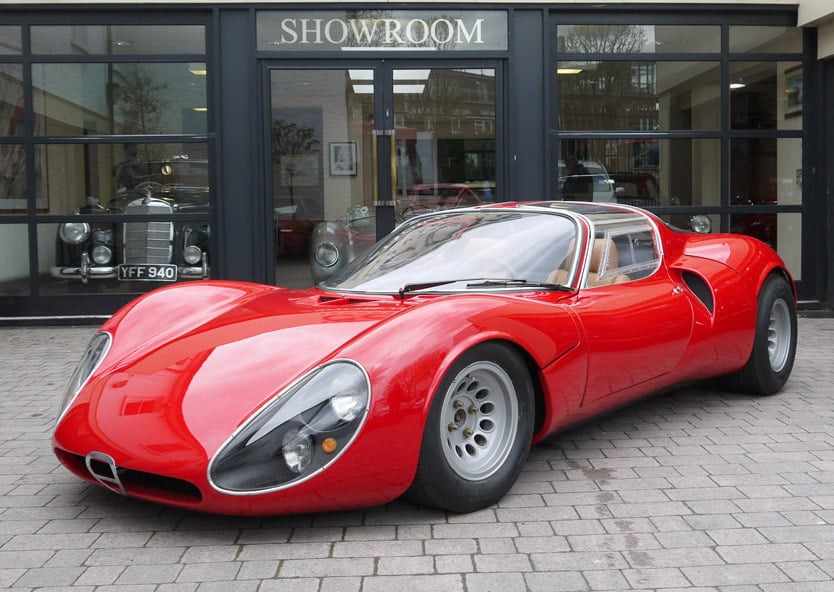 Rarer even than rival O.G. supercars like the Lamborghini Miura, the Alfa Romeo Tipo 33 (Type 33) stands out as an all-time classic design. This was the work of genius designer Franco Scaglione, and of the 18 originally built, only a few remain in existence today, making the Tipo 33 almost impossible to buy at any price. 
Last year the head of Alfa Romeo in North America estimated the value of one of these cars at $10 million, and now we are going to find out whether that is true. The Tipo 33 bearing serial number 2 is up for auction at Coy's of Kensington.
Built in 1967 as a 270-horsepower endurance racer, the Stradale (street) version of the Tipo 33's 2.0-liter V8 was de-tuned to 230 horsepower for greater durability. Detuned or not, it still sounds like it means business, as you can hear in the video.
Of course this car wasn't meant for slow Sunday drives. "In those days there was no speed limit in Italy and the police only stopped you out of curiosity," reported Henry Wessells II, the first private owner of a Tipo 33 Stradale. "
More often they would gesture you on: 'Avanti, Avanti.' Once, on the autostrada to Venice, I ran it for 4 km at its 10,000 rpm rev. limit in sixth. I clocked it at 180 mph. Amazingly, below 150 mph there was little engine noise, but past 160 it became really intense inside. The car was fantastically stable – even in crosswinds it still ran brilliantly straight."
This particular car is a "continuation" model. That means that the car's frame has been confirmed as belonging to one of the original 18 Typo 33s. Using the car in Alfa's museum as a reference, the seller commissioned all-new bodywork. He also located the appropriate engine. It's mostly present, though some pieces are visibly absent, so you won't be taking it drag-racing.
A 3.0-liter V8 engine from an Alfa Romeo Montreal production car also works with the Tipo 33, in case the buyer prefers to drive the car using an engine that is more readily repairable. Just in case you care about that sort of thing.
For the latest car news, follow @MaximRides and Dan Carney on Twitter.