This Custom Triumph Bobber Has Us In a Purple Daze
The Brits' latest Bobber is the perfect basis for a custom build.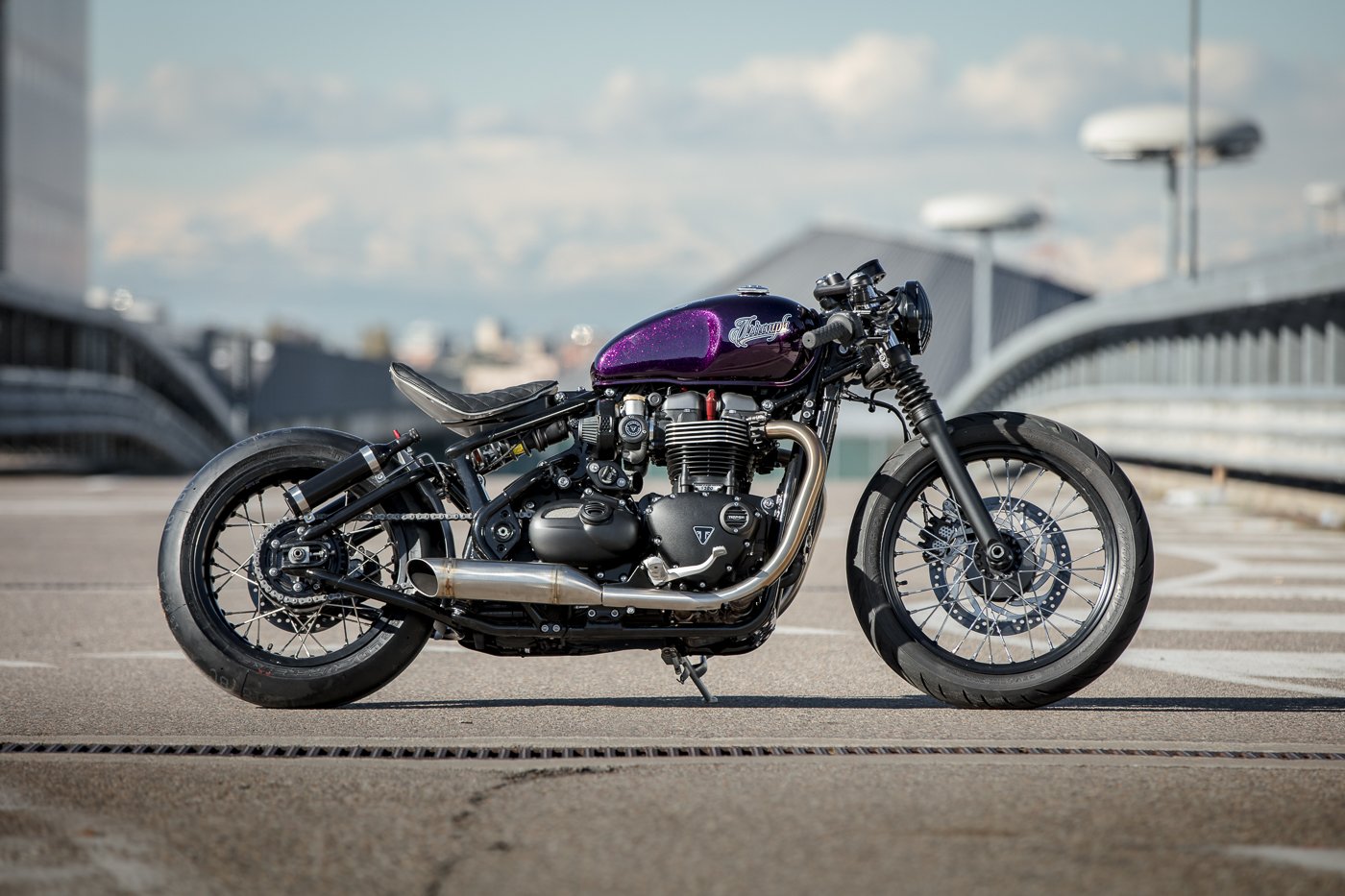 When Triumph switched last year from the classically simple air-cooled engine design to a more powerful and efficient water-cooled setup, there was concern that these new water-pumpers would be ill-suited to the creation of lean, stripped-down customs.
But Down & Out Cafe Racers' new Hold On, Go Fast custom build is proof that water cooling is no obstacle to cool design.
Starting with Triumph's new Bonneville Bobber, D&O's Shaun Walker ditched the factory handlebar and switch gear, replacing it with low-slung racing-style clip-on bars with custom switchgear and the lines all routed inside the bars for a clean appearance. 
He replaced the instrument panel with an appropriately retro-styled Chrono Classic speedometer from Motogadget.
It is the same story at the rear, where Walker removed much of the equipment required of manufacturers, such as the fender, license plate holder and factory taillight, in favor of a minimalist appearance with aftermarket equipment.
The fat Pirelli Diablo Corsa drag racing slick is the visual core of the bike's rear end appearance, though it wouldn't be much fun to ride in the rain with that tire mounted.
That slick is meant for quick drag races and dramatic burnouts, two activities that are aided by the bike's use of a nitrous oxide bottle mounted to the rear suspension.
All this hardware ensures that Hold On, Go Fast is true to its name. And it proves wrong the skeptics of water-cooled Brit-bikes.
h/t: Bike Shed