1,000-HP Dodge 'Hellephant' V8 Turns Classic Cars Into Modern Monsters
Hell to the yes.
Dodge and Mopar are bringing hypercar-levels of horsepower to classic American muscle with their 1,000-hp "Hellephant" V8. 
The new engine, revealed at the 2018 SEMA show in Las Vegas, is a 426 Supercharged Crate Hemi that uses parts from the 800-hp power plant in the Dodge Challenger SRT Hellcat Redeye. 
The name itself is a tribute to the legendary 426 Hemi engine, first introduced in 1964 and nicknamed the "elephant" for its power and size.
Motor 1 has further details: 
As its name suggests, the Hellephant engine borrows most of its bones from the Dodge Hellcat motor.

It's larger, with a cylinder bore of 4.0 inches and a stroke of 4.125 inches, and lighter thanks to its aluminum construction instead of the standard Hellcat's iron block
The "Hellephant" was specifically designed for vehicles built prior to 1976. Mopar showcased its creation in a 1968 Dodge "Super Charger" Concept updated with a six-speed manual transmission, Hellcat wheels, a "De Grigio" grey metallic paint coat and a modern interior.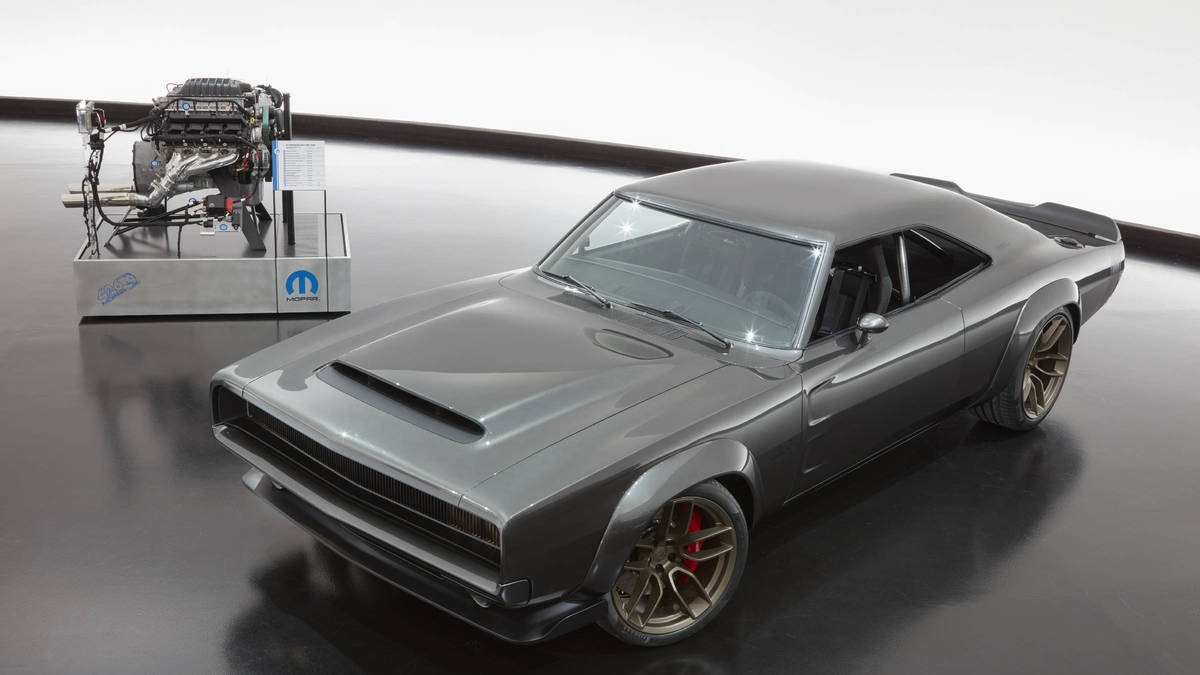 "Our enthusiasts crave power and performance, and our new 'Hellephant' Mopar Crate HEMI engine and kit deliver huge horsepower and torque in a plug-and-play package that is unique in the industry," said Steve Beahm, Head of Parts & Service (Mopar) and Passenger Car Brands.
"The 1968 Dodge Charger is one of the hottest classic cars, which is why we decided to use it as a starting point for the 'Super Charger' Concept. It's an amazing vehicle and a great showcase for our 'Hellephant' engine."
Reports indicate that you can expect to spend upwards of $20,000 on the "Hellephant" when it drops next year. Take a closer look at its vessel, the Charger restomod, in the gallery above.