Dodge Is Killing Off The Viper With 5 Special Editions
Production of the iconic muscle car ends after the 2017 model.
Say goodbye to the Dodge Viper.
To bid farewell to the iconic muscle car, Dodge is making five special 2017 Viper models that simultaneously celebrate the legendary machine's 25th anniversary and serve as a coda for the car, which will leave production when Dodge closes the dedicated factory it opened specifically to build the Viper.
The 1:28 Edition American Club Racer will commemorate the current track model Viper's lap record at California's tricky Mazda Raceway Laguna Seca, where the Viper ACR is currently the fastest production car with a lap of 1:28.65. It is black, with red stripes and has the Aero Extreme Package and Carbon Ceramic Brake package. 
Dodge says they will build 28 of the 1:28 cars, following the precedent of the 2010 Viper ACR 1:33 edition, for which the company built 33 cars to commemorate that earlier track record.
The Viper GTS-R Commemorative Edition ACR pays tribute to the blue-on-white Viper race cars that won the FIA GT2 sports car championship in 1997, transforming the Viper from laughingstock to a dominant force in international sports car racing. Dodge will build as many as 100 of these tribute models, following the example of the original model in 1998.
In 2010, Dodge built 31 VoooDoo Edition ACRs, so for 2017, they've created the VoooDoo II Edition ACR. As before, they'll build only 31 of them, and as before, they will be black with a graphite metallic stripe. Like the other ACRs, it includes the carbon aero kit and carbon brakes for track-ready performance.
The Viper Snakeskin Edition GTC is less extreme, if you don't plan to spend time at the track or don't want a giant racing-spec rear wing. Of course, you'll still attract attention thanks to the Viper's rumbling side pipe exhaust and the Snakeskin's eye-catching green paint. Dodge plans to build only 25 Snakeskin editions.
Finally, Dodge will offer 33 Dodge Dealer Edition ACRs, red, white, and blue beauties offered only through the two biggest Viper dealers, Tomball Dodge in Tomball, Texas and Roanoke Dodge, of Roanoke, Ill. 
As Viper production winds down next year, Dodge will have built 30,000 of these classic 645-horsepower American V10 icons. We can only hope that in the future the company will be able to build a new version that is worthy of the Viper's now-legendary name.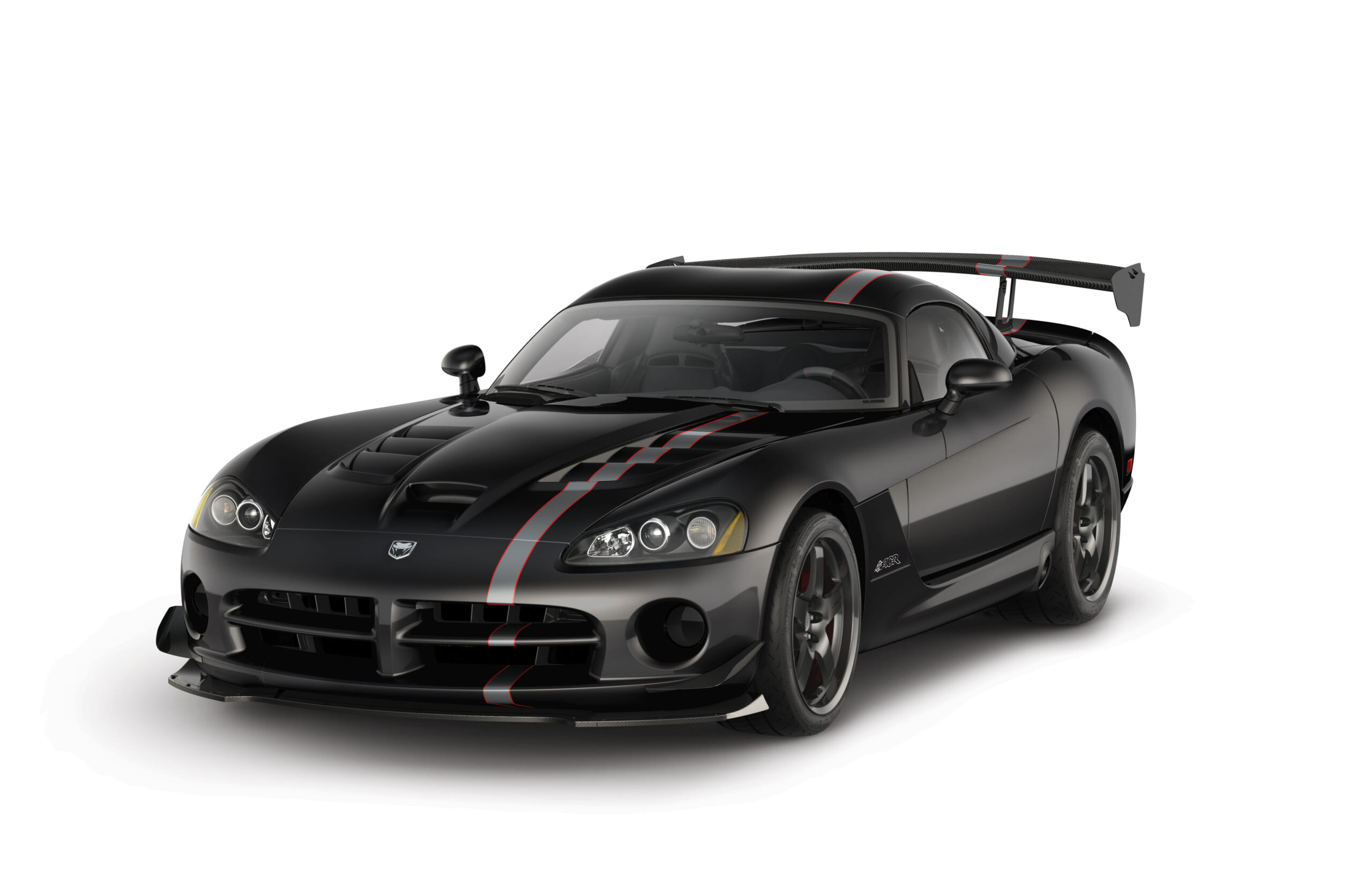 Until that time, we will always have Laguna Seca and the ACR's epic 1:28 lap time there.
https://www.youtube.com/watch?v=pXP3Eij2GGA