We Shredded Through the Desert in the Most Powerful Ford Raptor Ever
All in the name of journalism.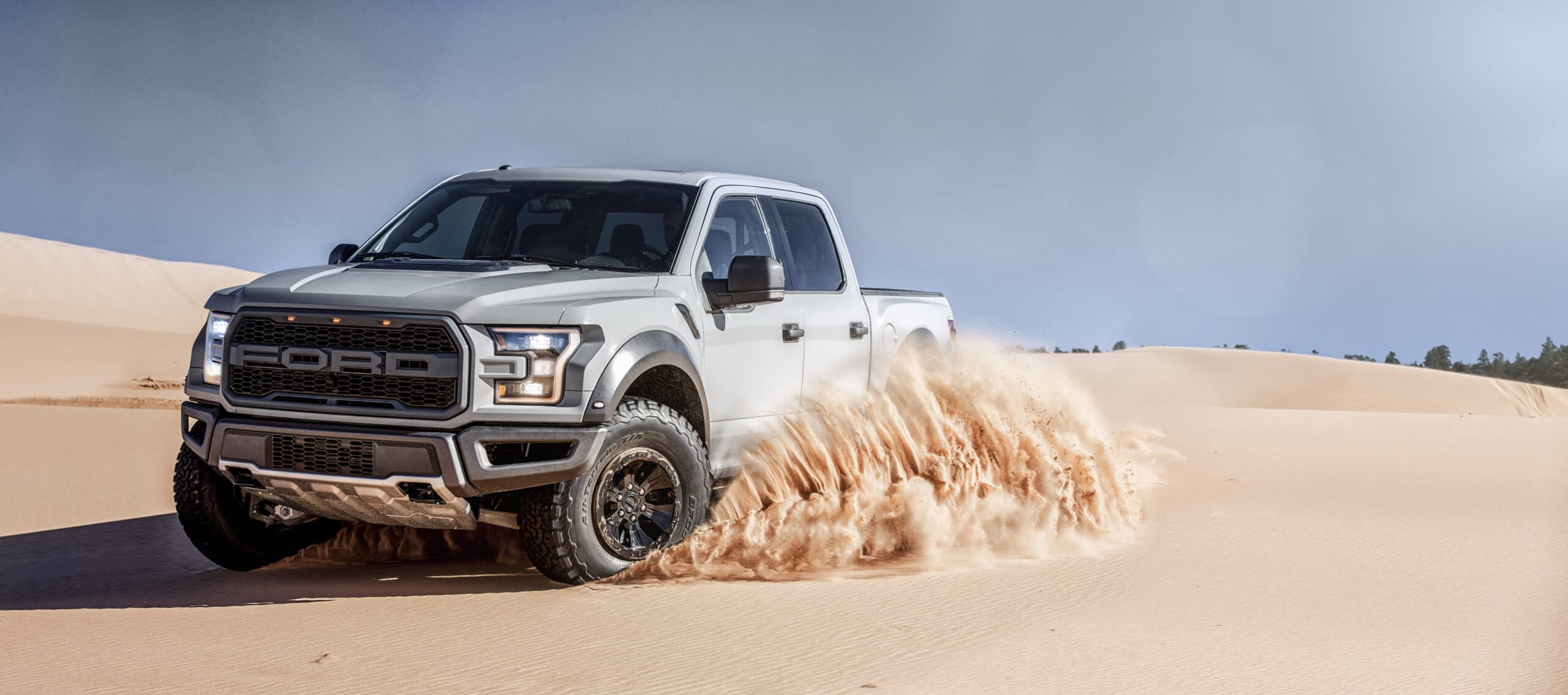 Ford's new desert racing-inspired F-150 Raptor is the truck that most 4×4 owners fantasize their own trucks are, with off-road speed and capability far beyond that of any other pickup or SUV.
Yes, Jeeps and Land Rovers are likely just as good at rock crawling, and their more compact sizes probably make them better at that job. But for flying across terrain at improbable speed, nothing comes close to the 2017 Raptor.
Indeed, testing the $66,870 truck (as tested) near California's Borrego Springs revealed its ability to go nearly twice as fast as run-of-the-mill pickups and SUVs. On winding two-track trails where a stock Toyota Land Cruiser would be hard-pressed at much over 35 mph, the Raptor hurtles along at nearly 70 mph.
We saw off-road top speeds over 80 mph, and Ford's seasoned development drivers said they've done more than 100 mph on those sections in the truck. Nothing else you can buy comes close.
Ford provides five different drive modes to cover conditions such as slippery roads, sand, and rock crawling. These selections make adjustments to a variety of vehicle parameters, including how touchy the gas pedal is, how quickly the steering responds, how and when the transmission changes gears, how and when the electronic back-up systems like the stability control and anti-lock brakes perform, whether to engage four-wheel drive's high or low range and which, if any, of the truck's differentials to lock for maximum traction.
You'll want the throttle response to be modulated in tough going to avoid tapping into too much of the 3.5-liter twin-turbo EcoBoost V6's 450 horsepower and astounding 510 lb.-ft. of torque.
Switched to rock climbing mode, the nearly 6,000-lb. Raptor picks its way easily over boulders and through gullies, its cast aluminum running boards serving as rock sliders to protect the truck's rocker panels from being crunched by rocks between the front and rear wheels.
That gap is yawning, as the extended SuperCab edition of the Raptor has a 134-inch wheelbase and the big SuperCrew four-door Raptor stretches 146 inches between the front and rear axles. This contributes to an overall SuperCab length of 220 inches and SuperCrew of 232 inches. (That's three feet longer than the land yacht Chevy Suburban.
Such size could make the Raptor unwieldy in close quarters, but we encountered no difficulties in the rock-crawling portion of our desert drive.
Our high-speed desert drive was what the Raptor was born for. It was here that its purpose-built reinforced frame, its strengthened shock absorber mounts and its incredibly huge Fox shock absorbers show the difference between the Raptor and an ordinary 4×4.
Driving in soft sand and silt, the Raptor churned through like a powerboat that is not yet on plane, with the EcoBoost working hard and the steering sluggish and heavy. An ordinary truck would soon bog down and stop, buried in powder, but the Raptor keeps on keeping on.
Tearing across high-speed washboard and frequent small whoop-de-do bumps, it is key to keep the Raptor's speed up, so that it skitters across the tops of these bumps. The truck dances beneath you, skewing left and right but maintaining a true course. It feels a lot like downhill skiing. 
Occasional bigger bumps that launch the truck cause the driver's feet to lift off the pedals, but the Raptor's cushy suspension provides such smooth landings that feet don't slam clumsily back down.
When enduring this pounding, though, the structural compromises of the SuperCab's rear-hinged rear doors becomes apparent. Without the SuperCrew's B-pillar there anchoring the doors and providing extra structural support, the SuperCrew cab twists and flexes enough that the driver can hear the rear doors periodically pulling away from their seals and then squeezing back shut.
There seems to be no harm done, and 2017 Raptor suffers this effect much less than the first generation truck did. If it is a problem, the SuperCrew has no such issues. That truck is enough longer that it changes how it feels during such high speed runs, as it is a little less agile and a little more stable and the different distance between the front and rear wheels changes the speed at which it floats over ripples.
Once, during a bit of a broadslide, the Raptor's stability control sprung into action with its characteristic crunching sound of rapidly cycling the brake on the inside rear wheel to arrest the slide, demonstrating its ability to catch mistakes. "I call it a one-mistake truck" explained the Ford engineer riding shotgun. "You can get away with one mistake. But don't make a second one."
We didn't. Unless you count sliding the front end through a bush some time later, but it seemed like the Raptor didn't even notice that bobble. Ford Raptor: grantor of off-road mulligans.