Driving Jaguar's F-Pace Through the Mountains of Montenegro
Buckle up, it's gonna be a bumpy ride.
Dan Carney
It is neither chilly nor hellish here in Montenegro, but Jaguar has delivered a cold-day-in-hades machine: the F-Pace crossover SUV from Jaguar, the longstanding purveyor of sports cars and sumptuous luxury barges. The company has made a dramatic change before, when it morphed from being a Porsche-like purveyor of lightweight sports cars in the 1950s, into an English Cadillac in the 1970s.
This five-passenger, two-row crossover's sinuous lines promise continuity with Jaguar's reputation for the knack of combining taut handling with cushy point-it-at-the-horizon comfort. We're here on the winding two-lane roads and two-track trails of the former Yugoslav republic hard against the Adriatic to test that thesis. Jaguar needs this new SUV to meet modern market requirements, lest its next transition be as an English Pontiac. Which, you might recall, is out of business.
Montenegro (Latin for "many rocks"), a favored playground for Russian oligarchs, is as unexpected a destination as a Jaguar is as an SUV manufacturer. But they make a handsome couple thanks to crystal clear seas and what Jaguar design center director Wayne Burgess describes as "blown surfaces."
That's designer jargon for the puffed-out muscularity of the F-Pace's "shoulders" around the front wheels and "haunches" around its rears, Burgess explains. What we non-designers can see is that the F-Pace is stylish, maybe as beautiful as is possible to achieve with the station wagon silhouette of a crossover SUV.
The design team was unshackled from Jaguar's heritage in styling the F-Pace, because this is a new model in a new market segment, Burgess said. "Normally we are replacing a longstanding model," he observed. "That is a lot of pressure, frankly." This time, Burgess and his team were plowing virgin soil, which he said they found liberating. The results suggest they whistled while they worked.
A designer-friendly detail is the optional availability of concept car-worthy 22-inch aluminum wheels. These look fantastic, fashionable filling out the F-Pace's wheel wells. But normally such wheels leave the low-profile tires with virtually no sidewall, punishing occupants with an unforgiving ride.
Somehow, Jaguar's suspension magicians were able to preserve the expected Jaguar ride quality despite the stylishly huge wheels. It is at least partly due to the F-Pace's use of sophisticated mono-tube shock absorbers, its advanced all-wheel drive system and a torque-vectoring-by-braking system that brakes the inside rear wheel while cornering to reduce understeer.
The serpentine Montenegrin byways put the F-Pace's systems to the test, with seemingly endless turns and switchbacks poised to reveal any sloppy handling characteristics. None surfaced, as the F-Pace retained its poise in the face of the onslaught of twists.
Inside, programming returns to normal. At least, it does in the upmarket versions of the F-Pace, where soft leather and warm wood fall readily to hand and soothe the eye. The entry-level F-Pace, which starts at just $41,000, is stripped of this gingerbread, leaving it a bleaker workplace.
The F-Pace lines up against rivals such as the BMW X1 and X3, Audi Q5, Porsche Macan and Mercedes GLC (wait, wasn't that Mazda's "Great Little Car" forbear of today's Mazda3?). Most of them feature a similar sea of black plastic inside.
An advantage the F-Pace has over these competitors is great rear seat and cargo room. Though the vehicle is a little bigger than its competitors, its aluminum-intensive construction keeps the Jaguar feeling light on its feet.
The F-Pace will be available in the U.S. with three different engine options. The base model, starting at $41,000, will use a 180-horsepower 2.0-liter diesel four-cylinder engine that can achieve a 129 mph top speed and accelerates to 60 mph in 8.2 seconds. 
It delivers an astounding 53 mpg on the European test cycle, but the tougher U.S. fuel economy test will probably produce a number in the 30s. Though it is the base engine, the diesel edition won't be available until the fall.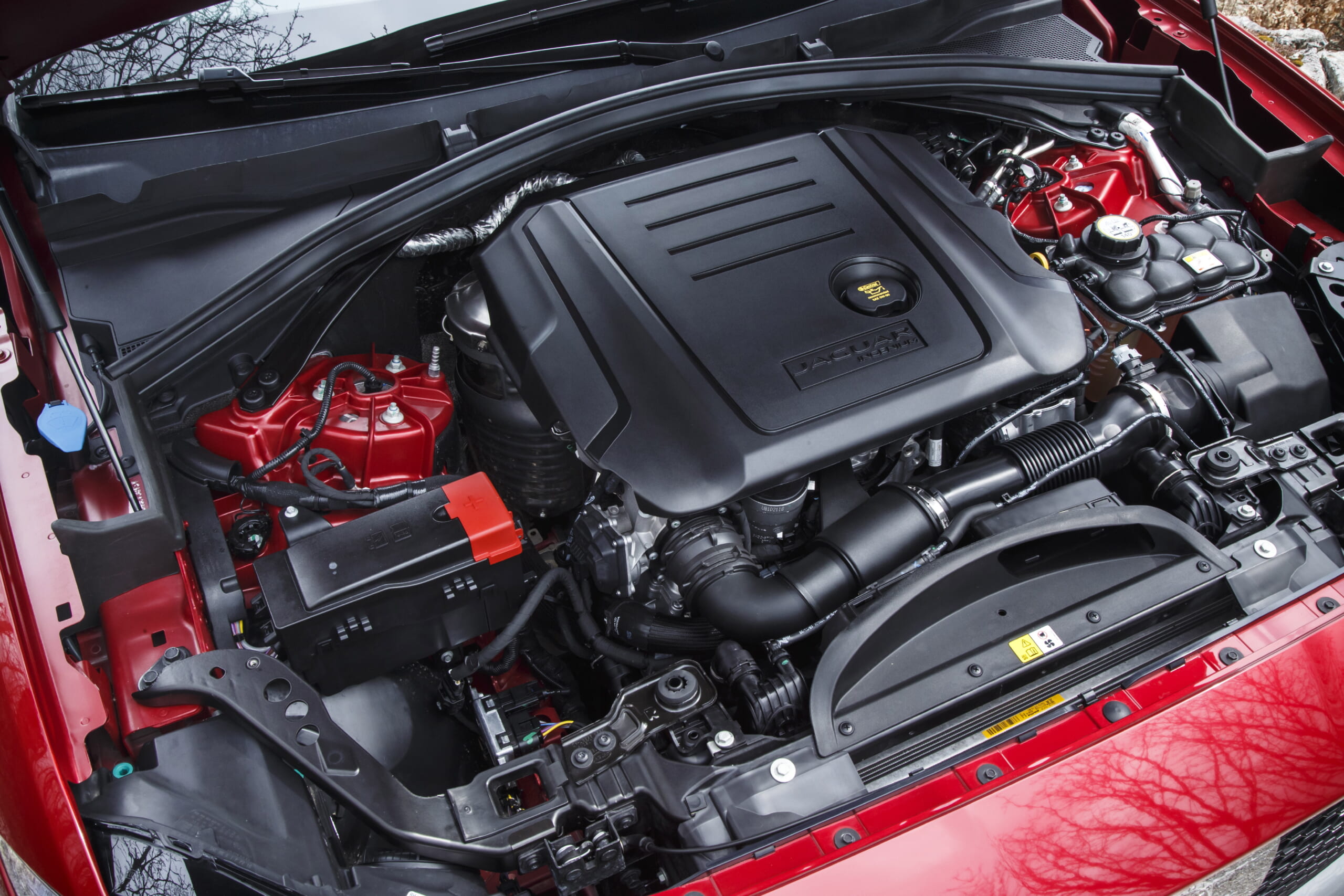 The engine at launch will be a supercharged 3.0-liter gasoline-fueled V6. It comes in a standard 340-horsepower output model and an upgraded 380-horse version. That top-end model boosts the F-Pace to 60 mph in just 5.1 seconds and has an electronically limited top speed of 155 mph. 
The 340-hp engine will also go 155 mph, but it needs an extra 0.3 seconds to reach 60 mph from a standstill. A mid-range F-Pace Prestige equipped with the 340-hp engine starts at $51,000, while the top-of-the-line F-Pace S, with the 380-hp engine, starts just shy of $57,000.
Both diesel and gas versions use an 8-speed ZF automatic transmission that seems perfectly programmed. Climbing winding mountain roads and passing slower traffic on rural two-lanes tends to bring out the worst in automatic transmissions, and under these conditions the F-Pace's transmission calibration shone, as it consistently selected the appropriate gear rather than infuriating the driver with excessive downshifts or indecision between gears.
Even with its obvious on-road bias in terms of equipment and tuning, the F-Pace proved capable negotiating rocky trails, scrambling up steep hillsides and descending an apparent roller coaster track down the back side of a dam. In addition to the hill descent control system that we've seen for years on Land Rovers, this Jaguar also adds a speed control setting for climbing difficult surfaces as well. The driver sets the speed and the F-Pace does whatever is necessary to maintain that pace while climbing.
The opportunity for the F-Pace to exhibit its wide-ranging capabilities explain why Montenegro was an ideal venue for testing Jaguar's new SUV. The country's challenging roads and trails proved that it is as heavenly as the F-Pace, no matter the temperature.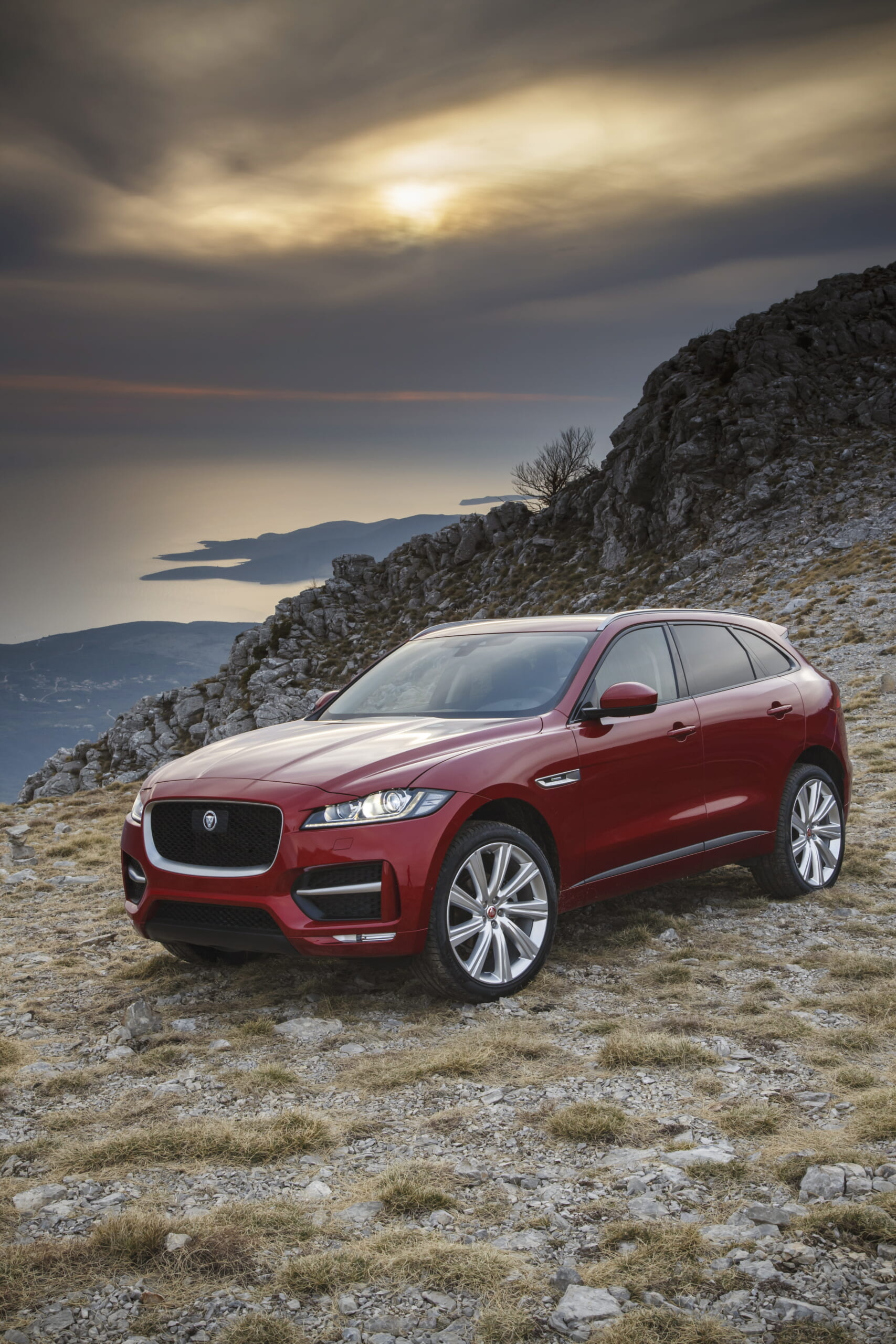 For the latest car news, follow @MaximRides and Dan Carney on Twitter.