Droog Moto's Urban Fighter Is the Savage Street Bike of the Future
Get equipped for the post-apocalypse world.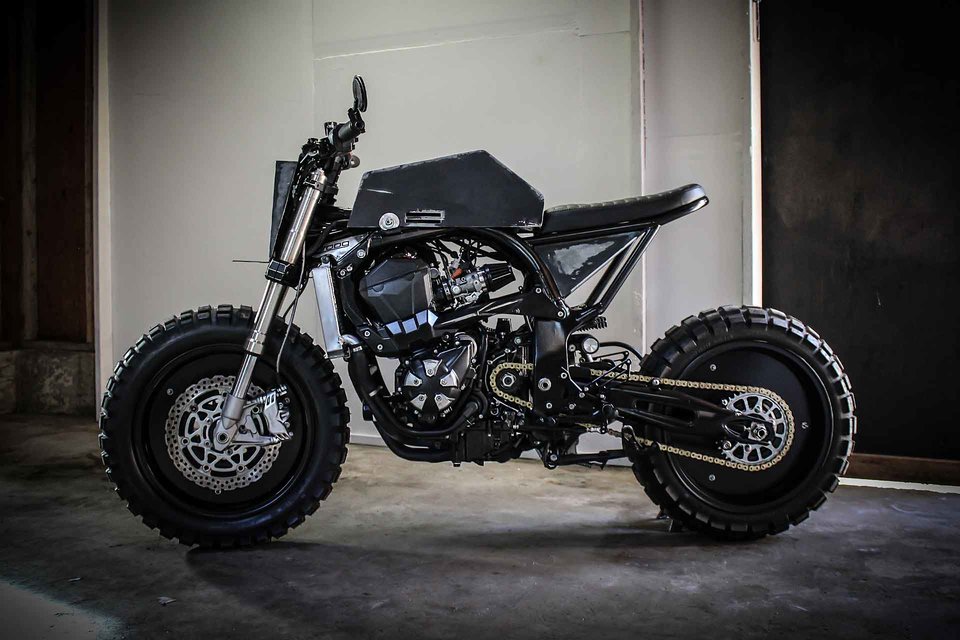 Droog Moto
Someone at Droog Moto has seen a lot of Mad Max movies is our guess—but no one is complaining. Because if that's what inspired the design for their new Urban Fighter motorcycle, it's obvious they're on the right track. 
The Urban Fighter is the chunkiest bike to come out of the shop yet, and at its heart is the guts of a Kawasaki Z1000. That means that however tough its look, the Urban Fighter is a pretty sweet ride under the skin.
Droog etched its gritty ethos into the Fighter's sharp-edged design. It tacked on a custom fuel cell and front fairing but otherwise lopped off all the frills. There's no excess though, the bodywork is minimalist to nonexistent and with no tabs and hidden wiring, it's like a piece of industrial art.
Droog Moto swapped out the the subframe in the bike's rear and added a skateboard seat with a slick red slash of an LED brake light. Then it tricked out the wheels with aluminum inserts that double down on the stripped-down futuristic vibe, giving the Urban Fighter a heavy look that offsets its lightness and maneuverability. 
If you're ready to Blade Runner up with this impressive bike, check it out here. It's currently on sale for $18,000—email the company for further details.