I Went On the Ultimate Ducati Superbike Tour of Tuscany
Here's how to kick your next Italian vacation up a notch.
The Ducati's rear end breaks loose and swings wide on the rutted trail, causing its knobby back tire to sling mud all over some unsuspecting pine trees. I pin the throttle and stand up straight to climb a steep, gravelly grade, shifting my weight over the handlebars as the front end struggles to keep traction. Then, just like that, I've crested the slope and shot out from the dark forest, emerging into Tuscany's rolling
green countryside.
A few hours ago, I landed at the Florence airport, and after a scenic 60-minute drive, I arrived at Castello di Nipozzano, a well-preserved stone castle that dates back more than 1,000 years. Though the property is renowned for its winemaking prowess—the acres upon acres of surrounding vineyards have produced Tuscan wine for seven centuries—Nipozzano has recently adopted a far less conventional, entirely louder identity as the backdrop for Ducati's Riding Experience Enduro. 
From late spring to late summer, the Italian motorcycle giant hosts eight weekend-long training courses that highlight the off-road potential of its all-new Multistrada 1200 Enduro, a 160-horsepower rocket of all-terrain agility, showing riders like me how to navigate the unpredictable obstacles that appear once you leave the pavement.
At Nipozzano, those impediments often include thick mud, deep ruts, big rocks and slippery tree branches. Ducati ensures that its guests are in the best hands possible along the way—namely those of Beppe Gualini, a master enduro racer who's conquered the grueling Paris-Dakar motorcycle rally about a dozen times.

For the uninitiated, enduro refers to the long-range endurance races that take place on huge, off-road loops, made famous by rally courses like the Baja 1000. In enduro, you attempt first to run through the course at a consistent pace, in order to finish as close to an established time as possible, then you do the same course flat out, as fast as you can. But there's a catch: Riders don't get to scope out the terrain before they race, so quick reflexes are crucial. 
Given their complexity, enduros are usually reserved for professionals—which is to say that few students who enroll in the enduro course will ever go on to compete in one. Most of the people in my group have never taken a bike off-road before, and each has a different reason for being here, but Gualini suggests there's at least one common denominator. "People have fear," he says. "They want to have the knowledge to ride safely on gravel, in mud or off-road."
In an open meeting space just off Nipozzano's exquisitely detailed dining room, the group snaps to attention when Gualini bangs his wooden walking stick against the ground. The course begins with a PowerPoint primer on essentials like proper riding technique and how to pick up a 559-pound beast of a bike when you inevitably fall off of it, which everyone does.

After some instructor-led stretching, we divide up into groups by skill level, and happily I'm paired with Gualini, who leads our pack out from the castle along back roads that skirt the edges of seemingly endless vineyards. We devote the morning to safety maneuvers, including low-speed slalom and emergency braking on gravel, along with simple yet challenging exercises like riding over a washboard of loose logs. They're more nerve-racking than you'd think, even in a controlled environment, but Gualini keeps us calm.
Because this is Italy, there's extra time built in for a leisurely lunch, which consists of al dente pasta and rich buffalo mozzarella, served alongside the best olive oil you've ever tasted. Even on our first break, it's hard not to notice that everyone looks like hell—dirty, sweaty, drained—but to a man, they're laughing, swapping war stories in English, Italian and Japanese. Before long, we're back on our bikes for even more demanding drills, not least of which is the balance board, a contraption that asks you to slowly ride up and over a wooden plank as it seesaws—on a motorcycle.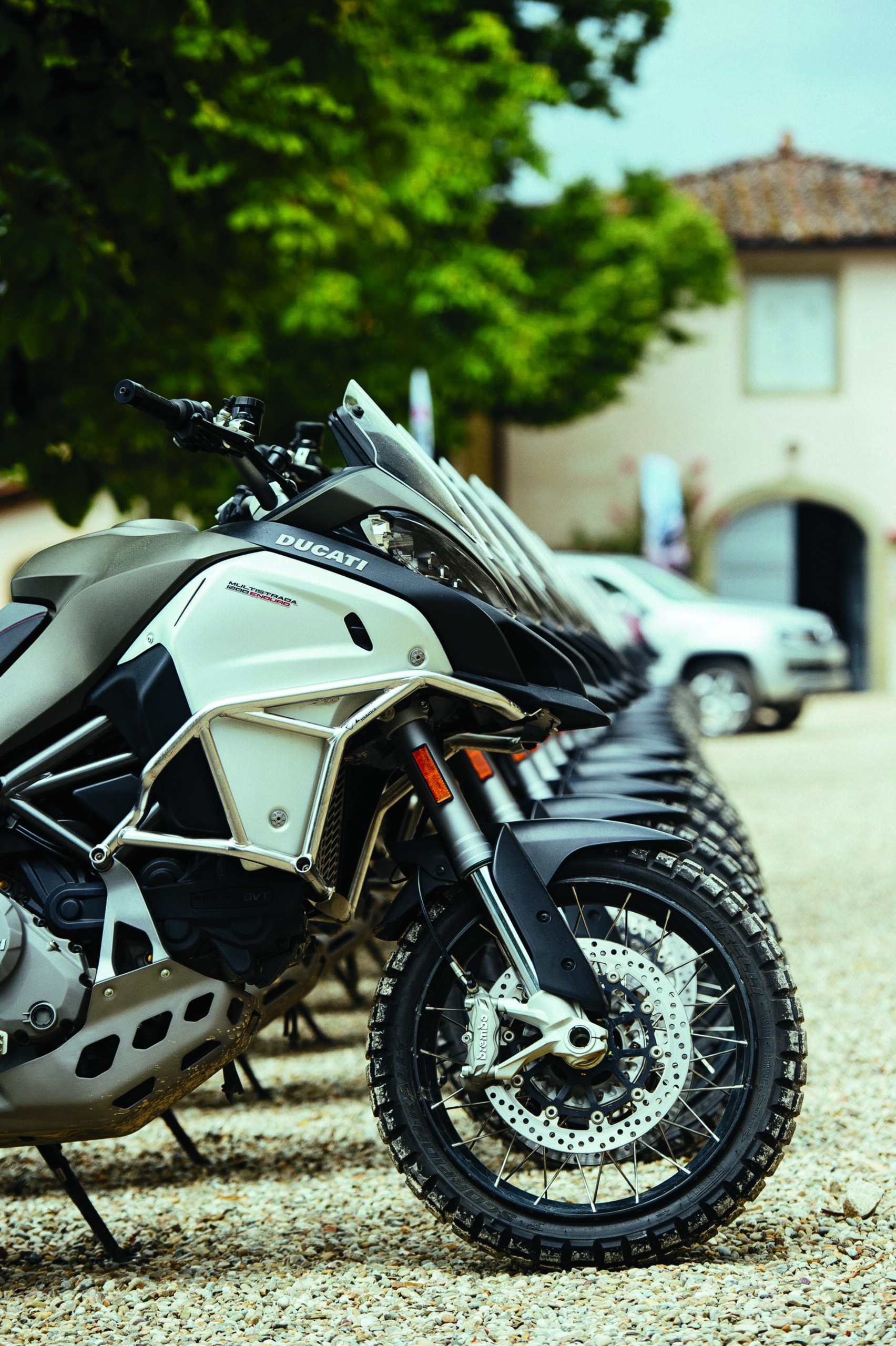 It's much the same the following day, honing our skills and building on our new muscles by riding fast across groomed but greasy fields of moist grass and silt, and barreling over huge mounds of dirt with spookily steep descents. When Gualini feels good about our progress, he leads us on an epic back-road ride deep into the woods around Castello di Nipozzano, where we put what we've learned into practice.
Hearing the engine of a Ducati howl as you speed along thrillingly gnarly tracks in the muck is an extraordinary experience—even more so when you're tailing someone as passionate as Gualini, in a land as beautiful as Tuscany. "Enduro, for me, is color, excitement, improvisation," he says. "You smell the plants, the water in the engine, the mud. It's freedom, it's life, it's nature."
The $765 Ducati Riding Experience Enduro includes use of bike, gas, two lunches, one dinner and a tour of the castle's wine cellars; accommodations and flights are booked separately.
This article first appeared in Maxim's October 2016 issue. Subscribe here.