New Ducati Streetfighter V4 Design Channels 'Joker's Crazy Grin'
This stripped-down, 200-plus horsepower superbike is based on Ducati's most powerful production model.
Months after we got our first look at the Ducati Sttreetfighter V4 prototype, the Italian motorcycle marque has finally unveiled the final version of its ridiculously powerful new superbike. 
As was previously reported, the Streetfighter V4 is based on the Panigale V4, Ducati's most powerful production model. Its equipped with high-and-wide handlebars and has been stripped of its fairings to flaunt the monstrous 1,103cc Desmosedici Stradale four-cylinder. 
Ducati also revealed that the engine's output has been decreased slightly from the 214 horsepower available on the Panigale V4 to 208 horsepower, making it better suited to the streets. 
With a curb weight of just 443 pounds, the power-to-weight ratio comes in at an impressive 1.17. Those who want to get really crazy can opt for a full-racing Ducati Performance exhaust, which raises output to 220 hp and reduces weight by just over 13 pounds. 
That's a lot of bike, but there's plenty of technology to make it manageable. A 6-axis inertial measurement platform instantly detects the bike's roll, yaw and pitch angles. These on-board electronics help control every part of the ride, including starts, acceleration and braking, traction and cornering.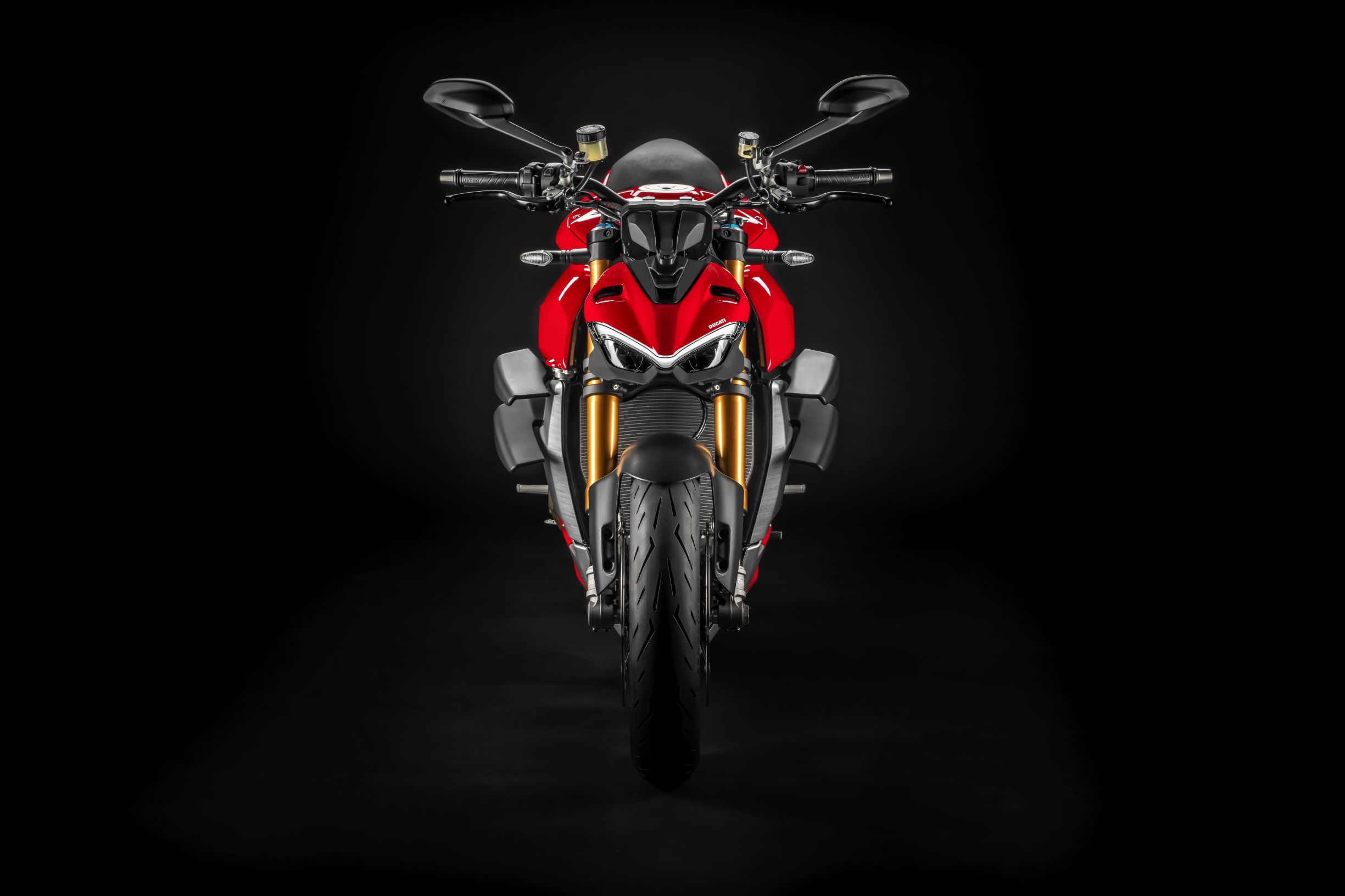 Design-wise, Ducati says the minimalist full-LED headlight its V-shaped daytime running lights shares similarities with the front end of the Panigale V4 while also evoking "the crazy grin of the Joker." 
We'll let you decide whether or not that's a sneaky way of cashing in on the frenzy over the wildly popular Joker movie. 
The Streetfighter V4 is also available as the upgraded V4 "S" variant pictured here. Ultimate Motorcycling reports that the V4 S gets improved shocks, shock absorbers and dampers, a sportier suspension, a high-tech control system and weight-saving forged aluminum wheels. 
The Ducati Streetfighter V4 starts at $19,995 and the V4 S at $23,995. Both hit dealerships in spring of 2020.