This Solar-Powered Yacht Is Fueled Only By the Sun and Alcohol
Just like its passengers.
The bombastic Motor Yacht A we recently featured can store 200,000 gallons of diesel in its titanic tank. At three or four bucks a gallon, that quickly adds up. Sure, you can afford it. But why bother?

As its name implies, Duffy London's Solaris Global Cruiser caches thousands of free kilowatt-hours of electricity from the sun to go wherever the heck its wants. And not just puttering along, either.
Though this 144-foot yacht cruises at 28 knots, alcohol turbine engines give it bursts up to a sporty 45. Fuel it once and (weather permitting) you may never have to fuel it again—giving you the range and independence of a sailing yacht, but without the reliance on fickle winds to take you.
Apart from all the eco-friendly stuff, one of the big side benefits would be the huge reduction of noise pollution. Imagine gliding swiftly and silently through the water, rather than gurgling along with nearly deafening motors. You'd be able to actually hear your music, friends and own thoughts.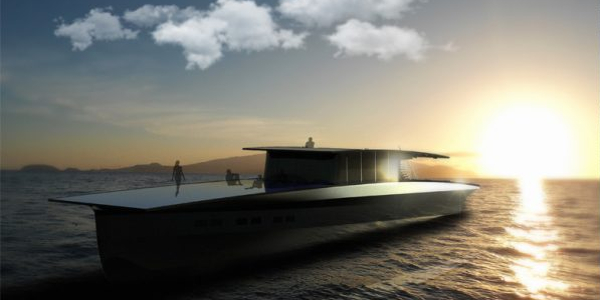 Best of all, a special cooling system would capture heat from the extensive solar paneling to not only produce adequate hot water for the 10 guests and 7 crew aboard, but also make the panels themselves a safe place to walk or sit (if you bore of the wooden decks in the top and aft sections).
The price for this green ticket to freedom is around $32.5 million. If you're ready to invest, it could be in the water by 2020, for an escape around the planet—or just your local harbor, if you like.