F1 Legend Alain Prost's Ferrari F40 Could Fetch $3.3 Million At Auction
In its day, the V8-powered Ferrari F40 was the fastest car the world had ever seen.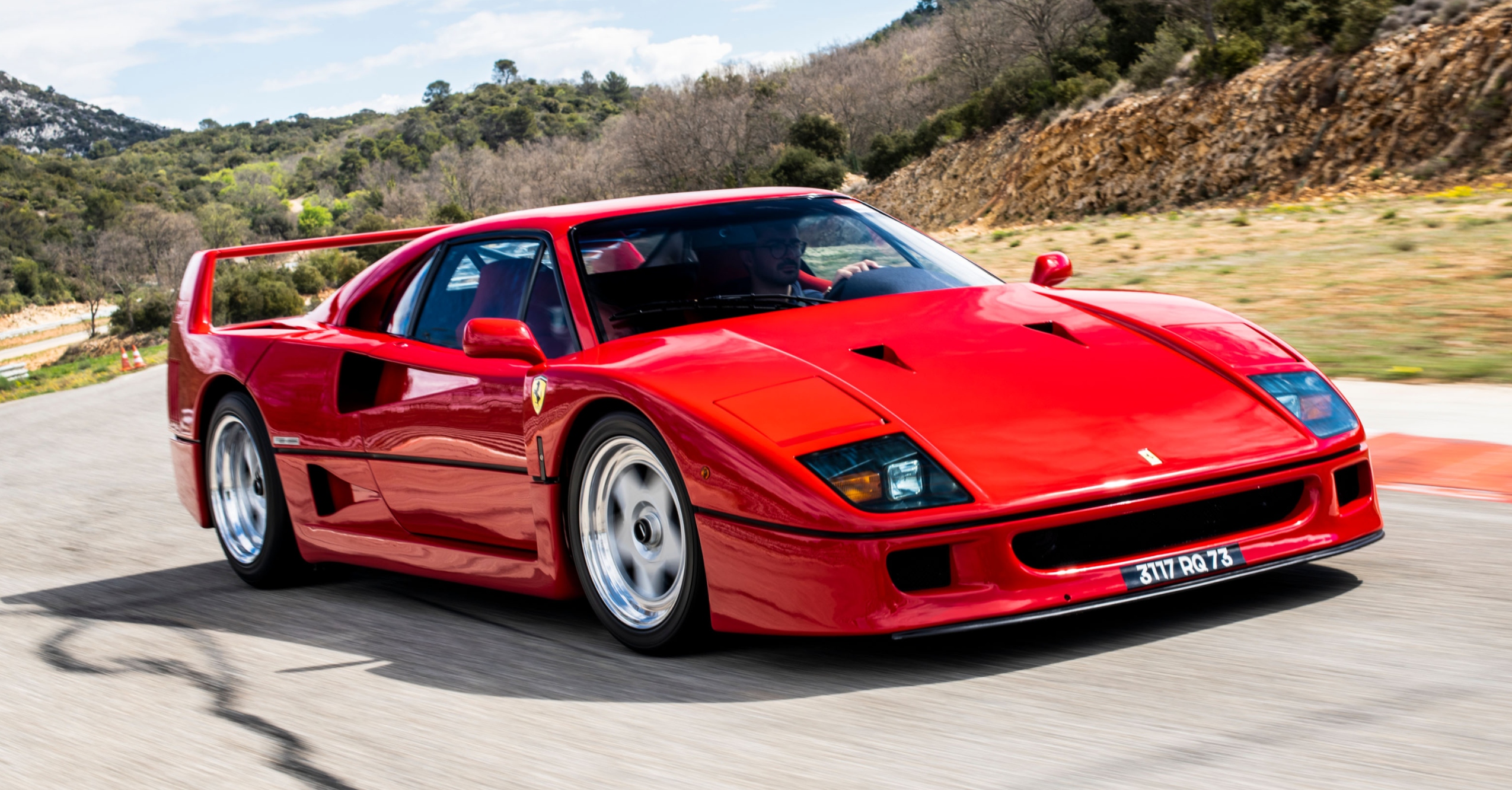 (Remi Dargegen/©2023 RM Sotheby's)
In 1989, the world's fastest racing driver was Alain Prost, and the world's fastest roadgoing car was the Ferrari F40.
Prost, who had just won his third of four career Formula 1 championships with McLaren, elected to sign with Scuderia Ferrari, joining the pantheon of motorsport legends that have raced for the Prancing Horse's F1 team.
As a welcome gift, Prost was presented with a brand new 1990 Ferrari F40 that's now headed to auction at RM Sotheby's. With a max speed of 202 mph, the model was the fastest street-legal ride the world had seen, surpassing the top ends of both the Porsche 959 and Lamborghini Countach.
The 1980s poster car was originally developed from the preceding 288 GTO flagship to compete with other GTs in the FIA's Group B. When the dangerous race class was canceled, Maranello's esteemed marque decided the F40 would serve as platform on which to build an exclusive 40th anniversary tribute to its first vehicle, the 125 S. The somewhat tumultuous origin story spawned one of the most iconic supercars of all time and the last developed under Enzo Ferrari's leadership.
The 288 GTO's twin-turbocharged V8 was bored to displace 2.9 liters and married to a five-speed transaxle actuated by very cool, retro gated shifter. Original output was billed at 478 horsepower and 425 pound-feet of torque, enough to propel the F40 to 60 mph in just 3.8 seconds.
Prost's time at Ferrari was short-lived. He finished runner-up to Ayrton Senna in his 1990 season, and he was fired before the conclusion after his win-less 1991 season after he publicly criticized the team and his Ferrari 643 race car. In that sense, it's fitting that he never actually drove his Ferrari F40, though he did autograph the roof before it first changed hands in the early 1990s.
RM Sotheby's has more details on Prost's Ferrari F40, chassis No. 83249:
Chassis number 83249 remained with de Zille in the United Kingdom and moved with him when he relocated to Jersey in 1995. Just prior to this, the car was registered in the UK, and its odometer was replaced and changed from kilometers to miles. While in Jersey, the F40 was featured in the April 1997 issue of Motor Sport magazine in an article celebrating 50 years of Ferrari.

By 1999, the F40 returned to the UK and was owned by David Darling of Leamington Spa. Splitting his time between the UK and the US, the car was minimally used before being acquired by Craig Johnson a few years later and, subsequently, Karl McKeowen in 2006. The car was bought by Alistair Dyson in September of 2007, who kept the car until 2016.
That same year, chassis number 83249 was granted Ferrari Classiche certification, stating that it retains its original chassis, engine, gearbox, and bodywork. In celebration of Ferrari's 70th anniversary, the F40 was invited to return home to Maranello, where it participated in the concours at Fiorano celebrating Ferrari's milestone birthday, placing second in its class

Currently residing in France, the F40's fuel bladders were replaced in March of 2019 at Ferrari Lyon and remain valid until September 2028. A major service was also carried out at this time. The tyres currently fitted to the car are 10 years old, but the car is accompanied by a fresh set of tyres dated 2018 that can be installed by the winning bidder. Since that service, the car has completed minimal mileage, with its odometer showing just under 2,900 miles at the time of cataloguing.
Expect Prost's 1990 Ferrari F40 to fetch up to $3.3 million at its upcoming Sotheby's Sealed auction from May 10-12.