This Custom Honda Is an Awesome '80s Dream Bike
Minty green masterpiece.
We guarantee you'll never see another bike quite like Federal Moto's "Two Scoops" Honda restomod. 
That's because the Chicago shop based it on an extremely rare platform that was only sold in the U.S. for one year—the 1983 Honda CX650.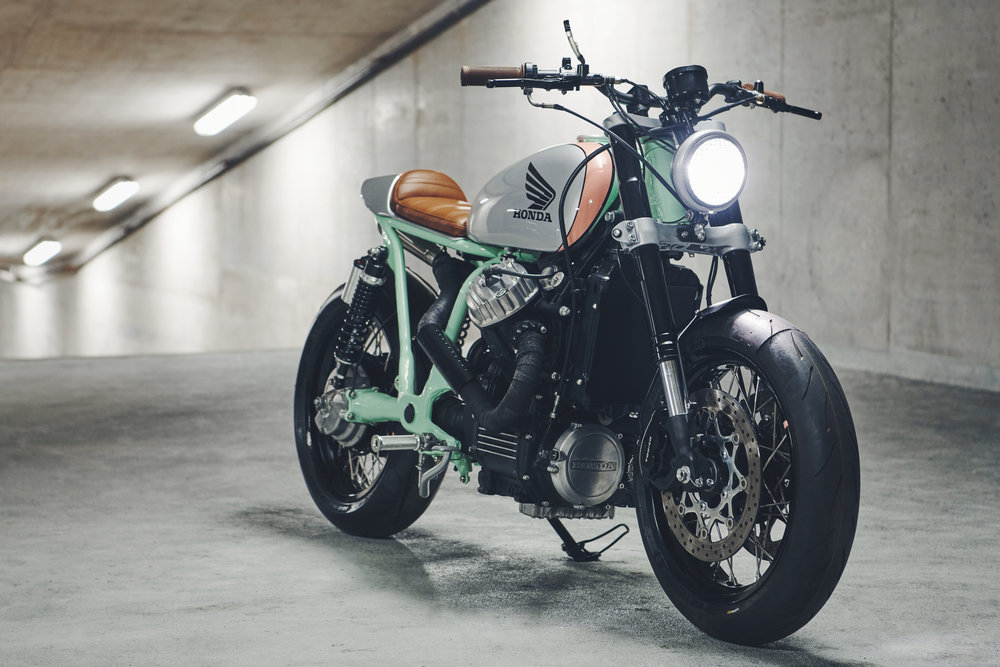 That decision was a curious one for lead builder Michael Muller and his team, because the end result is entirely different from the donor model's original look and feel. 
"The bike's stance is very upright and tight now," Muller told Bike EXIF. 
"We wanted the rider to have full control of the bike and feel connected to the road…a funky supermoto vibe on a fat bike."
In the front are forks and brakes from a 2006 Suzuki GSX-R600 and anodized black forks. Federal  then overhauled the original 100-horsepower V-Twin engine with new gaskets and piston rings to make everything street-legal. 
And that was only the beginning of the transformation. Bike EXIF has further details: 
The rear hub was lifted from a 1988 Honda Shadow, and mated to the CX's drive shaft. Buchanan's laced up a new set of 17" Sun aluminum rims with stainless steel spokes. They're wrapped in Metzeler Racetec RR rubber for max grip.

Federal also fabricated a new subframe and a discreet electronics tray, and installed new shocks to lift the rear.

Fellow Illinoisan bike builder Craig Rodsmith fashioned a bespoke tank and tail section before Federal finished the job off with an array of parts from their store, including a Motogadget m.unit micro controller with Bluetooth connectivity, LED lighting, Posh switches from Japan, and a digital speedometer from Koso. 
A strangely alluring mint and peach paint job with chocolate accents on the leather seat and grips cements the "Two Scoops" Honda CX650's one-of-a-kind status. 
Visit Federal Moto's website for further details.