These Wild New Passenger Planes Have No Middle Seats and Look Like Apex Predators
Death from above.
It's a bird, it's a plane, it's a…great white shark? 
Not exactly. It's a brand-new passenger plane that's only painted like a fearsome undersea killing machine. The E190-2, nicknamed the "Profit Hunter," is one of Boeing and Embraer's model planes for their wild new E2 family of aircraft, which includes the E175-E2 and E195-E2 models. 
In creating the E2 series, the aircraft manufacturer and aerospace company are competing directly with Airbus and Bombardier's A220 series, jets from which are part of AirBaltic, Korean Air and Delta fleets.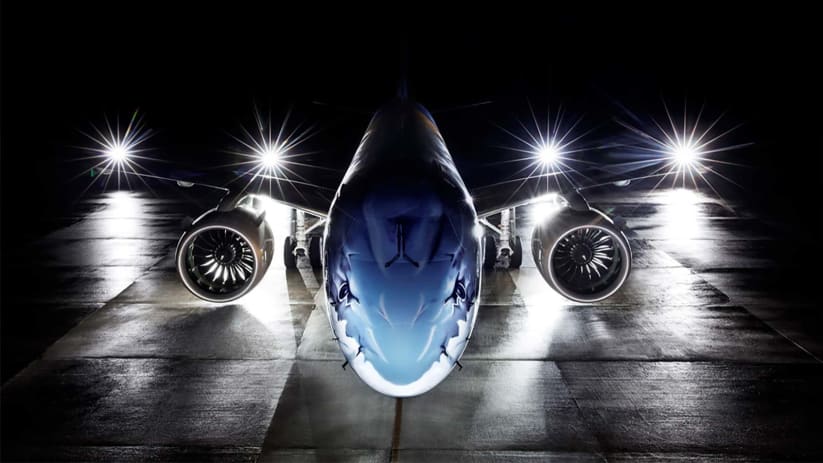 CNN has further details on the competing lines: 
The rivalry between the Embraer's E2 series and the Airbus A220 reached its zenith at Farnborough, when JetBlue Airways ordered 60 A220s over the E2s, to replace its Embraer 190 fleet.

First deliveries of these aren't expected until 2020, but for travelers who have come to know, and perhaps love, the smaller aircraft of the JetBlue fleet (the airline currently only operates Airbus A320s and Embraer E190s), the change to Airbus A220s means losing an overlooked amenity that's a trademark of Embraer: no middle seats.

Embraer's country-hopping world tour is the Brazilian aircraft manufacturer's chance to demonstrate to clients, as well as to the traveling public, that it has new aircraft too, and with technical and comfort advances developed since the early 2000s introduction of the first E-jet generation, of which more than 1,400 currently fly for operators around the world.
Aside from the ferocious shark, tiger and eagle liveries that adorn the tips of the show planes, the E2 series offers practical advantages for passengers.
A definite highlight is a 2-2 aisle configuration with no middle seats. The window seat gets a better view with bigger frames that lighten up the cabin. Overhead bins are 40 percent larger to accommodate standard carry-on luggage, and under-seat support rails have been nixed to increase legroom.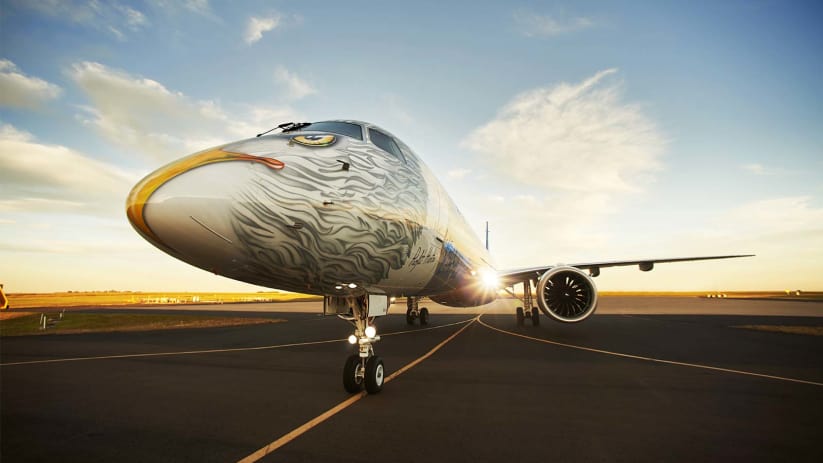 "Preserving passenger personal space is the goal," Rodrigo Silva e Souza, vice-president of marketing for Embraer Commercial Aviation, tells CNN Travel. 
The interiors have a "wide-body cabin feel" designed to "give passengers the impression of having greater space, or of being on a larger aircraft."
Technical advances include reduced emissions, a new, high-aspect wing design, and improved fuel efficiency, which will hopefully cut down on the bottom line for customers.
Regional carrier SkyWest, which serves American Airlines, Delta, United and Alaska Airlines, is scheduled to receive 100 E175-E2s—the smallest of the E2 jets—in 2021. 
We just hope they keep the shark in service.