2019 Ferrari 488 Pista Drive Review: A Supercar Fit for the Streets AND the Track
This 710-hp Prancing Horse is one hell of an Italian Stallion.
The launch of any new Ferrari is always an epic automotive event. The supercar's signature red color scheme, iconic Prancing Horse branding and sheer speed and ferocity are just a few of the automotive attributes that have made Ferrari an absolute icon. 
So when I was recently invited to test drive the all-new 488 Pista at the Miami-Homestead Speedway, I was definitely eager to put the pedal to the metal. After all, this beautiful beast is Ferrari's latest attempt at fitting racing DNA and technology into a stunning package that's capable of tearing up any race track, while still maintaining its sexy street cred.
Built To Dominate The Race Track
The 488 Pista boasts the "most powerful V8 in Ferrari history," and comes equipped with a twin-turbocharged 3.9-liter V8 engine that produces 710 horsepower and 568 lb-ft of torque. 
It has a seven-speed dual-clutch transmission, rear-wheel drivetrain, and a top speed of 211 mph. The Pista has made a natural evolution from its predecessors to arrive here. 
The result? The most dramatic transfer of racing technology to a production Ferrari, ever. The name "Pista," which directly translates to "track," makes perfect sense when you consider its lineage. 
The Pista's DNA is derived from Ferrari's previous track-bred, mid-engine V8's—the 360 Challenge Stradale, 430 Scuderia, and the 458 Speciale. It also borrows influence from the 488 GTE and 488 Challenge, two of Ferrari's track models that have continued to dominate in their respective racing series.
Taking those factors into consideration, the Pista was developed with a spirit for the track and racing in its blood. It's all frills and no frills all at once. The interior is everything a race car
should be. 
A dialed back interface offering only the essentials—a handful of buttons, switches, and lights that are more reminiscent of a cockpit than a car. There's no excess of fancy buttons and knobs, but it does come with cupholders. 
Racing-Inspired Tech Upgrades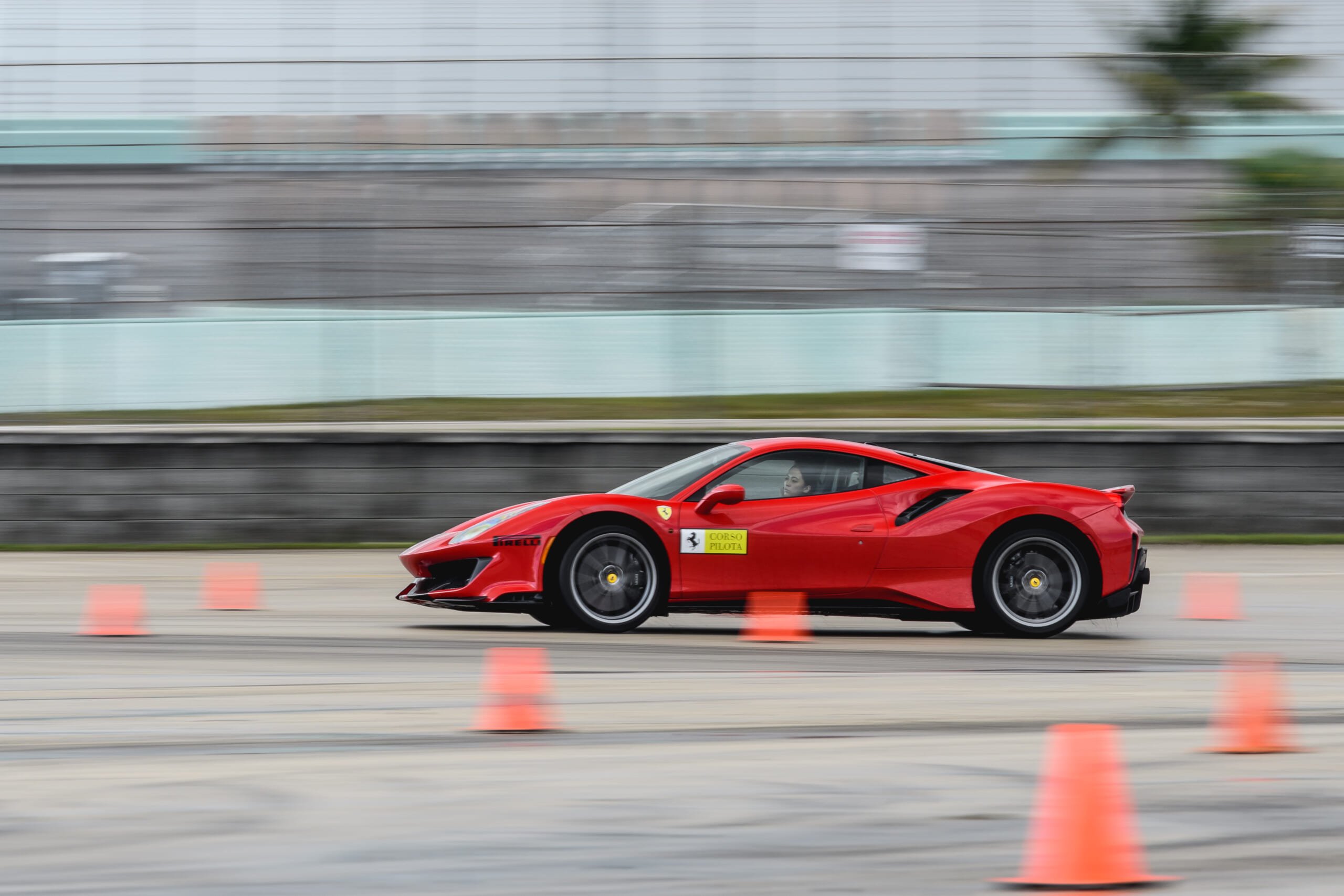 Since the Pista is the latest iteration in the V8 Sport Special Series, a large amount of its technology and design has thoughtfully trickled in from previous generations and high-performance race cars. 
For instance, the Pista's S-duct, or front design of the hood, was created to generate downforce, a technology that has been specifically pulled from Ferrari's Formula 1 race car. 
This design element produces 20 percent more downforce when compared to the 488 GTB. Its powertrain was also derived from the 488 Challenge, while the rear diffuser comes from the 488 GTE.
The weight reduction on the new Pista is massive. Everything is lighter—the crank, flywheel, and the exhaust manifold have all slimmed down thanks to Iconel, a special advanced alloy that works at high temperatures in the 488 Challenge. 
Pulling titanium connecting rods from F1 technology and use of carbon fiber in the bumpers, hood, intake plenum, and rear spoiler also help. Add on the optional 20-inch carbon fiber rims, and it easily clocks in with the lowest weight-to-power ratio of any production car in Ferrari history.
Ferrari Corso Pilota Program
Since Ferrari has been synonymous with racing from day 1, it's a natural progression to see their work in Formula 1 and the World Endurance Championship trickle down and positively impact their production cars. 
What happens when you have all of this incredible technology in a vehicle but no clue how to drive it? Enter Corso Pilota.
One of the most beneficial perks of Ferrari ownership is having access to their Corso Pilota Program, a precision driving school that is exclusively available to Ferrari clients. 
Corso Pilota courses help develop driving skill and ability through varying levels of instruction with Ferrari's robust roster of professional racing instructors. 
Participants begin at the introductory Sport level before progressing to the Advanced and Evolution levels, and finally the Challenge level, where necessary skills are taught to compete in the Ferrari Challenge Racing Series.
Ferrari Challenge drivers mostly come up through the Corso Pilota program, so it's the familiarity and confidence that Ferrari owners build in the 488 Pista that make them so successful when they move on to the 488 racecars.
Corso Pilota is offered at three tracks in North America—Monticello Motor Club, Las Vegas Motor Speedway, and Homestead-Miami Speedway. I was invited to test the 488 Pista in Miami for myself.
The Test Drive
With the backdrop of sun, tarmac, and a little bit of precipitation, Miami-Homestead Speedway was the ideal environment for this newly-spawned stallion to prance freely. Turn a few laps in the 488 Pista, and the slick red vehicle quickly turns into a total rocket ship.
The Pista's driving modes are a joy to toggle through with just a flip of the switch on the steering wheel. With Wet, Sport, Race, CT Off, and ESC Off modes, there's a little something for everyone. And the differences are drastic.
Right away, the Pista's handling and performance characteristics change in an instant. Everything from steering and throttle to shifting speed, braking, and suspension is dialed in. One particularly notable piece of tech is the new vehicle dynamics control, Ferrari Dynamics Enhancer (FDE), which is designed to grab a slower dynamic of slip angle for more fluid management in steering.
Off-track, I carefully took it down some quiet residential roads. While the car was equally enjoyable driving down the street, you can feel its eagerness. It's difficult to keep a vehicle like this comfortable under 40 mph. The ride is unsurprisingly smooth and comfortable, but it's always itching to break away. You realize how at home it is once it's on the track.
Ferrari has done it's due diligence in taking the best components of their high-performance racecars and fitting them into this street-legal machine. This is the closest you will get to driving a Formula 1 car on public roads from both a performance and enjoyment perspective.
While the 488 Pista is fairly easy supercar to navigate, it is a supercar nonetheless. And a very brilliant one at that. It's raw, exciting, powerful, precise, and smart—everything you'd want and need in a vehicle with a starting price of $350,050. 
The Pista encompasses research, design, technology, blood, sweat, and tears accrued over years of doing what Ferrari does best—racing. It's no surprise that the Italian marque has once again surpassed all expectations. 
And at the end of the day, the Pista is fun as hell to drive. As the Italians say, "Che bella."