Check Out This Gathering of Ferrari Dinos on the Iconic Model's 50th Anniversary
More than 150 returned to the company's Maranello headquarters for the homecoming.
Ferrari's enthusiastic tifosi have finally embraced the Prancing Horse's V6 model, the Dino, after a half-century of holding Ferrari's original non-V12, mid-engine sports car at arm's length.
But now that the Ferrari Dino has reached its 50th birthday, the company hosted a gathering of the cars at its Maranello headquarters, and more than 150 of the cars returned for the homecoming.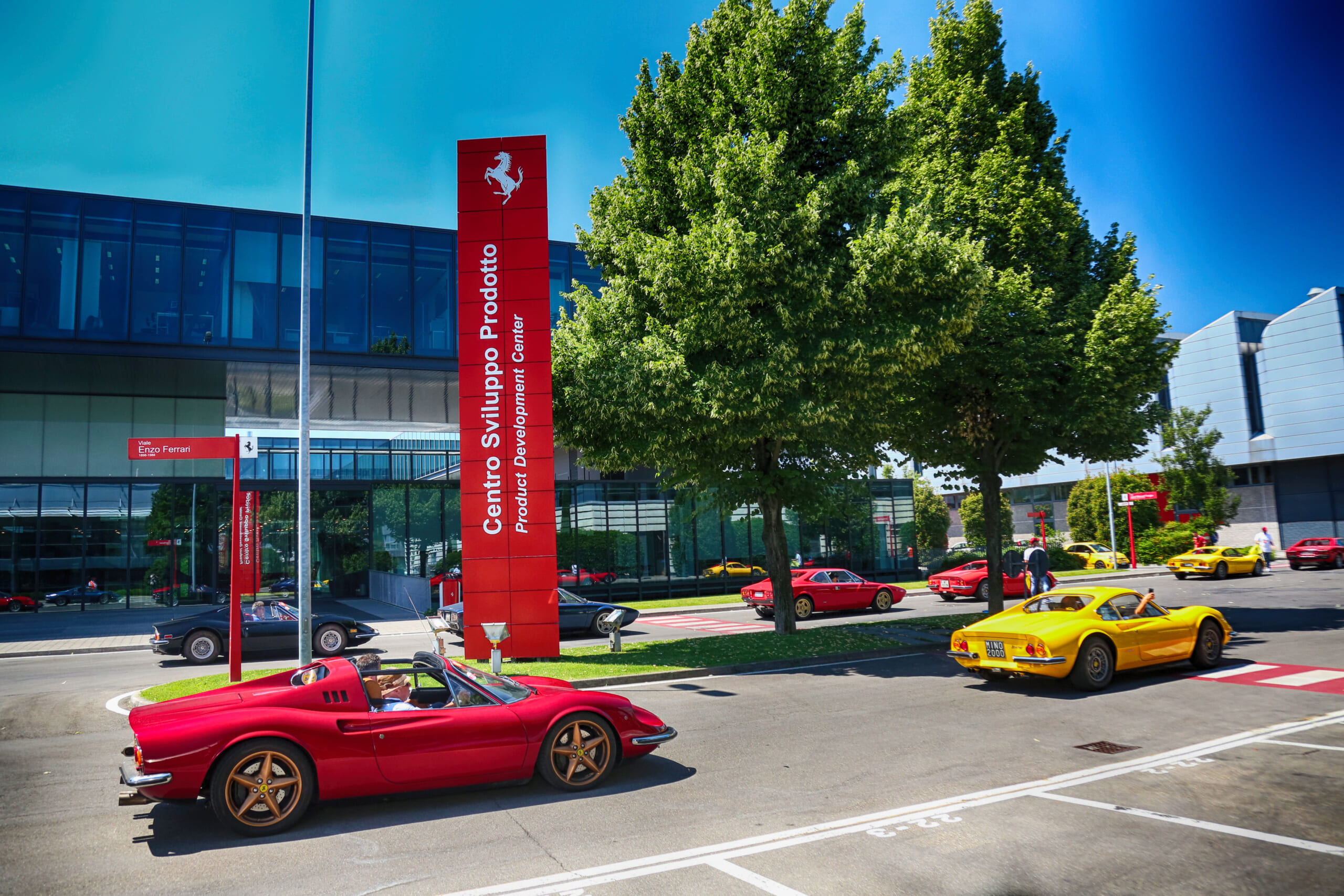 Following a gathering of the cars in front of the Ferrari Museum, they adjourned to the company's private test track at Fiorano for some parade laps.
The Dino prototype debuted at the 1965 Frankfurt Motor Show, powered by a 195-horsepower 2.0-liter V6 engine designed by Enzo Ferrari's son, Dino.
Here's more on the history of the initially controversial model, from Ferrari:
The model met some resistance amongst purists to begin with as it was not considered a 'real' Ferrari, but opinions soon changed once clients got the chance to see it close up and drive it. The small-engined Ferrari (relative to other models in the range at the time) came about due to regulations in Formula 2 monoposto racing for 1967, requiring that engines in racing cars had to be production-based, and produced in quantities of no fewer than 500 units a year.
The car launched as a production model in 1967, but because 2017 marked Ferrari's 70th anniversary, the company postponed the Dino celebration until this year.
The original Dino was designated the 206 GT and it was followed in 1969 by the 2.4-liter 246 GT, which continued until 1974. As for the name Dino, Ferrari explains:
The Dino name was first used on Ferrari cars with V engines in the late fifties, on Formula 1 and sports-racing models. It was the Christian name of the son of Enzo Ferrari, who had died in 1956, and was used in his memory as he was working on a V-engine project prior to his death. This was the first model to carry a Dino badge on the nose instead of a Ferrari one. 
While some people have been skeptical of six-cylinder Ferraris, the Dino paved the way for the eight-cylinder 308 GTB, launching a line that continues today as the 488 GTB.