Ferrari's 75th Anniversary: Exclusive Interview With Piero Ferrari
Enzo Ferrari's son talks Charles Leclerc and Carlos Sainz, the SF90 Stradale hypercar, and Ferrari's enduring legacy.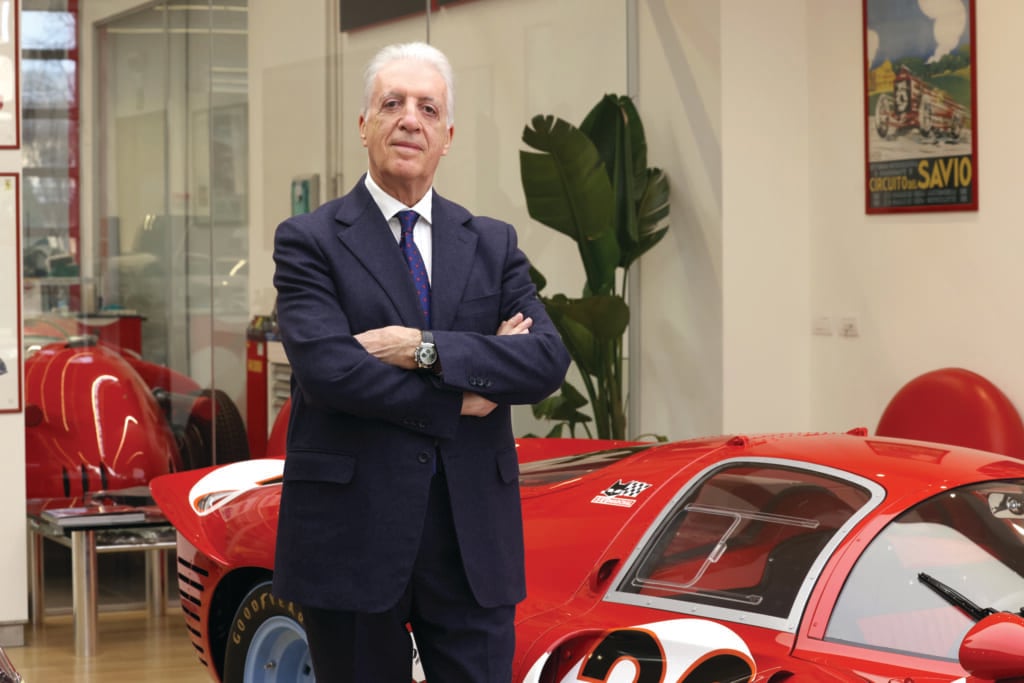 In celebration of Ferrari's Diamond Anniversary, Maxim first rounded up the 12 greatest Prancing Horses of all time. Then we spoke with Ferrari Senior Vice President of Design Flavio Manzoni about the marque's new halo hypercar, the Daytona SP3. These Rossa Corsa festivities culminate in a chat with Piero Ferrari, Enzo's only living son and the current Vice Chairman and ambassador of Ferrari, in his first and only interview with an American magazine.
In 1908 Alfredo Ferrari brought his 10-year-old son Enzo to his first motorsports competition. That day Enzo witnessed legends like 1907 French Grand Prix winner Felice Nazzaro and Vincenzo Lancia duel it out on the racetrack, and automotive history would never be the same. The hopes of being a journalist or opera singer vanished; Enzo had found his calling.
Only a dozen years later he was racing for Alfa Romeo, and soon after was running their entire racing efforts under the Scuderia Ferrari banner. Ironically, all the famous Ferrari road cars that followed were merely a means to an end—racing. Under Enzo's command Ferrari became, and to this day remains, the winningest team in Formula One, the apex motorsport, and has captured over 5,000 checkered flags across the globe under the years of his stewardship.
There is no question that if a Mount Rushmore of the automobile world is ever built, Enzo Ferrari's place is firmly established. Now, 75 years after launching Ferrari S.p.A., Enzo's legend only continues to grow and shine brighter as his son, Piero Ferrari, carries the torch.
Upon the death of his grandmother in 1965, an eager 20-year-old Piero first joined the company of his birthright. Enzo followed his beloved mother's wish as written in her will and initiated Piero's time in Maranello; famously decreeing that Piero start at the bottom and work his way up the various departments of the Scuderia and motorsports divisions.
Half a century later, Piero is now not only the marque's Ambassador, but its Vice Chairman, with responsibility for Ferrari Classiche, the brand's vaunted restoration program—making Piero the literal conduit bridging the classic era of Ferrari with the modern one. In that time the Italian businessman has also invested heavily in Piaggio Aero Engineering and yacht builders Ferretti Group, fortifying his regard not just on asphalt but in the air and sea as well.
Now as Ferrari celebrates its Diamond (75th) Anniversary, we were given the opportunity to speak with Piero about the shining past, flourishing present and promising future of the Prancing Horse. From his early days helping launch the Dino 166 Sport, to memories of his father and the electrified promise of the coming decades, we hear it straight from Enzo's only living son.
What are your current responsibilities at Ferrari?
I have been Vice Chairman of Ferrari since 1988. I've spent my entire professional life at Ferrari, holding different positions, dealing mainly with GT cars as well as the Gestione Sportiva—our motorsports division. I've also had experience at other companies, often united by my passion for engines and technology. In 1998 I founded an engineering design company, HPE-COXA, of which I am Chairman. I am currently also a board member and Vice President of the Ferretti Group.
What are you most excited about for Ferrari in the coming months?
As a fan, I am looking forward to following this Formula 1 World Championship. We must seize the opportunity presented by the most significant rules-change in over 40 years. When certain things shift, it's possible for the balance of power between teams to change. The Scuderia Ferrari team has really pulled together and responded to the many difficulties that have come up. We want to get back to fighting for first place—that's our goal this season.
As a veteran in the motorsports division, Ferrari's Formula One performance so far has to be thrilling.
That's right, I've overseen various aspects of the motorsports area since 1970. Fingers crossed, it seems to me that Scuderia Ferrari is on the right track, and the Bahrain GP was the best way to start the 2022 season. I'm confident because I know how much work has gone into the new F1-75 car. In the history of Ferrari (we are the oldest team running, having competed in every world championship since 1950) there have certainly been lean periods, but we have always got moving again with new winning cycles. I have faith and am looking forward to it, also because Charles Leclerc and Carlos Sainz are excellent drivers.
The 1-2 finish in Bahrain was absolutely spectacular. You've been waiting 15 years to field a truly competitive team. Can you share the excitement in the paddock when Leclerc took the checkered flag?
It gives me great satisfaction to see the efforts of the entire Scuderia Ferrari finally pay off. I watched the race on the monitors that broadcast the split times and other performance data, in the "Remote Garage" with the engineers who are online with the team, and as the race went on I became more and more confident. I started to believe in it. Throughout the weekend I saw that the car was responding perfectly to expectations. It was a great feeling.
Ferrari has always boasted the best drivers in the sport, including Lauda, Prost, Fangio, Ascari, Villeneuve and of course Schumacher. Yet this year you have one of the most exciting pairs in all F1—both young and incredibly talented. And even more rare they seem to really like and respect one another.
It's always difficult to draw comparisons between past and present drivers. Charles Leclerc is a smart driver, an extremely gifted guy in all respects, with extraordinary reflexes and great focus. Carlos Sainz has also proven to be a fast and reliable young man. They are superb, and they make the perfect match. Today, they are the best pair in the Championship.
You've been quoted as saying you love the F12berlinetta because of its versatility, and the 275GTB/4, comparing its beauty to Sophia Loren. Can you name some of your current favorites?
I really have a soft spot for the SF90 Stradale, our first series-production Plug-in Hybrid Electric Vehicle (PHEV). It's still in production and it happens to be the car I drive myself. It's the new GTO, a Gran Turismo that is now perfectly in step with the times: comfortable, safe and great to drive. And one of its finest successors is the 296 GTB, our first 6-cylinder hybrid. Our first electric vehicle will evolve out of these projects—it's the car that foreshadows Ferrari's future .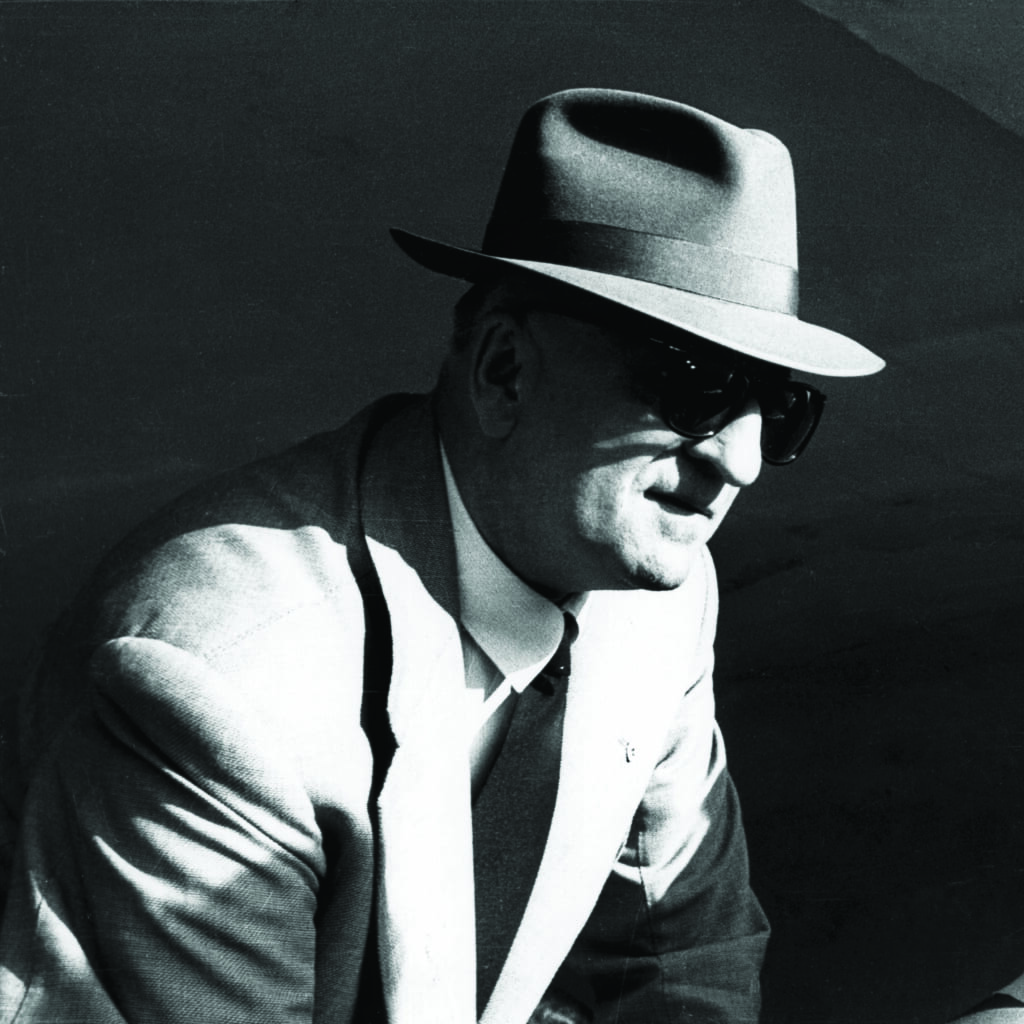 Can you tell us a bit about your very first job at Ferrari?
My first job at Ferrari was unforgettable. In 1965, my father made a Dino 166 Sport, which performed beautifully at the Nürburgring, so much so that at the end of the season he decided to make 20 units. He assigned me the task of finding the missing drawings for the Technical Department and reproducing the missing pieces—essentially overseeing the start-up of production. It wasn't easy, but it was great fun and we managed to reproduce a true gem that collectors still fight over.
You've said Enzo did not coddle you in your training, letting you learn "the ropes" on your own. Can you explain both the benefits and challenges of this philosophy?
My father was really demanding and very tough with everyone he worked with, keeping a careful eye on everything going on within the company. He didn't take kindly to excuses and demanded maximum transparency and maximum focus on the job. That was his only way of working. I was no exception. In fact, I earned less than my colleagues at the same level and with the same responsibilities. I was the one who was called into meetings most often and I wasn't treated any better than the others. He was very formal with me. I think he tried to set an example, to show that he didn't have any favorites and that he really believed in working your way up the ladder.
Can you share a memory you have of your father growing up?
Like all pioneers, Enzo Ferrari was an extraordinary man with a strong personality and huge charisma, as everyone could see. Yet there was another more hidden side to him. He also knew how to be generous with his employees, and helped many who had family problems without publicizing it. I only heard about these things after he died.
Today Ferrari is a $40 billion corporation, but in 1965 it must have felt much more like a young startup. What stands out to you most from that early era?
I have very fond memories of those years. Of the mid-1970s, for example, when I experienced great successes with Niki Lauda and Clay Regazzoni, and also of the 1980s, when the adoption of the turbo heralded an era of technological transformation, and a time when I was responsible for the organization, the production and the choice of technicians. I liked to try out new solutions for track and road cars, encouraging the transfer of technologies between these two worlds. The 288 GTO, for example, a model derived from the F1 technology, came about as the result of an exchange of ideas with my father. Nowadays, Ferrari is more structured and international, but neither the company's DNA nor its enormous sense of belonging has changed.
What was your inspiration for deciding to invest in Ferretti Group?
The sea and yachts are one of my other great passions. At Ferretti, I've tried to blend different skills across different parts of the group, which I think is always very important in business. And I'm proud to have brought to the table the valuable lessons I've learned in the worlds of high-performance cars and luxury.
In 2004 you were bestowed the title of Cavaliere del Lavoro, one of the highest honors in Italy. Was it your greatest award so far?
Awards always inspire you to do more. I always like to share them with the people who work with me, because success is never down to a single person but to a whole team. For me, the greatest honor is working with people who put in the same amount of passion as you do.
Lastly: you play an integral role in the Ferrari Classiche restoration program, signing the Certificate of Authenticity that confirms the legitimacy of every vehicle that leaves the program. Do you feel as Enzo's bloodline this is your duty?
Ferrari's history is the history of motor racing. At the same time, it is the story of the evolution of road cars that offer exceptional levels of performance, combining bold and unmistakable design and technical solutions. These are cars that represent the perfect synthesis between technological research, craftsmanship and the passion of the Prancing Horse. That's why I'm so keen that they can bear witness to a past that always looked to the future.