First Drive: The New McLaren GT
It's a 612-horsepower V8-powered supercar with long-haul comfort and luggage room for two.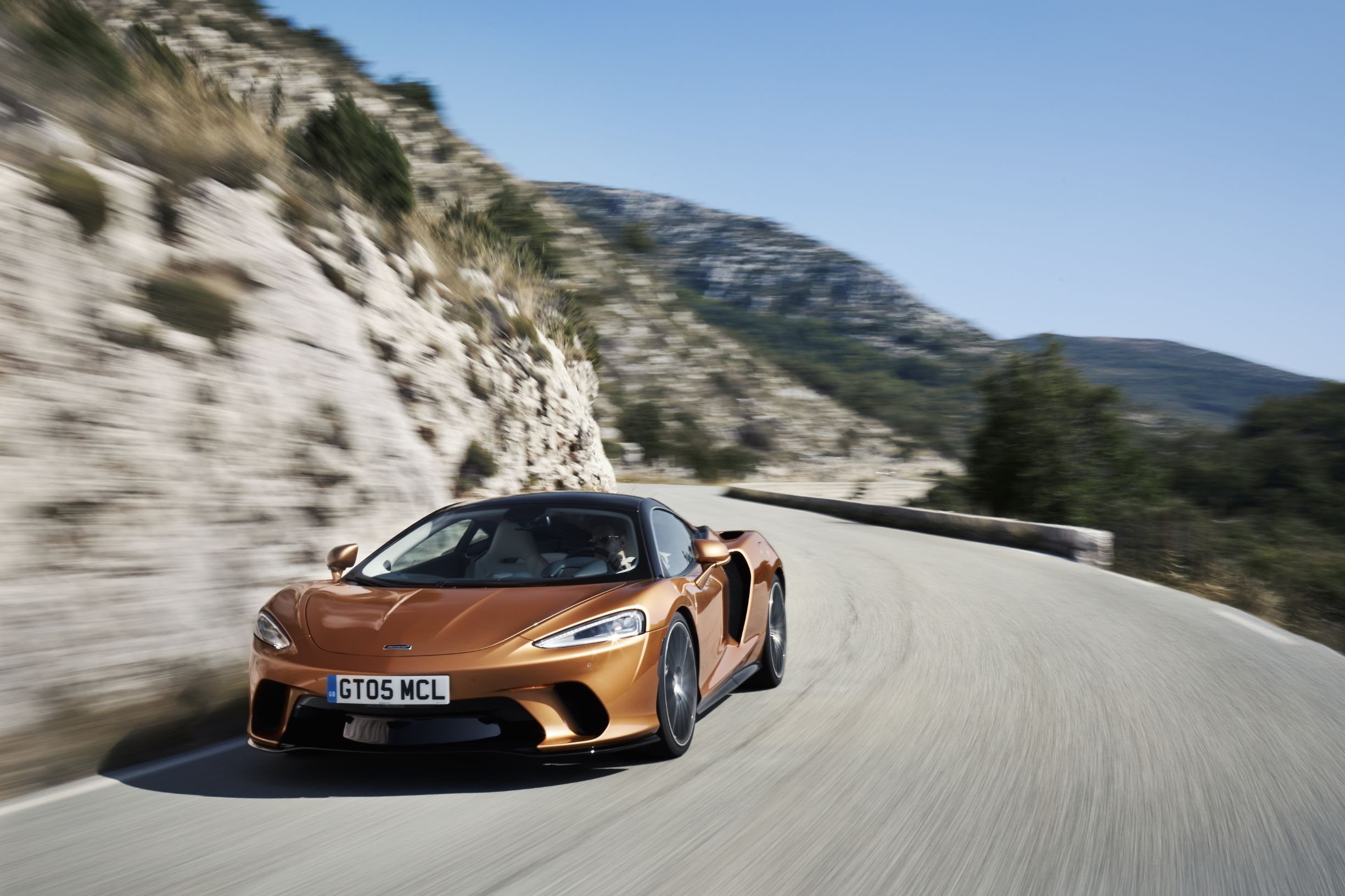 There's a reason why the Martians in H.G. Wells' War of the Worlds originally landed in Woking, Surrey – just a 20 minute South Western Railway ride from London. Any creatures that can all but conquer Earth with tripods and death rays must love outstanding engineering — and Woking is home to McLaren.
The longtime fixture on Formula 1 tracks and a rival with Rolls- Royce, Aston Martin and Bentley for UK hypercar quid, the McLaren designs always look to pour racing speed into elite consumer cars. The results included some global classic automobiles, including the F1 – always referred to glowingly as a legendary dream car and once the fastest consumer speedster on four wheels with a top speed north of 230 mph. It remains the fastest naturally aspirated, mass-produced, road legal car ever constructed.
The 2020 McLaren GT is the latest supercar coming out of England, and taking on those two capital letters comes with a clear challenge. GT stands for grand touring, Such a car is supposed to represent the best of both worlds for anyone who truly loves driving. Luxuriously equipped and kitted out for comfort and convenience, the vehicle is supposed to provide the best possible ride for longer hauls. High-powered and precisely tuned, the machine needs to offer thrilling speed and excellent handling for those stretches where a longer haul offers a nice stretch of road.
Only such a car earns the coveted GT monicker, standing for Grand Touring or Gran Turismo in European climbs. This new McLaren wears the abbreviation with complete assertiveness and confidence.
Sporting a beating heart in the form of a 612 horsepower, 4.0-liter, twin-turbo V8 engine, its acceleration is both immediate, refined and seemingly limitless. If you have the open pavement in front of you, the McLaren GT with go 0-60 mph in 3.2 seconds, with a top speed of 203 mph.
Like many mid-engine supercars, the McLaren GT likes its center of balance low to the ground, so getting in and out of her can be a challenge. Once inside, its sport seats are surprisingly comfortable, wrapping around backsides protected by sport-tuned, double wishbone suspension at the front and rear axles with Proactive Damping Control. Electronically assisted hydraulic steering makes absolutely certain the GT goes where the driver puts it.
The driving experience is bliss. Acceleration on demand. Four-piston brakes that bring freeway speeds to 0 mph in the time it takes to hammer the pedal. Surgical steering. My favorite activity quickly became finding little wolf packs of slower drivers and lesser cars on the freeway. I would hover behind them, making them nervous. When I saw the slightest break in the traffic, I hit light speed and left them behind in awe. The McLaren GT might have been designed for longer trips, but don't underestimate the speed. It gives you everything you would expect for a starting MSRP of $220,000.
As for the grand touring aspects of the car, the interior includes every imaginable safety and infotainment feature, power everything and surround sound from Bowers & Wilkins. McLaren claims there's enough room onboard for two people's luggage, but I might urge folks to consider overnight bags.
Finally, the styling is pure McLaren, from its sleek, low lines to its signature headlamps. It's a car that makes people on the street or passing in other vehicles gawk in awe.
I smiled happily while referring to that reaction with a fellow automotive writer. In a misplaced effort to feign disinterested objectivity, he said he didn't like the new grille. There's a reason I don't look to spend too much time with other car writers.