First Drive: The 2022 Ford F-150 Raptor Is A Premier Pickup Truck
This off-road beast shines even when rolling through an urban jungle.
An off-road beast living in the world of asphalt, red lights and school zones. That's how the Ford F-150 Raptor feels. Just because it's extra wide fenders, bulky tires, long traveling suspension and humongous power are overkill for city roads doesn't mean the F-150 Raptor cannot be enjoyed within an urban jungle.
Killer Looks
Part of the reason why the first-gen Ford F-150 Raptor won MotorTrend's Pickup Truck of the Year award multiple times came down to the look it projected on the street. Now in its third generation, the 2022 F-150 Raptor brings the same aggressive display to the market. The large front grille behind the FORD logo and the 90-degree daylight running lights indicate the Raptor is no joke.
On the sides, the elevated wheel arches and skid plates ensure there's plenty of room for chunky wheels and suspension travel. After all, the rear suspension is the star of the show: the five-link setup boasts longer travel and is beefed up with longer trailing arms. The 3.1-inch shocks adjust damping rates 500 times per second and is each capable of handling 1,000 pounds of damping force.
A set of 37-inch tires are available with the Raptor 37 Performance Package, which will add $7,640 to the base price. The upgrade brings 13.1 inches of total ground clearance, 25 percent more wheel travel, plus a generous 33.1-degree approach angle, 24.9-degree departure and 24.4-degree break-over angles. It's the package to purchase for the most serious dune busting and trail conquering.
Not Any Old V6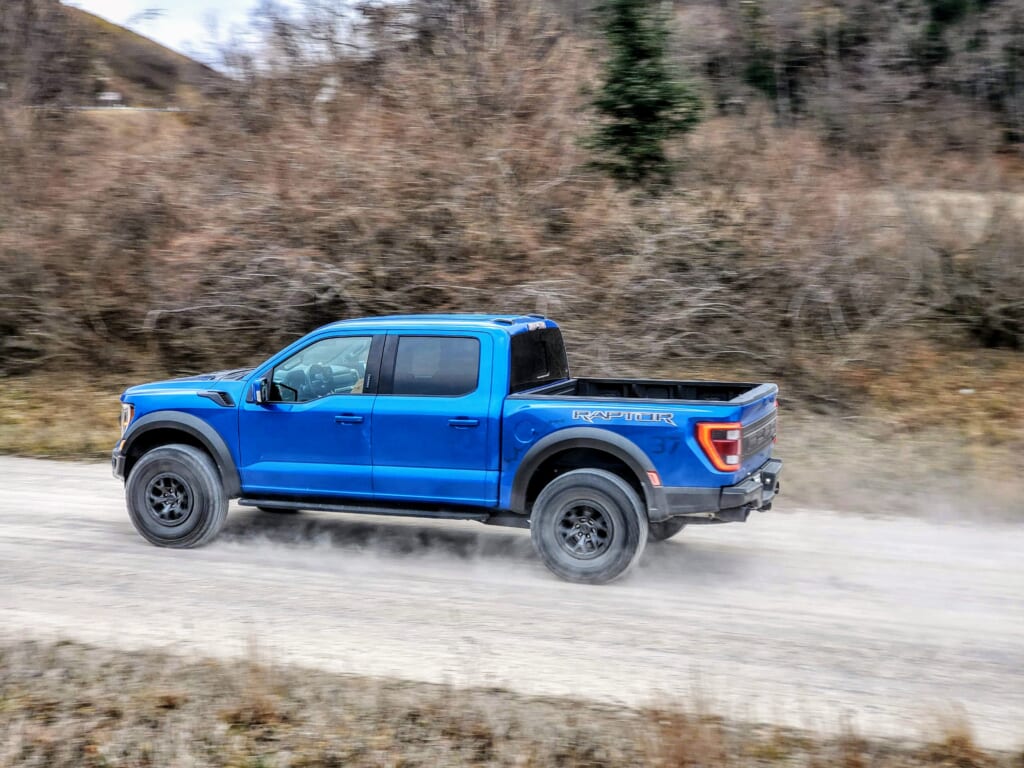 The 3.5-liter turbocharged V6 unit found beneath the Raptor's hood is an absolute monster. This isn't just any sports sedan engine, but a power unit that kicks the competition to the side.
The "standard" Raptor's six-pot pushes 560-horsepower and 510 pound-feet of torque going to all four wheels via a 10-speed automatic gearbox. Not enough power? No worries, the Raptor R is showing its teeth out there, hosting the Shelby GT500 V8's Predator engine with 700 hp.
The drivetrain features a standard rear locking differential and an optional a Torsen limited slip front differential. New for 2022 is the beefed-up engine cooling system, which allows the engine to run at peak performance for extended periods of time. As Ford puts it, "intense off-road sessions never end early." You can even stay dry during a mid-summer trail stint in high revs while blowing the AC on full-blast.
Spacious Interior With Plenty of Screen Time
The boxy shape of the F-150 Raptor lends itself to spaciousness. In terms of legroom, it can easily make full-size luxury vehicles hide away in shame. Compared to the standard F-150, the Raptor brings aggressively bolstered seats to keep you tucked in during evasive maneuvers. The lateral support is incredible but doesn't compromise comfort.
The rear seats are generous in space even for taller adults, both in terms of headroom and legroom. The seats bring plenty of thigh support and a decent, non-adjustable backrest angle.
The Raptor's technology is where most of the improvements are visible right away. Unlike last year, the Raptor comes standard with a wide 12-inch center touchscreen and a 12-inch instrument cluster. There isn't a shade of trouble when it comes to using these screens; menus are highly configurable and intuitive with seemingly no freezing or lag.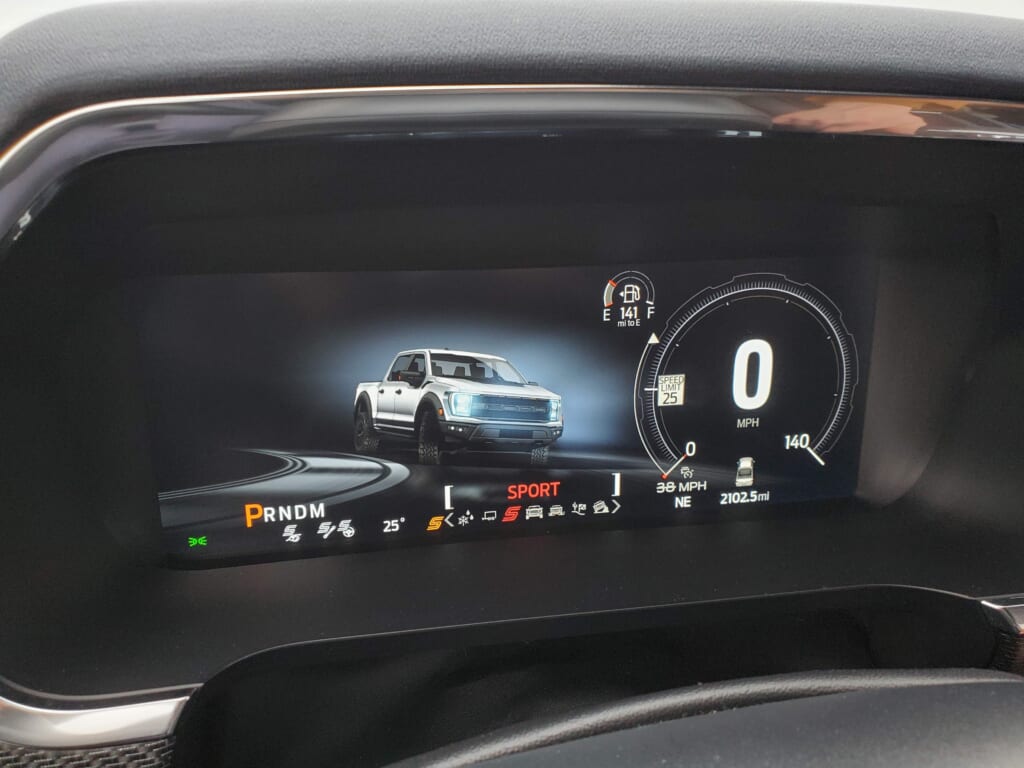 Smartphones can be integrated wirelessly via Apple CarPlay or Android Auto, while Ford promises to keep delivering over-the-air updates to its Sync 4 infotainment system.
For those looking to get some power while camping or out on a worksite, the F-150 Raptor brings the Pro Power Onboard generator system. Although limited to 2kWh, it is enough to keep a few lightbulbs lit while charging your smartphone. You might need to turn other stuff off if you plan to use heavier-duty appliances such as an induction heater.
Tech-wise, the F-150 Raptor also comes with full-speed adaptive cruise control, lane-assist and other active and passive safety features. All these make the Raptor a lot less intimidating to drive on twisted, narrow city streets.
Cruise On-Road & Smash Off-Road
The 2022 Ford F-150 Raptor benefits from plenty safety features to make it more drivable on public roads, but if you really unleash the beast, make a hard right onto the nearest unbeaten path.
It'll climb dunes, run over rocks with ease, get itself out of sticky situations and trash the trails. It will also guzzle a lot of fuel while doing so—the 14/16/15 (City/Highway/Mixed) estimates are low. But when you're driving the F-150 Raptor, mileage really doesn't seem to matter.