This Stunning Stratos Supercar Is Headed to Auction
A Ferrari-style dream machine that is truly one-of-a-kind.
The very first Ferrari-based, Lancia-inspired New Stratos is going up for grabs on February 3 at a Bonhams auction. That loaded wording may seem complex, but this supercar's swirling origin story is intriguingly intricate.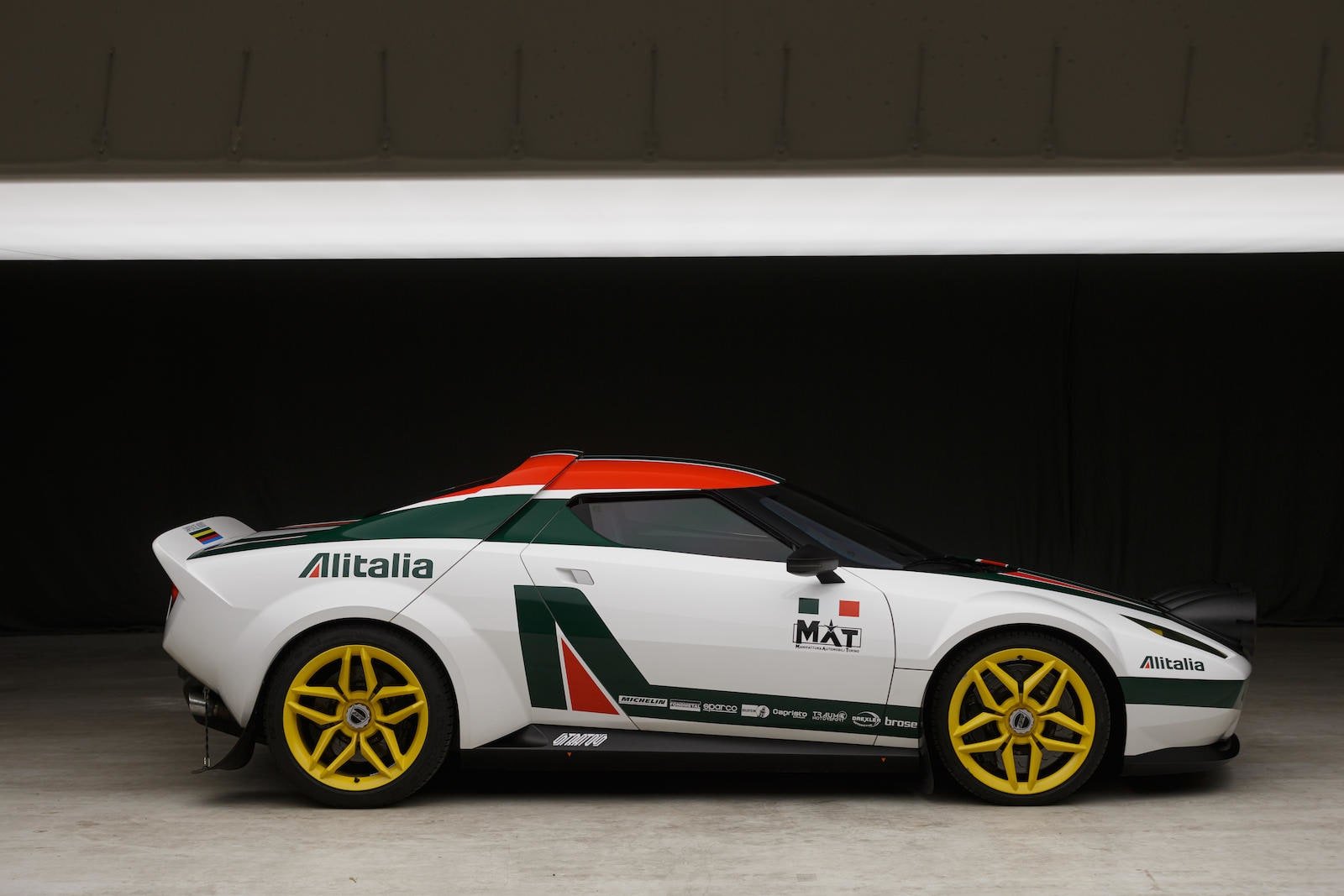 As Top Gear notes, the first iteration to bear the name—the Lancia Stratos HF—was among the first true rally cars and won back-to-back championships with Ferrari's competition-spec 2.4-liter 280-hp V6 under the hood. Despite its success in motorsport, the majority of the 500-or-so vehicles that were produced in the mid-1970s and 1980s didn't sell due to a lack of demand. 
Then, in the mid-1990s, a teenager name Chris Hrabalek bought the rights to the Stratos name, which Lancia had allowed to lapse. A decade later, Hrabalek was a postgraduate student in the prestigious Royal College of Art's Vehicle Design program. He decided to build his own version of the Stratos as a final project with funds from 10 wealthy backers. 
Hrabalek's Stratos' was presented at the 2005 Geneva Auto Show, where it proved to be something of a sensation. German billionaire Micahel Stoschek—one of the original backers—agreed to further bankroll the project with legendary Italian design house Pininfarina as a technical partner. But in 2010, Ferrari opted not to supply parts for the planned run of 24 New Stratos vehicles, though CEO Luca di Montezemolo reportedly enjoyed a test drive in a prototype. Pininfarina also jumped ship and progress halted until 2018, when Manufattura Automobili Torino (MAT) revived the project with Ferrari parts supplied by customers. 
After finally being completed in 2019, model number 1 of 25 has a carbon fiber body and an eight-inch shorter wheelbase than the 2009 production version of 430 Scuderia, along with a stripped-down cockpit that's suited to rallying. Revisions to the exhaust system and engine-management electronics push the total output of Ferrari's 4.3-liter V8 up 37 hp to 540 hp. An F1-type paddle-shift semi-automatic transmission handles the extra horses, and a 110-pound weight further improves the power-to-weight ratio. The New Stratos wears a throwback green Alitalia airline livery with yellow rims and headlights.
Very few have had the opportunity to actually drive the New Stratos, but here's what Road and Track said after getting behind the wheel recently: 
One would expect a cut-down Ferrari on wide Michelin Pilot Sport Cup 2s to generate a lot of grip. And the Stratos does. But nothing can prepare you for the way in which the car changes direction… Turn in is otherworldy… There is no hesitation, no roll, no body motion, and no warning; the Stratos merely flings itself in whichever direction you turn the wheel.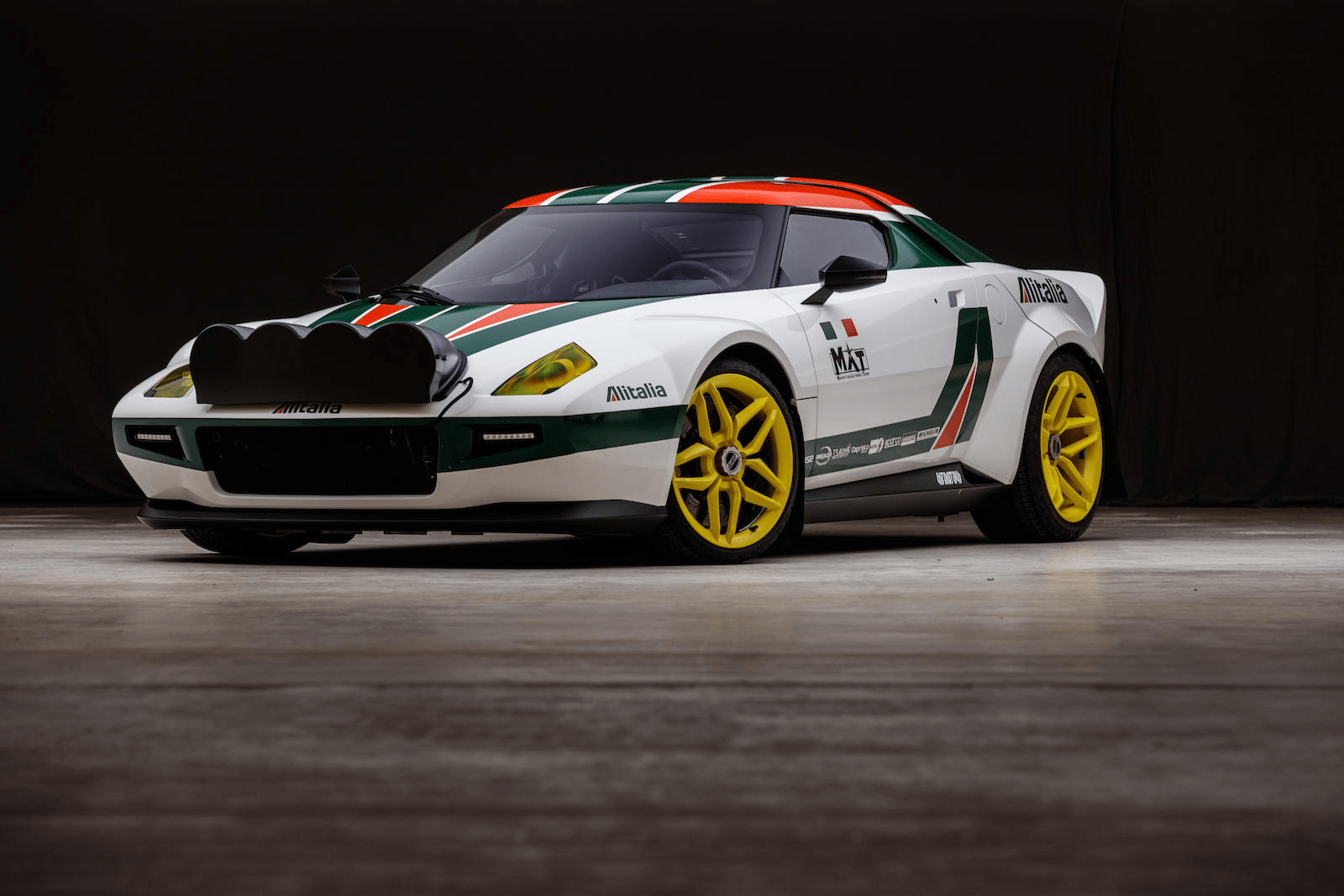 Presented with about 18,540 miles on the odometer, the 2009/2019 MAT New Stratos Coupé is expected to fetch between $770,000 and $1 million at the Bonhams' Les Grandes Marques du Monde au Grand Palais auction on February 6. Go here for more details.