These Futuristic Flying Cars Are Ready For Take-Off
The latest airborne autos are set to take to the skies sooner than you think.
We've been waiting for our flying cars since before George Jetson's commuter folded up into his briefcase at work, but now the day when we can soar over traffic is closer than ever.
Here, the latest look at four high-flying airborne autos:
1. Terrafugia 
The Terrafugia TF-X is a bit like a car-based V-22 Osprey, thanks to its tilt rotor design that lets the car take off like a helicopter and then fly like an airplane. No doubt the Woburn, Massachusetts company was inspired to fly over traffic after suffering the Boston area's legendarily tough commutes. The car uses a gasoline engine, while the rotors are electrically powered, providing a 200 mph top speed and a 500-mile flight range.
Terrafugia says automation will simplify the TF-X's operation so getting certified to fly one will be easier than getting a conventional pilots license or even one of the new sport pilot certificate. Driving it on the road will only require a regular drivers license. Terrafugia says that the car/plane will be priced on par with high-end luxury cars.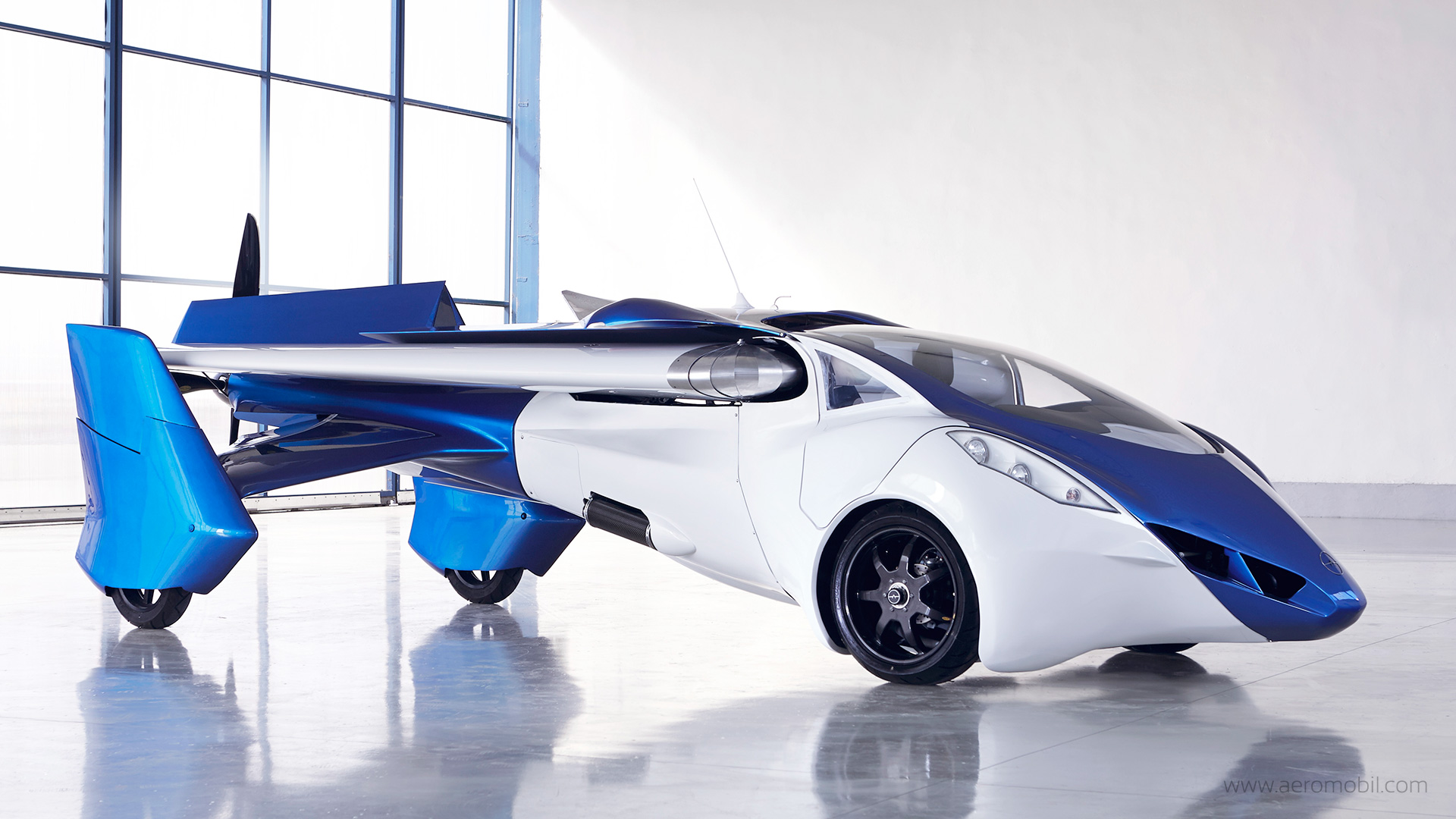 2. AeroMobil
 The fixed-wing AeroMobil 3.0 is the Slovakian company's latest iteration of its flying car. Unlike the Terrafugia, it takes off, flies and lands like a regular airplane, so it requires access to a runway.
It is powered by a gasoline engine in flight and on the ground. This latest version includes wings with a variable angle of attack, which lets the AeroMobil 3.0 take off from very short runways, and sturdy suspension that lets it fly from relatively rough terrain.
3. Ehang
The Ehang 184 is an all-electric drone from Guangzhou, China that has a passenger cabin perched atop it. So instead of flying virtually and observing though an onboard camera, passengers ride inside. It isn't actually much of a car, having no wheels and everything, but the idea is that as a drone, it can deliver you directly to your destination, rather than landing first and driving to the final destination.
The Ehang 184 passenger doesn't pilot the vehicle. Instead, you select the destination on the built-in navigation system, and the drone pilots itself there for you. With eight electric motors and rotors, the Ehang 184 has redundancy for maximum safety.
4. PAL-V One
Unlike the other flying machines here, the PAL-V One has actually flown. The Dutch vehicle is also a road-going car, which, as a three-wheeler, qualifies as a motorcycle. That relieves it of numerous crash safety requirements, which helps keep the weight down, but which you might want if some texting drive T-bones you in an intersection.
The PAL-V One is an autogyro, like the one the nutty pilot in The Road Warrior flew. It uses its gasoline engine to spin a propeller behind the cabin, and as the vehicle reaches about 50 mph, the rushing wind spins the unpowered rotor on top fast enough to carry it aloft.
On the road, the PAL-V One goes 106 mph, and in the air it reaches 112 mph. It can carry a pair of occupants 220 to 250 miles in flight. While the PAL-V One may not yet be in any dealer showrooms, it is a real flying vehicle rather than a concept, so we declare it our winner in the race to deliver a flying car. Get in line for one behind us.