We Took The Ultimate Harley-Davidson Road Trip Through France
Say oui to riding an All-American Harley roadster through a gorgeous 100-mile trip through the South of France.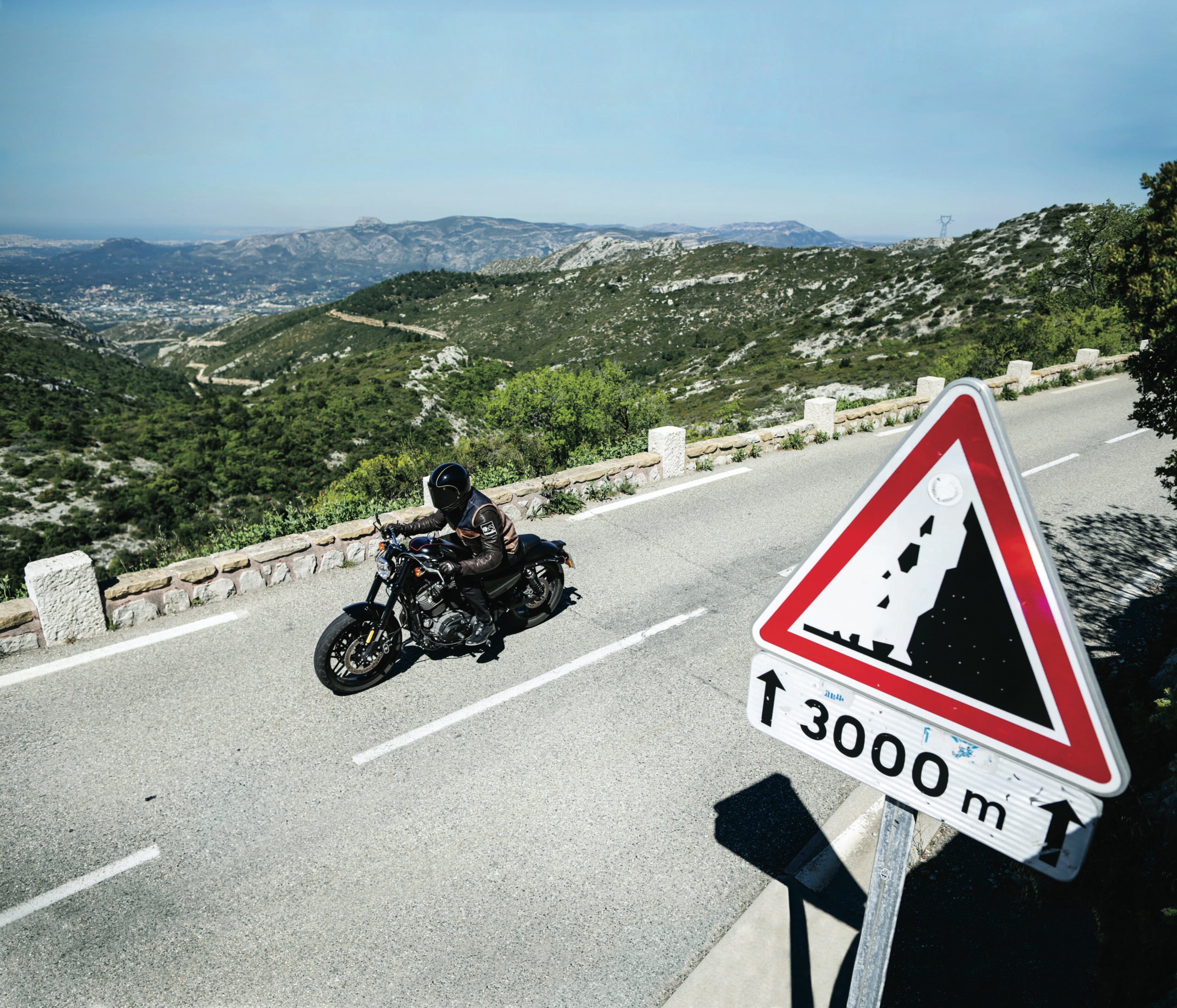 The twisting, 100-mile drive between Marseille and Saint-Tropez—past small villages, lush fields and unbroken stretches of iconic coastline—is the kind of trip that seems, at least initially, tailor-made for cruising in a classic Italian sports car. But a vintage Alfa Romeo can't immerse you in the sights, smells and sensations of southern France the way a motorcycle will. 
It's a revelation that occurs to me while coasting along the Riviera on the back of the new Harley-Davidson Roadster, a machine that takes inspiration from '50s- era racing motorcycles, a spin-off of the legendary Sportster with a more athletic stance, simpler styling and better suspension and brakes. The Roadster's hearty V-twin engine makes guttural noises and the metal ends of its pegs kiss the pavement as I whip it side-to-side on a full-throttle run to Saint-Tropez.
Two classic routes connect the cities—one that veers slightly north into the mountains, and another that snakes along the southern coast—and each takes just half a day, so you can easily experience both. Begin in the gritty, slab-sided city of Marseille, where long threads of ornate but mismatched streetlights line crumbling lanes. Climb toward the cliffs above the city, following the wooded mountain road to Saint-Tropez. Steep hill-sides and man-made stone walls border the skinny alpine pass of Col de l'Espigoulier, which has routinely been used in the Tour de France because of its challenging ascent. 
The course keeps you busy with sharp turns and switchbacks, eventually leading to the commune of Gémenos, an ancient village full of peach buildings and clay-shingle roofs. From there, cut eastward behind sprawling farms on lesser-used back roads until you come to Lac de Carcès, a stunning reservoir built in the 1930s that ripples when hungry carp surface. Grab a seat on one of the partially submerged rocks and let your brakes cool. The casual La Guinguette du Lac restaurant nearby offers simple country dishes and a rich chocolate mousse.
A quick cruise down through La Plaine des Maures nature preserve— packed with cork oaks, orchids and birds of all colors—lands you north of Saint-Tropez. Stay just outside of town at Kube Hotel, a modern haven with an Olympic swimming pool that overlooks the gulf. Leave your bike and take a walk along the water to La Vague d'Or, a restaurant with an unforgettable set-menu experience created by three-Michelin-star chef Arnaud Donckele. After dessert, continue on to downtown Saint-Tropez, a seaside city with humble roots that's become a home away from home for jet-setters. Stroll the docks and take in the multimillion-dollar yachts and glamorous women in white jeans and translucent silk tops. 
When you've had your fill of the scene, hop on your bike at dawn and trace the coast back toward Marseille, a route that worms its way through the hilly countryside, framed by ocean vistas. The mistral winds coming off  the water can be cold (I tucked my body tight against the Harley's fuel tank to avoid the breeze), which provides a great excuse to stop at the inconspicuously cool Le Marais restaurant in Hyères, where you can thaw out next to the big stone replace. 
As you ride west, you'll find it's difficult to keep your eyes on the road ahead; they'll be drawn instead out to sea, a swirling painter's palette of pastel blues and stormy greens. Follow the main thoroughfare for a half hour, then juke north onto the slithering side roads that pass by Circuit Paul Ricard, a former Formula 1 racetrack built in '69. 
The roads are so twisty, so unbelievably smooth and so postcard perfect, they'll have you fantasizing about your next ride before you've even reached your destination. Make a final stop in the feudal village of Le Castellet, entering through one of its two fortified gates, and slowly make your way along the stone streets where artisans craft handmade goods. Then cancel your flight home, get back on your bike, and do it all over again.
2016 Harley Davidson Roadster Specs:
– Base price: $11,199
– Fuel capacity: 3.3 gallons 
– Weight: 568 pounds
– Transmission: 5-speed
– Torque: 76 ft-lb at 3,750 rpm
– Seat height: 30.9 inches
– Engine: 1.2-liter air-cooled V-twin
– Wheels: Split 5-spoke cast aluminum