7 Reasons We Risked Nuclear Annihilation to Attend the Worldwide Launch of the Genesis G70 in Korea
Hyundai's luxury brand has officially declared war on the Germans.
Photo: Genesis
On the very same day I landed at Incheon International Airport in Seoul, South Korea, North Korean dictator Kim Jong-un launched an intermediate-range ballistic missile right over Japan. Did we pass each other in the sky as it barreled towards the open sea and I sat watching a Big Bang Theory rerun? Quite possibly.
Why would I put myself in harm's way like that, when I could have stayed at home in New York City and merely been the target of countless anonymous terrorist threats? To drive a brand-spanking-new car, of course.
The Genesis G70 is an entry-level luxury sedan that blends style (it's sharp looking!), comfort (feel those quilted leather seats!) and speed (365 horses enough for ya?). In other words, it has its sights squarely set on Germany's pint-sized powerhouses—the BMW 3 Series, Mercedes-Benz C-Class, and Audi A4.
Wait, let's rewind a sec. Did you know that Genesis is its own brand, and not a Hyundai model? A little history lesson: Two years ago, the intrepid Korean megacorp began their attempt to do what Japanese neighbors Toyota (Lexus), Nissan (Infiniti), and Honda (Acura) successfully pulled off back in the '80s—that is, create an entirely new premium auto brand that's a step up from its more common kinfolk (in this case, Hyundai). A completely new vehicle, the G70 slots in at the smallest end of the Genesis line, below the midsize G80 and the flagship G90. Got all that?
Needless to say, the team at Genesis is extremely excited to drop their new product into this hyper-competitive field, and I can understand why. This thing is for real, and here's why I had no problem putting my very life on the line to spend an action-packed weekend in Korea getting to know the G70.
1. To score track time.
Any track time is good track time, and the Genesis didn't disappoint in the fun department as I relished the dips, turns and lengthy straightway of the Inje Speedium racetrack. Three powertrains are offered on the G70, and I chose to spend my time with the top-of-the-speedometer 3.3-liter twin-turbo V6 that hits 60 in a scant 4.7 seconds (thanks, Launch Control) on its way to an impressive 168 mph top speed.
While I didn't go quite that fast, the responsive handling, smooth-but-taught electronically controlled suspension, and corner-slicing torque vectoring system provided more than enough exhilaration to keep a dumb smile plastered on my face throughout. (Even dumber than usual, that is.)
2. To watch Gwen Stefani kill onstage.
The G70's launch really is a huge deal for Genesis—when was the last time you tried to start a luxury auto brand?—so they pulled out all the stops. That included a massive festival held at Seoul's Olympic Park with over 15,000 revelers and an incredible set by everyone's favorite California girl (sorry, Katy), Gwen Stefani.
The above clip is from her actual performance at the festival and not from 1996… so, yeah, she's still got it.
3. To hit the winding roads of South Korea.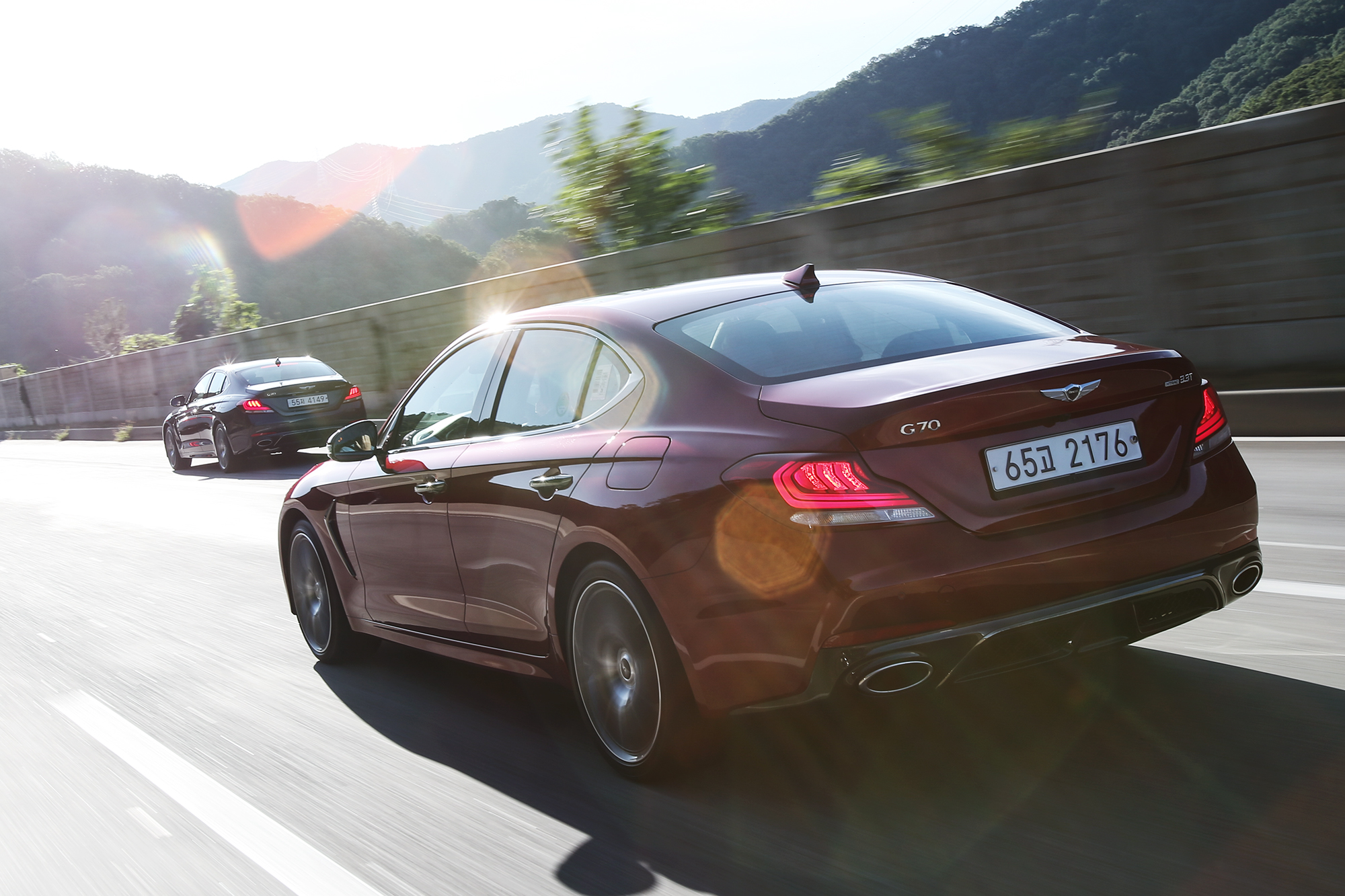 Rush-hour traffic around Seoul is a nightmare—think L.A.'s 405 multiplied by the Atlanta perimeter—so the cruel folks at Genesis insisted we gather at 7am to begin the four-hour trek to the racetrack, which would double as our real-world seat time in the G70.
Those who peered over from their commutes were witnessing history, as the car had made its international debut less than 24-hours earlier. While the journey was long, my primo ride kept things entertaining. Smooth acceleration, quick stops (thanks to the optional Brembo brakes), and effortless handling made the mundane tasks of merging, stopping for tolls, and maneuvering through tiny towns dodging gawking villagers and stray dogs, that much more pleasant.
4. To drink beer and eat fried chicken.
Korean cuisine is some of the best on the planet, so checking out the source of this awesomeness was high on my list of reasons for getting on a 14-hour flight clear across the Pacific. Now, I love kimchi, bibimbap, and bulgogi as much as any obnoxious foodie, but what I wasn't expecting was the onslaught of poultried perfection I encountered.
I'd had Korean fried chicken before, but never this crispy, never this flavorful, never this chug-an-entire-mug-of-creamy-Max-beer-after-every-bite spicy. Whether it was in wing, tender, or whole-bird form, I couldn't get enough. Team Genesis, I hereby apologize for any chicken grease that might have ended up on one of your vehicles.
5. To luxuriate in the passenger seat.
The moment you open the G70's door and peer inside, you understand that the folks at Genesis aren't exaggerating when they call this a world-class luxury car. While by far the classiest touch is the aforementioned quilted Nappa leather seats and matching door panels, the panoramic power roof, aluminum door handles and sleek infotainment system all tie for a very close second.
The interior rivals that of any vehicle even close to its price range. (OK, we're guessing here since U.S. pricing has yet to be announced.) But I can say with certainty after spending many hours inside the G70 (damn that traffic!), there are very few places one would rather be.
6. To infiltrate Hyundai's super-secret R&D facilities.
Probably the coolest experience Genesis offered us journalists (don't worry, I'm using that term loosely) was the opportunity to explore several rooms in the company's highly protected Namyang R&D Center in Hwaseong, Gyeonggi Province. These areas were so secret, in fact, that a friendly-but-firm employee took our phones and covered the cameras with tape before we could enter. (Imagine, the indignity of not being able to take a selfie.)
Most of what we learned related to the various methods by which Genesis engineers keep the G70 at that perfect balance between smooth and sporty. For example, piped-in engine sounds provide the aggressive exhaust note gearheads want, without making the luxury lover spill his green tea in shock due to unseemly vibrations. 
Oh, and never ask us about this place again!
7. To kick it Gangnam Style.
I'll admit it. One of the first things that popped into my head when I learned I'd be traveling to Korea was Psy's international hit from 2012, "Gangnam Style," which has amassed an only recently eclipsed 2.9 billion views on YouTube. 
Whether driving the G70, partying with Gwen Stefani, or downing chicken wings, I was forced to have this insanely annoying song stuck in my head the entire time. 
Now… it's your turn.