Rolls-Royces Infused with 24-Karat Gold Join Hotel's Fleet for Most Baller Experience Ever
Definitely beats taking a shuttle.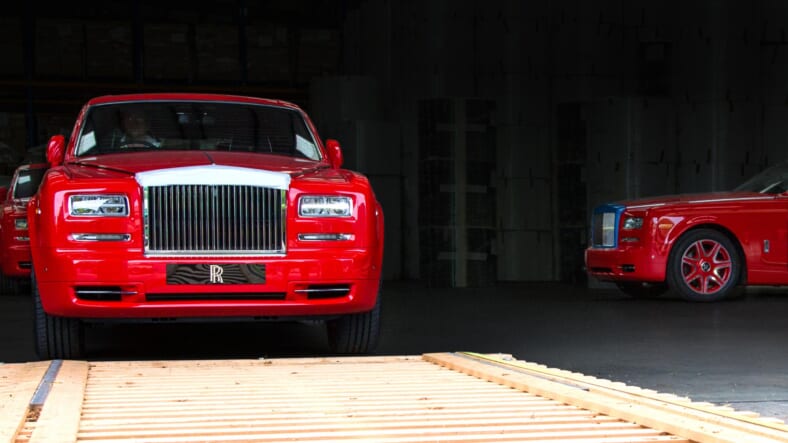 Rolls-Royce Motor Cars
https://www.youtube.com/watch?v=4kFMOtisxu0
Luxury entrepreneur Stephen Hung, Joint Chairman of The 13 hotel in Macau, wants to immerse guests in the ultimate luxury. That has included a fleet of custom-outfitted red Rolls-Royce Phantoms, but apparently even those amazing chariots were not enough.
The 13 has now commissioned a pair of over-the-top Phantoms that are infused with 24 carat gold inside and out.
The cars' usually chrome Pantheon Grille is coated in gold, as is the Spirit of Ecstasy hood ornament. Their Rolls-Royce badge is made from 97 grams of 18 carat gold and then plated in 24 carat gold, so it matches the cars' interior gold highlights.
Vitreous enamel is used to form the signature 'RR' emblem on the badge and it is surrounded by 336 pavé set brilliant-cut diamonds. 
Striping on the car is hand-painted by Mark Court, Rolls-Royce's resident expert coachline painter, using a fine squirrel hair paintbrush.
The fleet of 30 customized Phantoms for The 13 represent the largest single commission in Rolls-Royce history. The rest of us don't have to buy 30 Phantoms to enjoy such opulence because we can just visit the hotel.