Inside the Goodwood Festival of Speed, a High-Octane Supercar Celebration
We put the pedal to the metal in a badass Bentley Continental GT Convertible.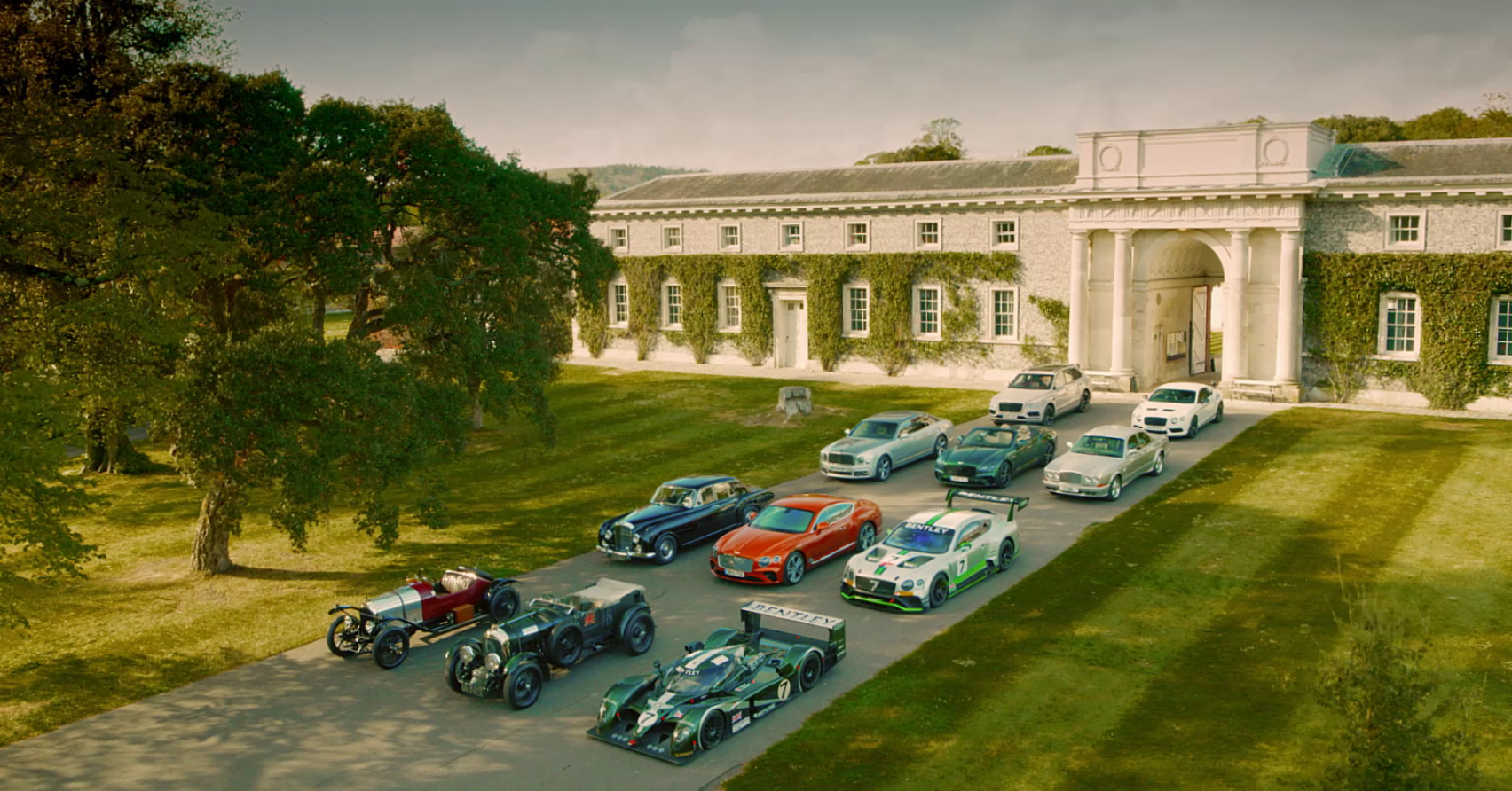 Courtesy
On the manicured lawns of an English stately home, the tranquil sophistication of a summer garden party is shattered by a piercing wail as a Formula One car screeches up the front drive, wreathed in tire smoke. It's a visceral assault on the senses; an intoxicating display of speed and power; a unique joining of the past, present and future of automotive. Welcome to the Festival of Speed.

This is how the Duke describes the annual party he hosts at his house. In reality, it's a maelstrom of motoring mayhem and it's what Valhalla looks like for car guys. And to top it off, I arrived here in a new Bentley.
Goodwood is a massive country estate anchored by a manor house from the 1600s. It's the seat of the Duke of Richmond and sits on 12,000 acres of lush hills and vales overlooking the English Channel in the distance. About two hours south of London, it's close enough to the hip capital for daytrips yet remote enough to be its own fiefdom.
I'm here in Britain for two celebrations: the Goodwood Festival of Speed passing the quarter-century mark, and Bentley reaching a century.
The Festival of Speed started with the revival of a simple hill climb. Basically, the Duke wanted to bring motor racing back to Goodwood, which was introduced by his grandfather, although he surely had no idea he'd soon have a tiger by the tail.
Racing on the estate started back in the 1930s when the Duke's grandfather hosted a hill climb. The road leading past the manor house and up to the horse racing track is just under a mile-and-a-half long and has an average incline of about 5%. So it was decided to invite some friends with fast cars and race the clock and, voilà, a hill climb was born.
Sometime in the 1960s racing at Goodwood stopped, so it was reintroduced in the early '90s. What started as a nice hurrah is now the largest motoring event of its kind in the world, welcoming a staggering 150,000 people over three days.
Centered on the hill climb in front of the Duke's house, this annual July festival features an almost distracting circus of simultaneous events spread miles across the property. 
In addition to the hill climb that accommodates everything from Brass Era automobiles to hyper modern Formula E cars, there's a rally car stage, a supercar run, a drifting arena, freestyle motocross performances, and a ton of other attractions that are impossible to see in a single day.
Of course, I'm not participating in any of these events in my borrowed 2019 Bentley Continental GT Convertible. (I doubt the insurance would cover the $300,000-plus value of the car in a situation like this.) I'm here strictly as an attendee and there's plenty to see.
Not only are there hundreds of the world's most valuable sports and racing cars and motorcycles from every conceivable manufacturer zooming about, but all the legendary drivers of past and present are here – Jackie Stewart, Richard Petty, Lewis Hamilton; if you can name them, they're likely present. It's a carnival of personalities, octane, metal and rubber. It is, as the host says, quite the "garden party."
The fact that a British event has earned the unofficial title of greatest motoring celebration in the world should come as no surprise. After all, this country is the birthplace of so many storied automotive marques, not least of which is Bentley, turning 100 years old this month.
After attending the Duke's Lollapalooza of revs, I head up to Bentley's headquarters in Crewe to join the birthday fête. The official purpose was to witness the unveiling of Bentley's much anticipated concept car and toast to their centennial, but it was a tour of their factory that blew me away.
It's no revelation that Bentley is more than just a luxury car. Cutting its teeth on racing when newly established, Bentley went on to dominate international motorsport and, thankfully, this same spirit of competition drives the company today. 
As a result, a Bentley isn't just a posh work of art but also a force of mobile performance. But I didn't fully appreciate the marriage of old world craftsmanship and state-of-the-art engineering until I got a peek behind the curtain.
In one section of the factory, for example, there's the Star Wars-like machinery hoisting the firm's 12-cylinder, twin-turbocharged, 625 horsepower motor manufactured with technology shared by Lamborghini, Audi and Porsche. 
By contrast, in another section just down the hall, there's an actual woodshop and sewing room where a carpenter is hand-finishing oak panels and a woman is hand-stitching the leather steering wheel. Talk about time travel! To be honest, I was amazed by the individual human touch still involved in the building of each Bentley.
Then it was time for more time travel as everyone gathered together to watch Bentley's CEO unveil the future of the company – the EXP 100 GT Concept. The all-electric supercar is, like most concept cars, an exercise of extreme design meant to exude innovation, hope, excitement and leadership. 
Incorporating forward-thinking features like a dynamic glass roof and sustainable materials like paint with pigment from recycled rice husks and leather-like material made from wine production byproducts, to name a few, Bentley's vision of the year 2035 is by no means shy.
After the gasps and applause, I notice a crowd slowly gathering around another car on display nearby. It's a 1928 Bentley 4½ Liter Blower and it's wearing its original, battle-scarred coachwork. Contrasted with the glistening spaceship-like EXP 100, these cars couldn't be more polar. And yet, despite being separated by nearly a century, the family tree is strongly apparent.  
That, I realize, is what the British do so well. Whether it's Bentley, one of the most prestigious car makers in the world, or the Festival of Speed, one of the most celebrated events in the world, the respect for the past and the quest for the future is seamlessly integrated. This complementary joining of the past, present and future isn't just a catchphrase, it seems, it's a national trait.
So happy birthday to some of the best of Britain and may there be many more years of ahead.
Make Plans
Bentley hosts tours of its historic Crewe factory on a limited basis, information about which can be found here. 
For those interested in attending the Festival of Speed, all info can be found here – and don't forget your rain gear; they don't call England "Old Blighty" for nothing.
Jared Zaugg—entrepreneur, author, consultant—can usually be found at the intersection of lifestyle, motoring and culture. Follow him on Instagram.