Hennessey Performance Unleashes 'Venom 775' 2020 Ford F-150
This killer custom pickup's V8 has been supercharged with 775 horsepower.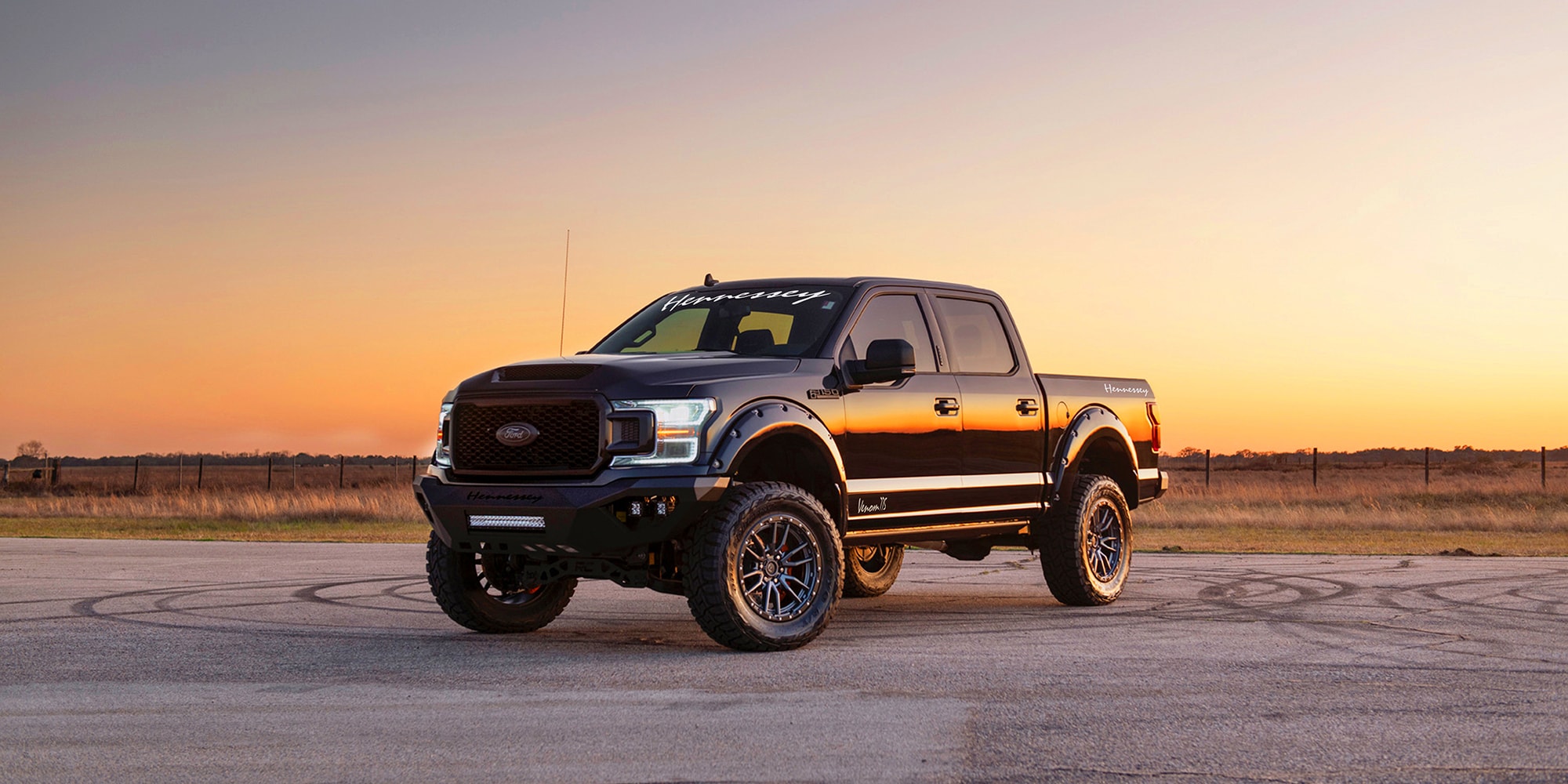 The 2020 Ford F-150 is doubling its regular horsepower thanks to the power-obsessed customizers at Hennessey Performance.
The Sealy, Texas-based tuning house equipped the F-150's factory 395-horsepower Coyote 5.0-liter V8 with a 2.9-liter supercharger system, raising output to a whopping 775 horses, and dropping the zero-to-60 mph time to a supercar-worthy four seconds. Hennessey's so-called 'Venom 775″ pickup can reportedly cover a quarter-mile in 12.1 seconds at 116 mph. 
Custom 20-inch wheels wrapped in 35-inch off-road tires are outfitted with mammoth 15.1-inch Brembo rotors and six-piston calipers for stopping power. A six-inch lift kit and automatic drop-down steps improves the F-150's off-road capabilities without sacrificing accessibility. 
Hennessey also amped up the truck's rugged looks with a Ram Air hood scoop, stainless steel cat-back exhaust, branded front and rear bumpers, LED lights, and an interior makeover that consists of plush leather, suede inserts and custom stitching. 
In 2019, Hennessey rolled out a bevy of beastly custom trucks, including its "Velociraptor" Ford Ranger, Chevy Silverado Trail Boss-based "Goliath" 6×6, and the 1,000-hp "Maximus" Jeep Gladiator. Like those models, the "Venom 775" F-150 comes with a three-year/36,000-mile warranty. 
We'll see what other high-octane trucks Hennessey Performance has in store for 2020.