This 1,000-HP Cadillac CTS-V Is The Most Powerful Caddy Ever
It's the most musclebound Caddy of all time.
Hennessey Performance
Production of the Cadillac CTS-V is coming to an end after a glorious 15-year run. Naturally, Hennessey Performance had to do something totally insane to give it a proper sendoff.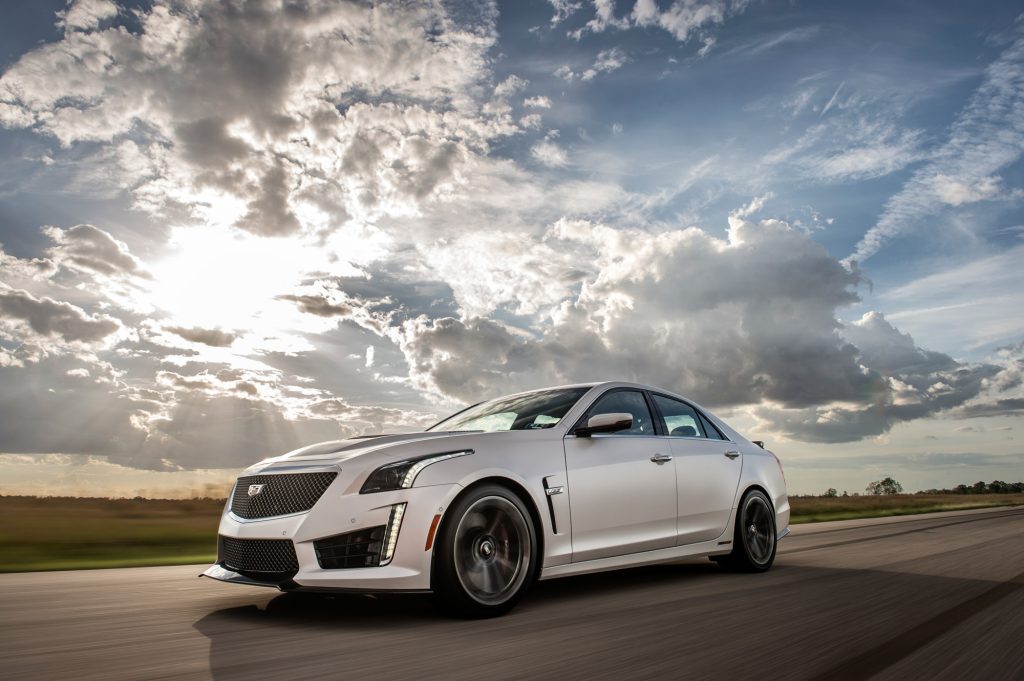 The Texas-based tuning house that endowed the Jeep Grand Cherokee Trackhawk, Chevy Camaro ZL1 and Lamborghini Huracan with a freakishly powereful 1,000 horsepower has given the 2018 edition of the sports sedan a similar treatment, tweaking the supercharged 6.2-liter V8 to hit a four-digit figure on the dyno. 
With 340 extra horses, the amped-up luxury cruiser achieves a supercar-worthy 0 to 60 mph time of just 2.9 seconds, putting it in the same sub-three second class as the Corvette ZR1 and Lamborghini Aventador SVJ. 
A performance makeover of this magnitude required more than a few upgrades, including a high-flow supercharger and new exhaust. Motor Authority has further details: 
Just some of the stock items swapped out for beefier replacements include the camshaft, valves (intake and exhaust), lifters and pushrods. Then there's an ECU reprogram and dyno tune to ensure it's all running smoothly.

Buyers will also need to upgrade the car's eight-speed automatic, Hennessey says.
The base price for a 2018 Cadillac CTS-V is around $86,500, and the HPE1000 package will definitely cost more than a few bucks—contact Hennessey Performance for further details.