Why The Aston Martin DBX707 Is The Ultimate Luxury SUV
It's nothing less than the world's fastest, most powerful and best-handling luxury SUV.
It's one of the most iconic car-chase scenes in the famed franchise, not to mention the entire genre: Roger Moore as 007 with Bond Girl Barbara Bach escaping the baddies in an amphibious Lotus Esprit Turbo, in 1977's The Spy Who Loved Me.
Whilst watching Bond pursued by multiple vehicles, including a motorcycle complete with a missile launcher disguised as a sidecar, and a similarly-equipped helicopter, one can't help but notice the unusually beautiful scenery flying past. No accident, that, as the location was Sardinia's stunning Costa Smeralda, with Bond and his babe setting out from the legendary Hotel Cala di Volpe.
Fast forward 45 years, and that Lotus belongs to a certain Elon Musk, while mid-size crossover SUVs have become so ubiquitous that even 007's current favorite marque, Aston Martin, is making them. The DBX as it's called was launched in 2020 during the height of the pandemic, which in no way dampened customers' enthusiasm.
Two years on, Aston has now introduced an amped-up version, the DBX707—fittingly enough launched at Cala di Volpe, now part of the iconic Luxury Collection, which continues to reign over the Costa Smeralda with its unparalleled version of timeless elegance.
The DBX707 is nothing less than the world's fastest, most powerful and best-handling luxury SUV, and the 697-hp (707 in ps, aka metric horsepower) Bond-worthy beauty is just as much of a fire-breathing British thoroughbred as Aston Martin's sports cars, with room for that many more of Q Branch's gadgets in back.
The vehicle is capable of a maximum speed of 193 mph and can do 0-60mph in just 3.1 seconds, thanks to enhancements to the stock DBX's turbocharged 4.0-liter V8, easily thrashing competitors like the Lamborghini Urus and Bentley Bentayga Speed.
And MI6-style upgrades are no longer a fiction of the silver screen, as those seeking to enhance their DBX707 and create something truly unique need look no further than Q by Aston Martin, the marque's bespoke division. From unique paint and graphics to tinted carbons and custom-crafted materials for both the interior and exterior, those commissioning Q cars "can push the boundaries of desire" in the brand's words.
So what inspired Aston Martin to build the world's fastest SUV? Well, it's their first vehicle delivered through the product development cycle under the leadership of Lawrence Stroll, the motorsports-loving Canadian billionaire who took over as Executive Chairman of Aston Martin Lagonda in 2020. Its debut comes on the heels of Aston Martin's return to Formula 1, and the first deliveries of its Valkyrie hybrid hypercar, hailed as an "extraordinary adventure in engineering." Clearly, in this company, the new DBX needed to hold its own.
Sardinia is home to some of the world's most captivating coastline, and the DBX707 gleefully devoured its spectacular roads as we gave it room to maneuver. Costa Smeralda was after all developed by the Aga Khan, one of the world's richest royals, whose mother was an English aristocrat and whose family have always had a passion for British motorcars, including a $1 million 1965 Aston Martin DB5 that came up for auction in 2017.
The Sardinian landscape, where not broken by the entrancing turquoise sea, is wild and hard, shot through with cliffs and mountain ranges covered by Mediterranean scrub, wild lavender, rosemary and prickly pear. Presciently the Aga Khan and his cronies dictated that the natural beauty of the region be preserved at all costs while the ultra-exclusive hotels and yacht clubs were being built in the late Sixties.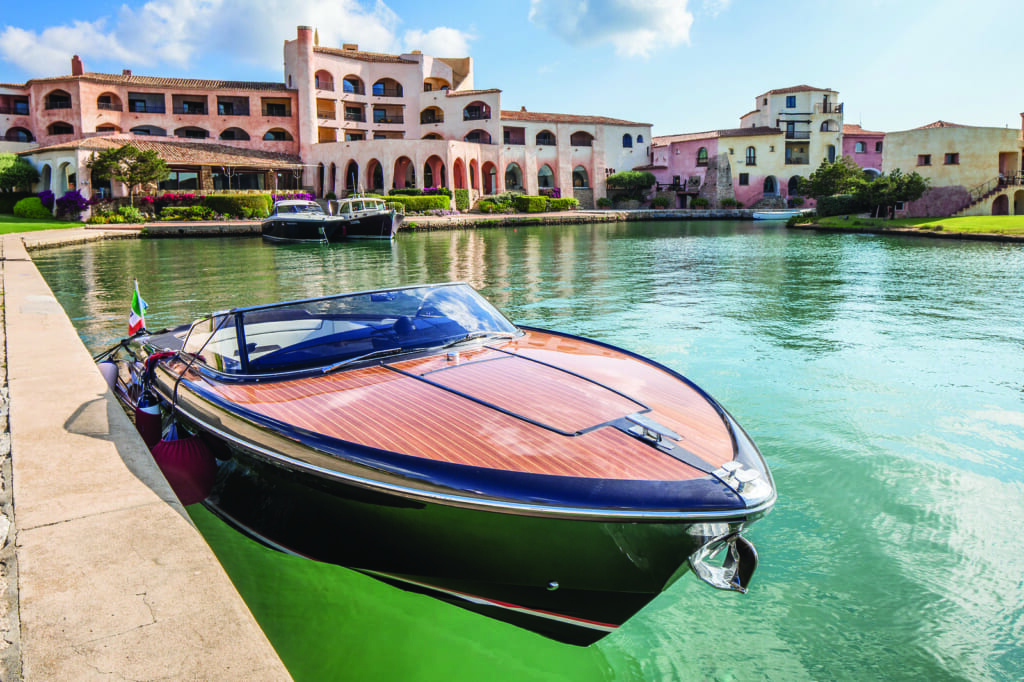 The designers of the DBX707, which is crafted by hand in St. Athan, Wales, in a return to tradition for the famed marque, had as their brief "blistering performance, supreme dynamics, unmistakable style, and absolute luxury."
This being an Aston Martin however, there is also what they call "nuance behind the numbers," in the form of the addictive driving experience that Aston-badged cars have been known for since the David Brown days. All adding up to, in the case of the DBX707, "a saber in a segment of sledgehammers" unlike any other SUV extant.
"Right from its first introduction the DBX has represented Aston Martin's dynamic and design values in a way that proves not all SUVs have to conform to the same compromises," as former Aston Martin CEO Tobias Moers put it. "With the DBX707 we have pushed the boundaries in every area to create a car which sets new standards of performance and desirability—the fastest, most powerful, best handling and most engaging car of its kind."
The base price of the DBX707 in the U.S. is $239,000, though the model we used to carve up the Costa Smeralda had enough options to boost it up to nearly $300,000, including custom Plasma Blue paintwork, two-tone Dark Night and Q Côte d'Azur leather upholstery, carbon fiber exterior and interior packages, 23″ diamond-turned forged wheels, and black chrome badges, among other upgrades.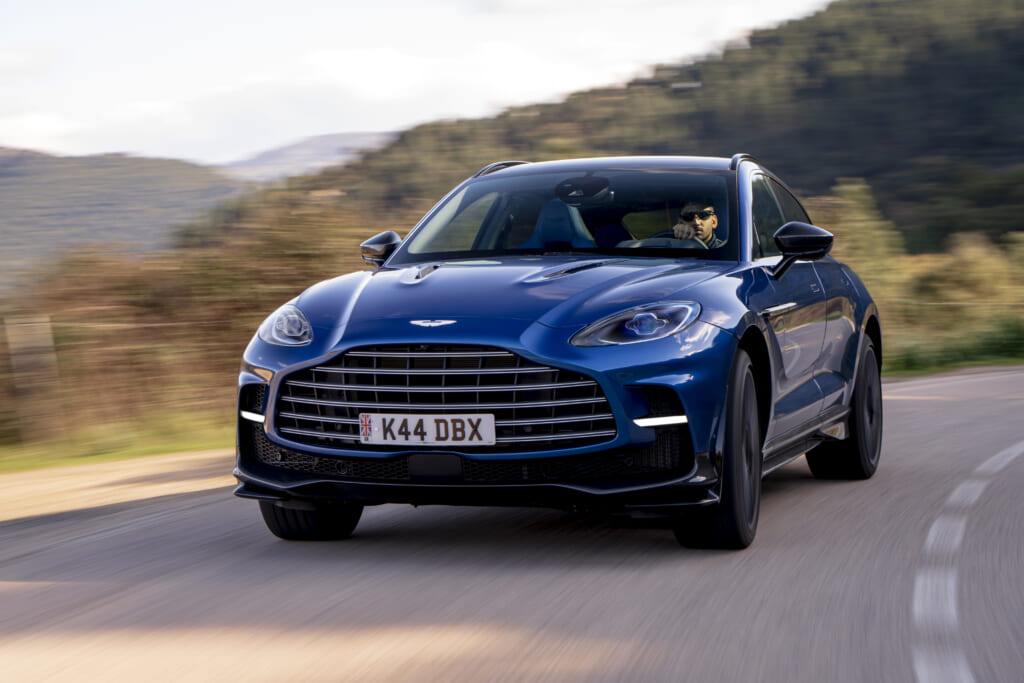 Design-wise, the DBX707's dialed-up details give away its more muscular underpinnings in much the same way those who know what to look for can tell Bond's suit is from Savile Row. Compared to the stock DBX, it has a larger front grille finished in satin chrome, new air intakes and brake cooling ducts, a new front splitter profile, new louvred bonnet blades, and a gloss-black splitter; new gloss black side sills, with a deeper and more heavily sculpted profile; a new rear lip spoiler on the roof wing; and a significantly enlarged twin rear diffuser; and a new large-diameter quad exhaust system.
Aston Martin's Chief Creative Officer, Marek Reichman, notes that, "The key to DBX707's design DNA is capturing the confidence that comes from its dynamic supremacy. When you are the alpha SUV you don't have to try too hard, therefore, we concentrated on those areas of the design that would make the DBX707 instantly recognizable as the highest-performing model, without screaming for attention."
He adds that while, "Naturally, function is the driver for some of the changes, elsewhere we expressed the DBX707's immense performance in ways that create a more aggressive stance and greater muscularity. The result is a design that exudes potency while retaining our commitment to pure lines and perfect proportions." The DBX707, which should surely have a place in the next 007's garage, is "a true performance beast," Reichman declares, "yet retains the beauty and elegance you expect from Aston Martin's DNA."
Well played, Mr. Stroll.
This article originally appeared in the Sept/Oct 2022 issue of Maxim magazine.