Raise A Glass to Jack Daniel's Limited Edition Indian Springfield Dark Horse Motorcycle
The latest collab between two iconic brands is the fastest special edition bike yet.
For the fourth year in a row, Indian Motorcycle and Jack Daniel's have collaborated on a limited-edition custom bike paying tribute to America's oldest registered distillery.
The Jack Daniel's Limited Edition Springfield Dark Horse is limited to a run of only 177 of the bikes in tribute to the "Old No. 7" brand of Tennessee Whiskey, specifically the Single Barrel Select version. 
During our visit to the distiller's hometown of Lynchburg, Tenn., we learned that the key difference between Tennessee Whiskey and similar bourbon from Kentucky (and sometimes Virginia) is that The Volunteer State's signature drink is charcoal filtered to remove any residual oils from the distillation process.
The Indian Dark horse tips its cap to that process with a two-tone Heavy Metal Crystal and Thunder Black Vivid Crystal custom paint scheme. 
And just as Jack Daniel's makes its own charcoal from maple wood and its expert coopers make the aging barrels that are the key to Jack Daniel's color and flavor, so the Indian's paint scheme is a product of hand craftsmanship by experts.
The bike's custom features were created by Klock Werks Kustom Cycles of Mitchell, SD, and include gorgeous badges created by Montana Silversmiths.
But the special edition Dark Horse is not all show and no go. In fact, Indian has bolted in the first production version of the company's 116-cubic-inch Thunder Stroke V-twin engine, which had previously only been available as an upgrade from the company's performance parts department.
On a sunny spring day in Lynchburg, the pear blossoms were opening and the Moore County High School Raiders baseball team was on the field when we were able to put the Dark Horse through its paces on the rolling mountain roads nearby.
That big block engine indeed produces impressive power to support its rating of 127 lb.-ft. of torque. But what was maybe more impressive was the bike's ride and handling. Big bikes with floorboards and hard saddlebags can weave and wander at speed, but the Dark Horse holds a confident line effortlessly.
They can also tend to bounce over bumps, but the big Indian's shock and fork damping is correctly tuned to control abrupt inputs, so it doesn't pogo after cresting a rise at rapid speed. Brakes are powerful and linear, with none of the wooden-feeling response that has sometimes plagued big domestic touring bikes.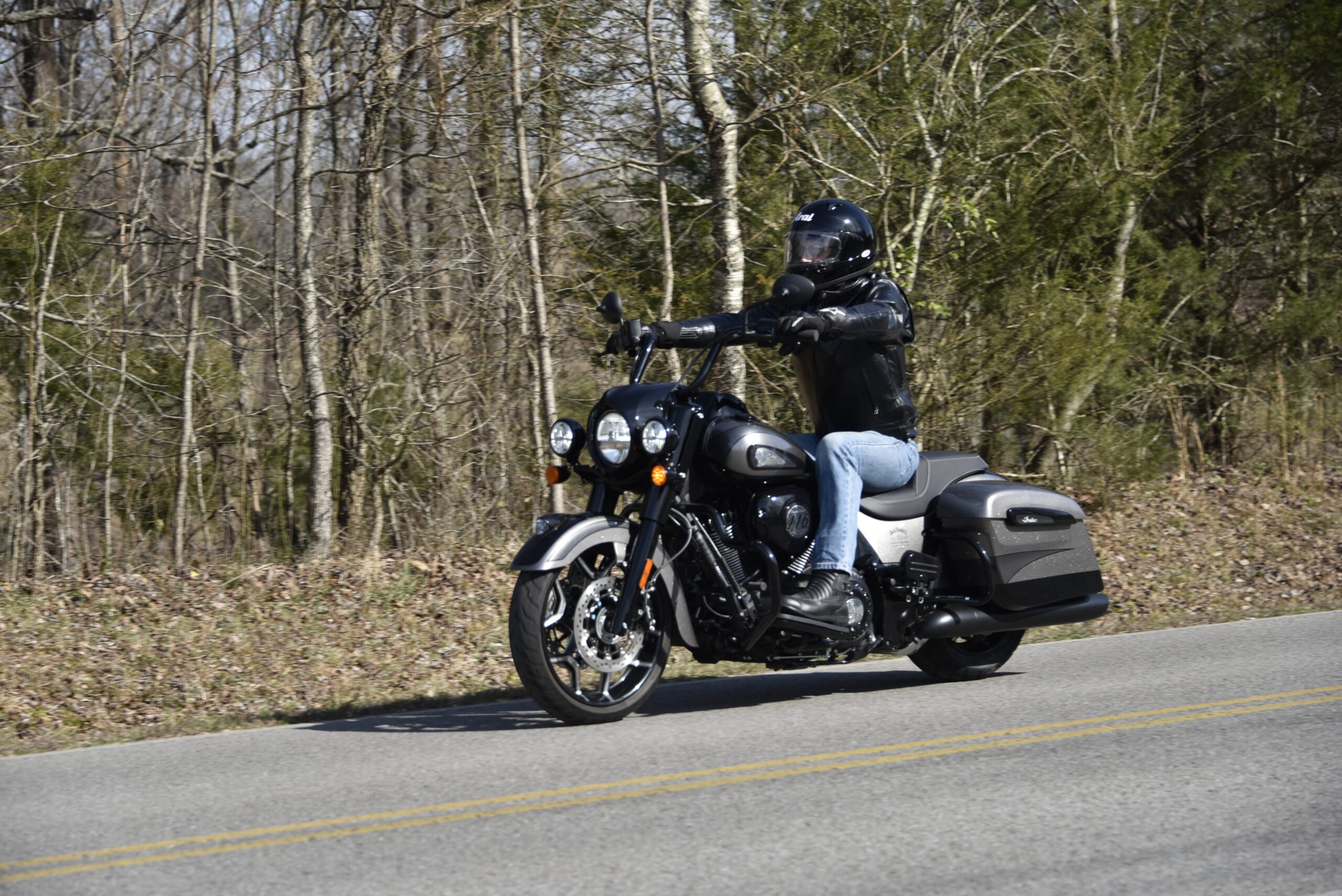 The first bike will be will be auctioned by Richie Bros. Auction Company in Arizona for Operation Ride Home, which provides financial assistance to eligible active duty junior-enlisted military members to travel from their duty station back home to spend time with their families. 
The rest of the bikes will sell for $36,995. However, because previous editions of these bikes have sold out in minutes, this year Indian will employ a lottery system for prospective buyers. In addition to the  bike, buyers will get a custom Single Barrel Select serving tray for their post-ride drinks.
Beginning at 7 p.m. EST on March 9 until 11:59 p.m. EST on March 17, interested buyers can enter the promotion for a chance to purchase one of the 177 bikes at www.2019jackdanielsindianmotorcycle.com. Following the close of submissions, winners will be randomly selected.