Why The 2018 Indian Scout Bobber Isn't Just a Badass Bike, It's a Way of Life
This stripped-down street bruiser is taking the motorcycle world by storm.
Presented by Indian Motorcycle
There are two ways to make a machine go faster. You can add power, which typically costs money, or you can reduce weight, which typically doesn't.
Guess which solution was preferred by cash-strapped bikers and hot rodders in the early days of impromptu speed contests? While they applied some handiwork to their engines by porting the heads and optimizing their power output, intrepid gearheads also stripped off everything that wasn't needed, leaving only the most essential elements.
The ubiquitous Ford Model T was the target of the car guys, while bikers customized rides from Indian Motorcycle, Harley-Davidson, Triumph, and BSA, which were all popular in the post-war years of the '40s and '50s. 
That meant unbolting bodywork, removing fenders, trashing mufflers and eliminating various brackets and anything else adding mass. 
This approach produced hot rod cars and "bobber" motorcycles, so called because their rear fenders were cropped brutally short.
Today, that make-do minimalist aesthetic holds major appeal in our current culture of disposable $1,000 smartphones. And it extends beyond the bikes themselves to an eternally stylish subculture of leather and boots that is more likely to embrace a vintage mechanical timepiece than the latest Apple Watch.
The ruggedly DIY bobber philosophy meant each bobber was different, so there is opposition in some quarters to the notion of store-bought bobbers. Just as choppers and cafe racers were embraced by motorcycle manufacturers, they've also responded to bikers' increasing affection for classic bobber style.
Every self-respecting motorcycle fan knows that a new bike is a blank canvas, a starting point for their own mods, and the bold, stripped-down beauty of the 2018 Indian Scout Bobber gives potential customizers a seriously cool head start.
"Bobbers have always been about self-expression and individuality, dating back to the post-war era of '40s and '50s, when veterans modified their bikes to make them uniquely their own and to convey a sense of rebellion against the establishment," says Reid Wilson, Marketing Director at Indian Motorcycle. 
"Such was the inspiration for the Scout Bobber. We designed it to convey that classic American sense of gritty, raw self-expression."
Even though Indian's new Scout Bobber looks and feels amazing right off the showroom floor, bike builders are already exploring ways to further personalize these stylish rides, and Indian is lending a hand by offering accessories, as seen in the video above.
While the traditional "tractor seat" solo saddle is pretty much the gold standard for bobbers, Indian is offering a bolt on passenger's seat, because nobody ever bought a cool bike so they could go home alone at the end of the night. But if you really want saddlebags, you probably aren't really a bobber person.
We think adding parts to, rather than taking them away from, seems antithetical to the bobber aesthetic, but adding an attractive passenger on the back is always a plus, so the less-is-more philosophy gets overruled in the case of a passenger seat. So go ahead and bolt one on, you rebel.
We all want to build our own unique custom ride, but there are few truly new ideas out there, and we all have our influences. So it is worth looking over the custom Indian Bobbers exhibited by professional bike builders recently at the Brooklyn Invitational Custom Motorcycle Show. 
These bikes were created by Keino Cycles, Kraus Motor Co. and skateboarding icon Steve Caballero, in conjunction with Roland Sands Design.
"When we build on the foundations laid by tradition we are reminded to learn from the past and push the limits beyond what has been done," said Satya Kraus of his experience building a custom black Scout Bobber. 
"It has been a complete pleasure to customize and build upon the foundation laid by Indian engineers," he said.
The incredible Kraus Motor Co. custom adheres to bobber style, but maybe not its make-do, low-cost roots, as this machine is packed with incredible hardware like Ohlins inverted forks and shock, Rotobox carbon fiber wheels (!), LED headlights, custom stainless steel 2-into-1 exhaust and a conversion to a traditional chain drive from the Scout's belt drive.
"It was a great opportunity for me to work with the new Indian Scout Bobber with freedom of creativity and ideas," explained Keino Sasaki, of Keino Cycles. 
"When I stripped the bike down to its main chassis, I knew it could go beyond its styling originally intended. I hope this bike showcases the possibilities of the Scout Bobber with a little imagination and creativity."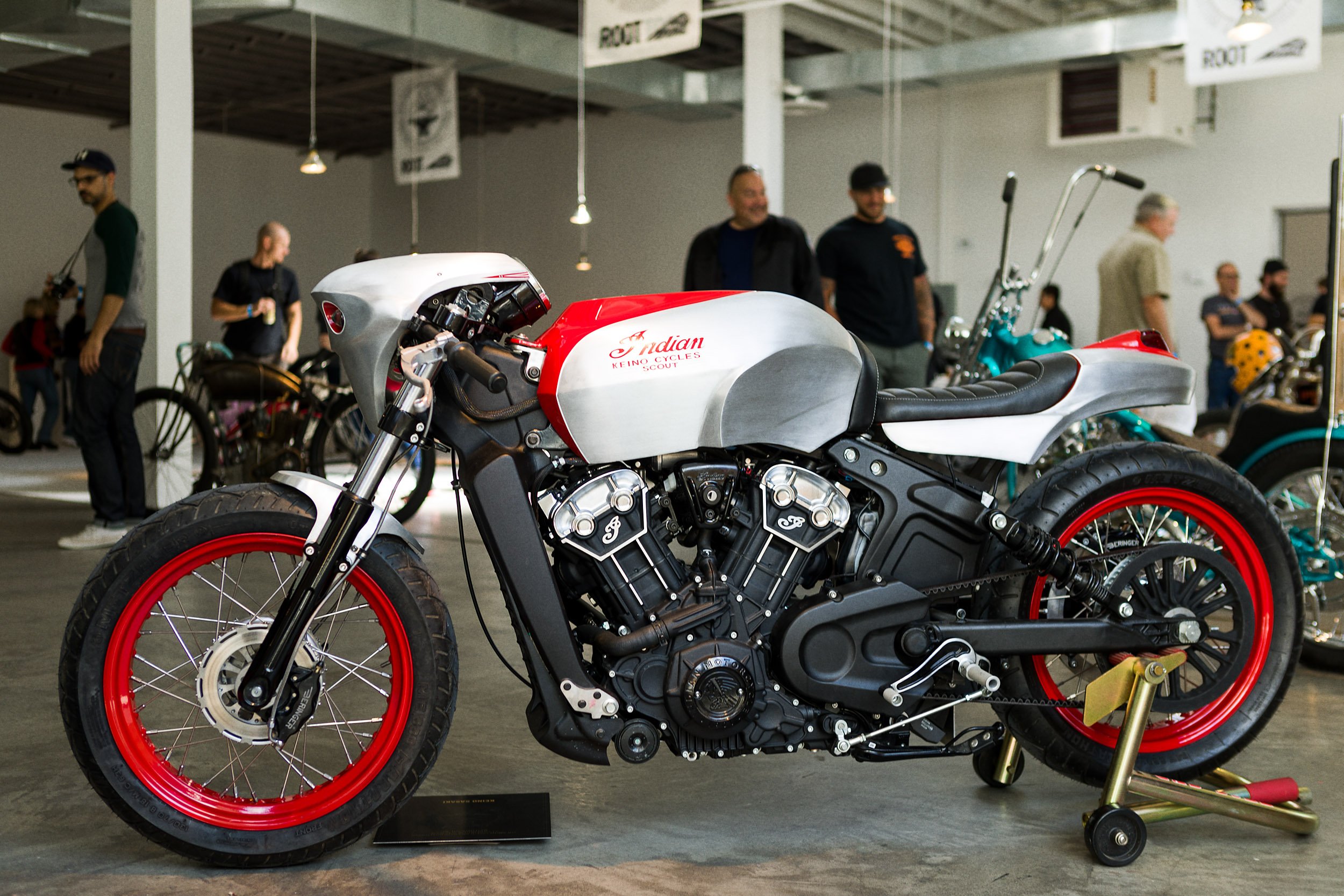 Indeed, the gleaming polished aluminum bodywork and spoked wheels lend his design a period streamliner vibe, a look that was completed with unusual Beringer inboard brakes and sporty rearset footpegs. The custom exhaust feeds a SuperTrapp muffler.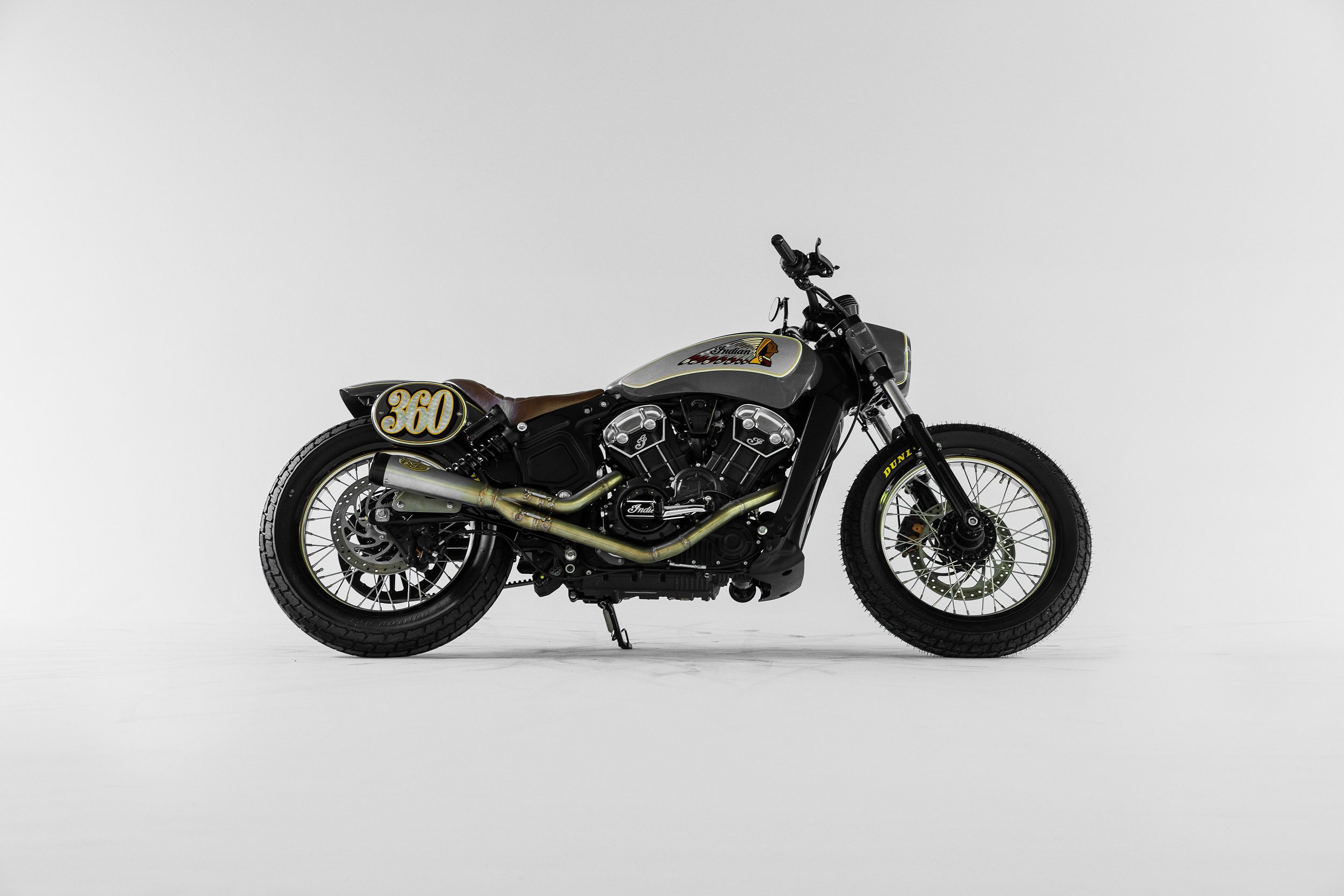 Caballero went for a leaner look with his bobber, slicing a massive six inches from the width of the Scout's gas tank and ditching the front fender entirely before piling on parts from the Roland Sands catalog, including aluminum number plates and a stainless steel mesh radiator guard.
These three show bikes illustrate the Indian Scout Bobber's potential as a beautiful canvas for your own custom bobber concepts, which perhaps borrow an idea or two from these beauties while referring to the glorious history of the bobber design. 
But whether you prefer the stock model or want to customize it, either way the Indian Scout Bobber is about as much fun as you can have on two wheels.