This Bare-Bones Chopper Just Won Indian Motorcycle's Scout Bobber Build-Off
Time to open your toolbox and build one in your own style.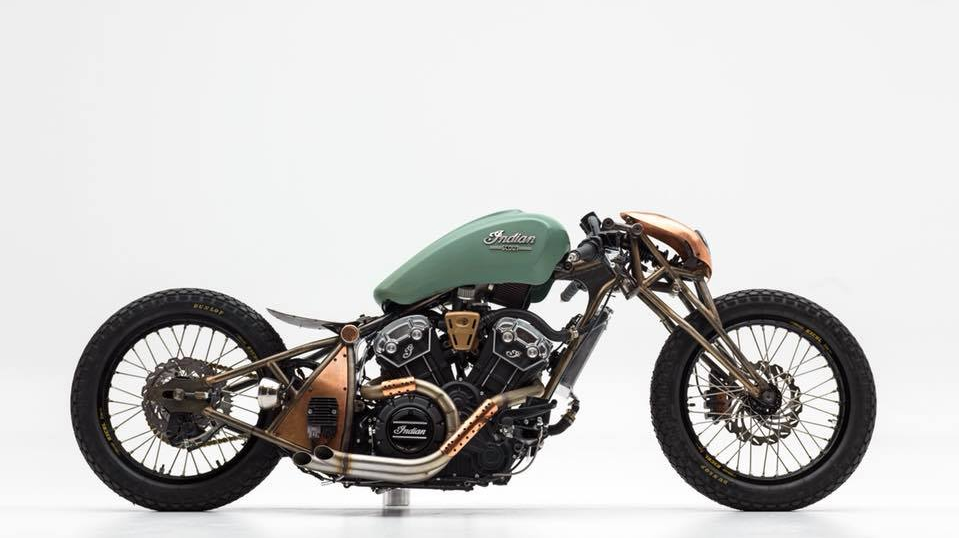 Indian Motorcycle and Harley-Davidson have both hit on a winning formula in recent years; hosting contests for bike builders and dealers to create the most compelling custom versions of their newest models with the aim of sparking the imaginations of prospective buyers.
Indian's latest such competition is The Wrench: Scout Bobber Build-Off, and the winner is NASA engineer Alfredo "Fred" Juarez of Chi-Jer's Vintage Bike Works in Las Cruces, NM. 
Indian named three finalists from a field of 12 that were selected from more than 100 total entries in the contest. This trio includes a full-fairing cafe racer built by PJ Grakauskas, an OSHA safety inspector from Avon, Ohio.
The other finalist was this brilliant blue '80s-style chopper created by Christian Newman, a Lakeview, N.Y. mechanical engineer who designs mining and oil drilling equipment.
Fans voted Juarez's custom-framed chopper the grand prize winner scoring him $10,000 and a feature story in Hot Bike magazine on his custom Indian Scout Bobber. "Thanks to all the fans who took the time to cast their vote," said Juarez. "I know it wasn't easy to pick one because the other two bikes are incredible." 
PJ Grakauskas went a different direction in his build, creating a fully faired cafe racer in the style of pioneering '70s models like the Ducati 750SS, BMW R100RS and Harley-Davidson XLCR Cafe Racer.
Christian Newman had the idea to put a '70s drag racing chopper theme on his bike, complete with the dramatically stepped seat, sissy bar, fat drag slick back tire and bicycle-skinny front tire.
"Since the beginning of this program, our goal was to highlight the passion and the craftsmanship of garage builders from around the country," said Reid Wilson, Senior Director for Indian Motorcycle. "Needless to say, our expectations were vastly exceeded. Fred, Christian and PJ exemplify what this program is all about. And in turn, we hope it motivates and encourages others from around the country."