The Souped-Up Infiniti Q60 Red Sport Is More Than Just a Pretty Face
Because beauty is only sheet-metal deep.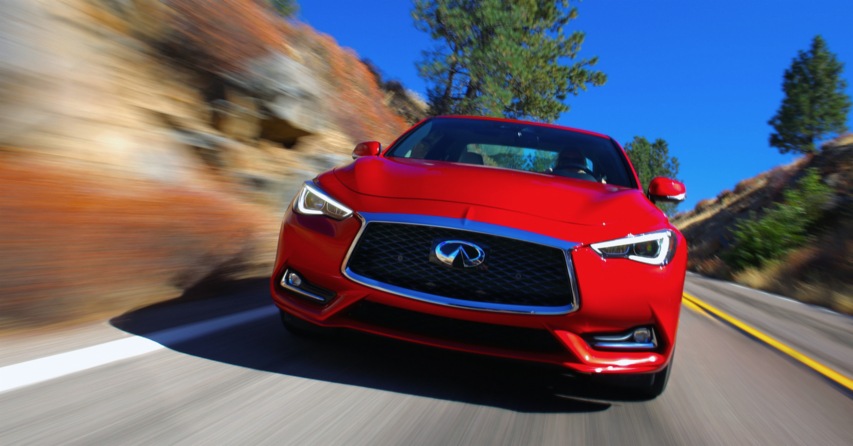 Photo: Infiniti
When we first got behind the wheel of Infiniti's sexy-as-hell new sports coupe, the Q60, we were impressed. Although it's packed with perhaps too much tech, there are ways to option it out that really emphasize the car's two best characteristics—its looks and its engine.
Well, now we got a chance to spend some time with the souped-up Red Sport 400 version, which has the same killer design and even more power. Instead of a wholly respectable 300 horsepower and 295 lb.-ft. of torque, the Red Sport cranks up the juice on the twin-turbo 3.0-liter V6 to help it churn out 400 horses and provide 350 lb-ft. of twist. Yeah, we like that.
The Red Sport also includes large sport brakes, sport-tuned Digital Dynamic Suspension and sweet 19-inch sport aluminum-alloy wheels. Those who are really in the know will recognize that you're rolling in the top-of-line version of Infiniti's best-looking car—and will be that much less likely to try to take you on at the stop light.
We kept the Red Sport locked in Sport Plus mode throughout our drive on eastern Long Island; this ensured not only more aggressive throttle control and significantly improved road-feel through the steering wheel, but also that the engine's sweet sounds made their way to the cabin. (A cabin which, between the stitched leather and carbon fiber trim looks like it belongs in something far more expensive than its $53K starting price.)
Randy Parker, the VP of Infiniti Americas, says this vehicle will "hold a strong position against its competitors with a significant power advantage." 
He's not just preaching the company line. When a car looks and moves like the Red Sport, certain automakers over in Germany best be looking in their rear-view mirrors—there's something sexy coming in hot.