Go Inside a Bugatti Chiron as it Reaches Top Speed of 261 mph
Buckle up.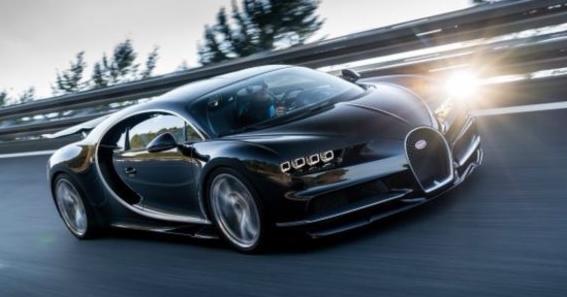 Anyone who knows anything about the Bugatti Chiron knows the supercar is fast. As thrilling as the experience might be, it could also be terrifying. 
In a new video made December 1 at Johnny Bohmer's Proving Grounds in Florida, viewers learn two things: being inside a Chiron watching its heads-up display crank it to 261 mph is a breathtaking experience, and yes, also kind of scary; the Chiron has a governor that prevents it from going any faster than that.
The video gives the details on this Chiron, though they're easily forgotten after the speed run. It's got an 8.0L Quad-Turbo Engine, 7-speed automatic transmission, weighs 4,400 lbs, and that engine cranks along at about 1,500 hp. 
Jalopnik reports that the Bugatti Chiron could "theoretically could go faster" than 261, but it's been "electronically-limited by Bugatti only because there aren't tires currently manufactured that would be safe at higher speeds."
Based on the video, it also seems like there's a chance the damn thing could take off and fly, because it certainly feels like being on a runway.
Bohmer tests a lot of jacked-up hypercars at his facility and the Chiron's 261 mph isn't even that close to his 2017 test run of a  2,700-horsepower 2006 Ford GT. Watch the video above, in which he hits an unofficial record of 292 mph before his braking parachute snaps and he has to almost kill himself using the car's brakes.
The GT footage is amazing, but seriously, someone at Bugatti needs to invent tires that can handle speeds greater than 261 mph. It's obvious the Chiron could probably top that and just keep humming along like it's a leisurely Sunday drive.