Inside The First-Ever Bugatti Luxury Summit
The French king of hypercars invited top minds across luxury markets to dwell on the future of extreme abundance at Bugatti HQ.
We're driving Bugatti's latest ode to unchained velocity and opulence, the Chiron Super Sport, across the countryside of Alsace, France. Golden wheat fields ripple to either side as the physical force of the $3.8 million hypercar bludgeons the June air like a hammer.
My copilot, the legendary racing driver Andy Wallace, sits beside me while listing the absolute bonkers numbers of this engineering abomination. Things like the 273-mph top speed and 1,600-hp output, requiring a full 8.0-liters of displacement, 16 cylinders and four turbos to achieve. A full bore 0-62 mph run—in just 2.4 seconds, mind you—requires 1,000 liters of air to be sucked through its 10 radiators every second.
Wallace mentions that at 200 mph the Chiron boasts more than double the downforce than it weighs. "So theoretically," I ask, "does that mean if you were in a round tunnel, you could actually drive it upside down?" "Yeah, it does…. Somebody nutty enough somewhere has done it. It would be brilliant, but yeah I don't want to do it."
This from the man who once drove the fastest production-car run ever (240.1 mph) in the famed McLaren F1; the record stood for over a decade. More recently he set the world record again by piercing the 300 mph threshold in a Chiron Super Sport 300+.
We drive to a closed section of winding asphalt a couple miles from where this Chiron Super Sport was hand-built at the Château Saint Jean. The old farm road dips down to the right, then dramatically up a hill dappled by giant oak trees. "So yeah, you can just floor it now," Wallace says with the casualness of asking to pass the potatoes.
The body tingles as I slam the accelerator to the floor, releasing a cannon shot of combustion, sound and vibration shuddering through the Chiron—and my bones. The takeoff is so sudden, so all-encompassing my lungs catch and stomach swallows heart.
Before I can blink we blur past valley and hill and are cresting the ridge, so I release the throttle and inhale my first breath. The Chiron Super Sport slows to a non-ludicrous speed and eases into a heavily planted but well-cushioned coast.
As Bugatti's prime test pilot, Wallace has been logging much track time preparing the marque's upcoming Bolide race car—so he seems utterly unfazed by our little run. Wallace knows both speed and endurance as one of few men to claim racing's coveted Triple Crown: the 24 Hours of Le Mans (1988), 24 Hours of Daytona (1990, 1997 and 1999) and 12 Hours of Sebring (1992 and 1993).
Me, I'm a mess. The body vibrates with post-rollercoaster nerves, a sort of sketchy euphoria that I recognize from late nights in foreign cities. This is only a fraction of the Bugatti Experience, however—something we've flown all the way here to pontificate on and discuss.
For this inaugural Bugatti Luxury Summit, the French hypercar maker has invited a pantheon of top minds across relevant categories and fields to Château Saint Jean to dwell on the future of extreme abundance. A fitting location for a conversation on affluence as Bugatti assembles vehicles here by hand at their Atelier, starting at around $3 million.
Powered by 1,500–1,600-horsepower W-16 engines with bespoke capabilities that put other OEMs to shame, they are arguably the finest automobiles Planet Earth has ever seen—and now with their upcoming electrification (thanks largely to the merger with electric hypercar maker Rimac), heading towards a path of greater sustainability.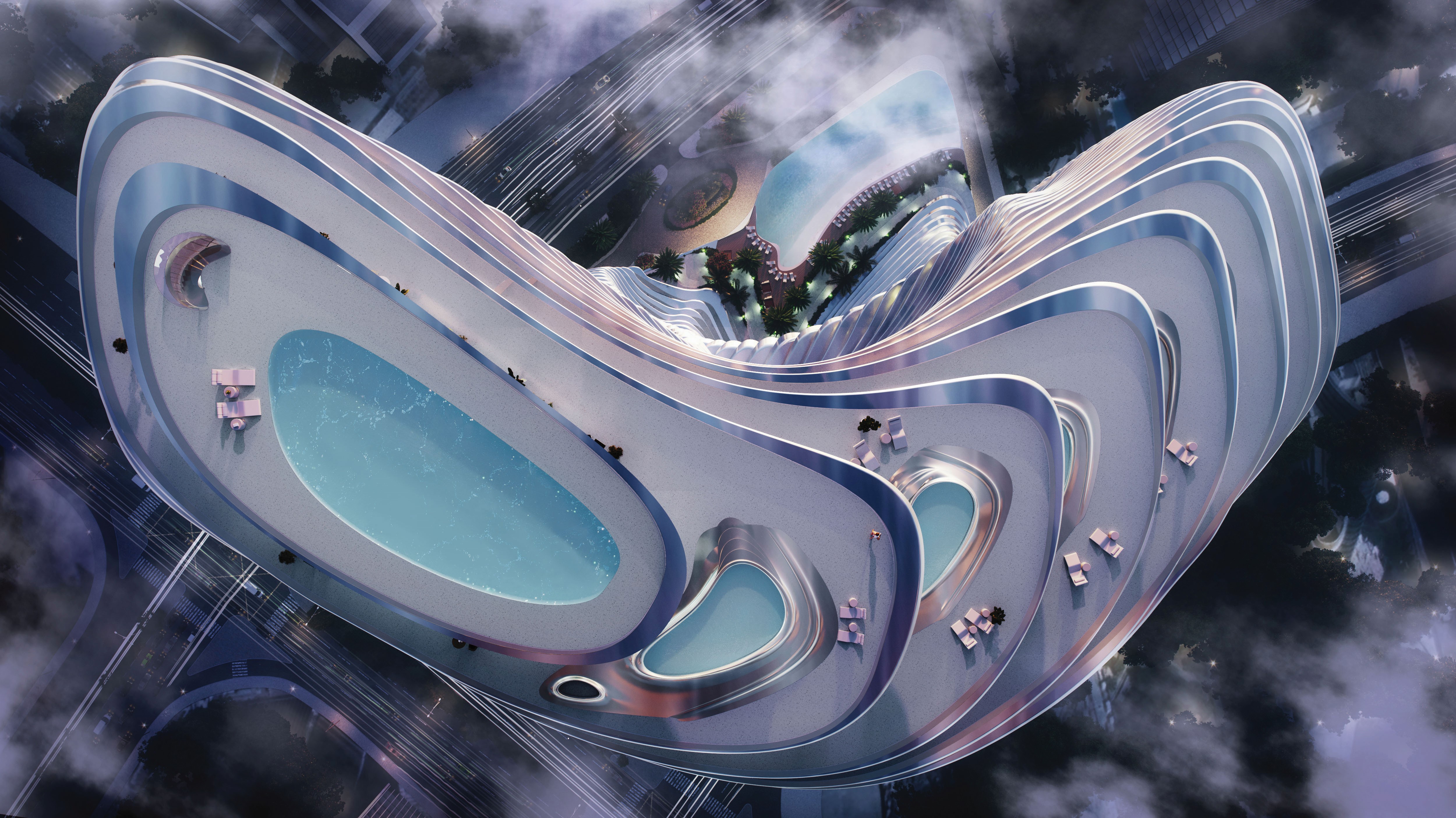 "Since we are talking about luxury, the easiest thing would be to say, 'Well luxury is by definition something nobody needs, so you just don't do it,'" Bugatti-Rimac CEO Mate Rimac shares from the stage. He goes on to describe the serious race to cut carbon emissions as a "life or death situation," something to be taken with the utmost urgency.
"But I think [eliminating luxury] is the wrong approach because we humans are more than just, you know, eat, sleep, and reproduce. Life is about more than that—and luxury is like science in many fields. It's aspirational, like space travel or traveling into the timeline, nature or the human genome. It's exploration and it's aspiration."
"And if you look at Bugatti for example," continues the Croatian entrepreneur, "it's been raising the bar for over 100 years now. It's something to aspire to, it's something to dream about, so it would be a disaster to kill those things because of the environment." He pauses, takes thought. "But we do need to do our part, I believe," he says, addressing the Chiron-Sized elephant in the room.
Mate Rimac is here as arguably the pinnacle member of the event, and while he did not want to be the keynote speaker, he volunteered to take part as a panel member for one of the talks taking place this glorious summer afternoon. Under discussion is the very philosophy and definition of luxury, its present and perhaps most importantly its future. What exactly is the future of opulence when we are ever more faced with the certainty of a world with limits?
How do you discuss infinite growth on a planet with finite resources? Well, you assemble some of the greatest minds across the luxury sector—from managing directors of the world's finest hotels to medical doctors, from CEOs of apex fashion houses to professors and partners in capital investment firms—and look that Chiron-sized elephant right in the eye.
From planning to execution, it's clear what Bugatti is hoping for with this innovative new Luxury Summit Series. Unsatisfied with simply being perceived as a luxury automobile manufacturer, Bugatti wants to be seen as a standalone luxury lifestyle brand. Chanel is not simply a handbag manufacturer, after all. Rolex permeates far beyond wristwatches. And Hermès began by humbly crafting horse saddles.
As previously mentioned a large part of the discussion seems to always return back to the Future of Luxury. And it seems clear that while sustainability will be a huge factor, the potential for digital, or virtual, luxury, could be seismic. And they could be integrally tied, as well.
Daniela Ott, General Secretary of the Aura Blockchain Consortium, predicts there will be a significant shift: where today 100% of luxury items are both physical and new, in 2-10 years from now, 20-30% of sales will be made up of digital goods and resale.
And the reasons why luxury hungers to embrace the blockchain are manifold. Obviously they see the metaverse as a new, potentially massive revenue stream of both manufactured exclusivity and digital peacocking. But perhaps equally important is the idea of provenance and traceability: since the blockchain can act as digital receipt of authenticity, it protects all your future products from bootlegging. Verifying a luxury item's authenticity will be as easy as scanning a QR code.
This is what Ott refers to as Circular Revenue, making resale both efficient and convenient—and convenience, she reminds us, is a true value of luxury. "To reduce consumption you need to decouple growth and revenue from selling a physical product, and this is where blockchain comes into the game," she explains. "If you have a digital twin you can write in a smart contract where you get a royalty, so that if Rebecca buys something from Nathalie the brand will still make money from the second, third, fourth sale, etc. It is not perfect, but it is a very practical solution."
Other benefits reside in fostering direct communication with your client base, building a relationship and brand loyalty. Stefano Rosso, the Chairman of Maison Margiela and its parent OTB Group (which also owns powerhouses Diesel, Marni, Viktor & Rolf and Jil Sander) tells the audience about his new Brave Virtual Xperience (BVX) endeavor. The new offshoot of OTB is dedicated to Web3 and the metaverse, where they're developing communities through channels like the instant messaging and chat-room social platform Discord.
There if you purchase product you get a NFT gifted alongside, which comes with exclusive access to activities— like a party at Art Basel, an event in Dubai, or a special holiday gift—available only to the NFT holder.
Ott mentions a recent Prada activation where they raffled 180 tickets if you bought a digital item, and the winner won a first-class experience to the brand's hyper-coveted Paris Fashion Week show, complete with first-class airfare, five-star hotel, etc. The lucky customer then shared their entire experience on Prada's Discord channel—incredibly popular with the highly desired youth demographic.
Conversations range from the need for "Informal but impeccable" service in the highest hospitality tiers, to hacking health and longevity, to the profound potential of the metaverse; but one subject that keeps cycling back is the harrowing paradox of exclusivity versus availability—one of the most challenging conundrums every luxury brand needs to continuously navigate.
Simply put, how does one balance the need to create and maintain desire while still, you know, actually selling and fulfilling that demand? "There is a pace, and you cannot go faster than the sort of rhythm of growth," Bain & Company partner Nathalie Remy warns during the Summit. "If you try to go too fast then you start to have some quality issues, you start to have incidents in the stores, etc."
As an example, she recalls the disruption the fashion and leather-goods category faced in the early 2000s, when the emergence of fast fashion caused a self-destructive kneejerk reaction to keep up. "It created this kind of frenetic need for freshness, and a lot of luxury brands embarked on this trend," she notes from the stage.
"I mention this example because yes, the expectation of consumers is to have this freshness, yet the challenge in luxury is to find the right balance: between the luxury DNA, perfect execution, etc., and the industry standards. It will always take more time to design, develop, produce and manufacture a luxury product than a Zara shirt. So don't try to compete, but try to reinvent in a luxury way what the standards are becoming."
Another speaker mentions Gucci's Dionysus Bag, where the digital version sold for more ($4,100) than the actual physical bag ($3,400), a concept difficult to grasp for some. "For me this was quite remarkable, and it showed that indeed there is something going on," commented Dr. Hannes Gurzki, a luxury expert and researcher during his "Future Of Luxury" talk. "And the world of luxury is changing."
When asked how to balance that need to feed demand while not overproducing, Remy offers a most relevant metaphor: "I would advise—probably like when you drive a Bugatti, you have a lot of horsepower; it feels good at the moment to push on the accelerator to get that feeling, but use the brake at some point, too."
This article originally appeared in the September/October 2023 issue of Maxim magazine. Follow our Deputy Editor on Instagram at @nickstecher and @boozeoftheday.