10 #VanLife Instagram Accounts That Will Make You Wanna Quit Your Job and Hit The Road
Dirt is a must, but clothing is optional.
In our overly connected, synthesized lives, more people are choosing to pull up stakes and hit the road to live in a van, and they are documenting their experiences for us to enjoy vicariously through the Instagram hashtag #VanLife, which has 1.4 million posts.
There are no rules (though Volkswagen buses are unsurprisingly very highly represented), so take anything with four wheels and enough space to sleep and head out to the wilderness like some of these fun-loving Instagrammers.
Sometimes vanners overnight in cities as they travel around, which can be problematic for vehicles set up for living far from civilization. "You run into issues if you're super obvious about your situation…so for example, don't brush your teeth on the sidewalk in front of people's house…that's pretty uncool," explains Brianna Madia, who lives in a four-wheel drive extended Ford Econoline van.
Everyone loves a VW bus, and the Westfalia pop-up camper is the best version for #VanLife, thanks to its added amenities, which are surely appreciated by Kit, J.R. and Sunshine during their travels in this orange VW camper.
Not only do they have an awesome Instagram, but they have their own web site and a book (Orange Is Optimism) of their collected photos from their travels in the van. Four years on the road have even shown that you don't need to wear clothes all the time!
"Never leave the dogs behind," says Brianna Madia, who travels to the furthest reaches in her van with her boyfriend Keith and dogs. 
3. @VanLifers
Alyosha Ezhevsky enjoys more elbow room than most vanners in his Clark Cortex motorhome, but it is still life on the road with a contained space that provides an unparalleled view of the California sunset.
4. @TheUniblog
David Adam Roth is a film director who surely appreciates the way a Mercedes-Benz Unimog off-road truck dominates scenes and chews up scenery, so he posts his exploits in this unstoppable beast on the aptly named @Uniblog handle.
For the record, no, a Unimog is not a bus. You tell it that.
Photographer James Barkman shoots some good pictures while living in his van and shares them on both Instagram and his web site. 
Barkman has even equipped his Volkswagen for off-the-grid cold weather living, with this actual potbellied wood stove replacing the van's front passenger seat!
Shane's 1982 Volkswagen Vanagon Syncro isn't the classic VW hippie bus, but with its 4-wheel drive, high-roof conversion and serious-looking black-and-blue paint scheme, this van looks ready for anything.
You can check out the van's construction, complete with its Subaru engine conversion at livethevanlife.com. You can even buy a tee shirt with the van on it.
We never got the water-cooled version of the second-generation Volkswagen bus, but the UK-based Camper Cooks enjoy the improved durability of this design, while appreciating the quirky joys of driving an ancient bus.
"There's no power steering and only 4 gears so it's not the smoothest ride, but I LOVE driving the van!" they exclaim.
8. @12foot4
Andrea Laue and Brian King are proving that you don't need to resurrect a classic van from a junkyard to live the van life. 
Their ride is a 2014 Ram Promaster, which combines vast space (compared to a VW bus, not to a suburban split-level) and the reliable power of an EcoDiesel engine.
9. @four_by_far
Vanner four_by_far shows us another take on the Volkswagen, in this case a 1995 bus fitted with VW's Syncro four-wheel drive. 
Military-spec matte green paint, a 2-inch suspension lift and all-terrain tires give this van a go-anywhere look.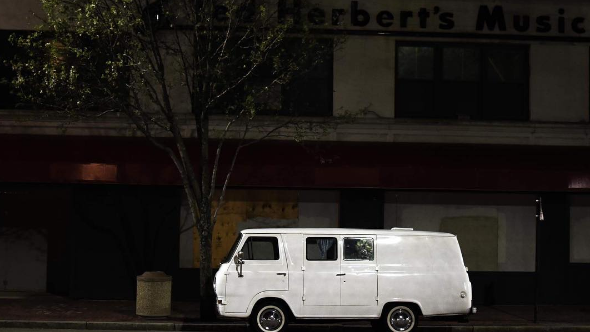 10. @Miketon 
In the 1960s other carmakers wanted in on VW's action, so Ford, Dodge and Chevy each built its own compact forward-control van just like the VW bus. 
Aficionados appreciate these vans too, and Miketon Graton like to post pix of his cool Ford Econoline that he's dubbed "Rose."
Now its your turn. Pick out any kind of van (or go for it and get a Unimog!) and hit the highway. Just remember: No brushing your teeth on the sidewalk in front of someone's house.