Jaguar F-Type R: First Drive Review
We took Jag's latest flagship sports car on a road trip to find out why it's an iconic British Roadster.
As long as humans drive in cars on roads to get where they're going, there will always be a place in our hearts reserved for the British Roadster.
The future may be electric, but Jaguar's newest flagship sportscar is a 5.0-liter supercharged eight-cylinder beast that offers the chance to enjoy the culmination of all that is holy about a petrol-powered British sports car.
One push of the exhaust button in Sport mode, and it transports you to the crackling rumble of a starting line in 1960s England.
Design
When I looked out my window and saw the F-Type in my driveway, with sun glittering off the flecks of gold and bronze in the Tourmaline Brown paint, I instantly thought of Don Draper in Mad Men, pitching the fictional Jaguar slogan, "At last, something beautiful you can truly own."
And apart from the glaring sexist undertone of Draper's slogan, the sentiment rang true for the beauty gracing my driveway with its presence.
The 20-inch black wheels and tan leather interior perfectly complimented the Tourmaline. And there are a lot of little visual details––red brake calipers, the green and red R branding on grille, and the Rs etched into the dual exhausts––that let you know this is a special version of an already special car.
Unlock the doors, and the handles emerge from the flanks like tiny pectoral fins. Slip into the bucket seat and it grabs you like a baseball glove. Push the convertible button, and the top is down and latched in 12 seconds. But it's stowed where you'd normally have trunk space, so the F-Type's trunk has room for a set of golf clubs, and nothing else. ("What else do you need room for?" I hear you chuckling).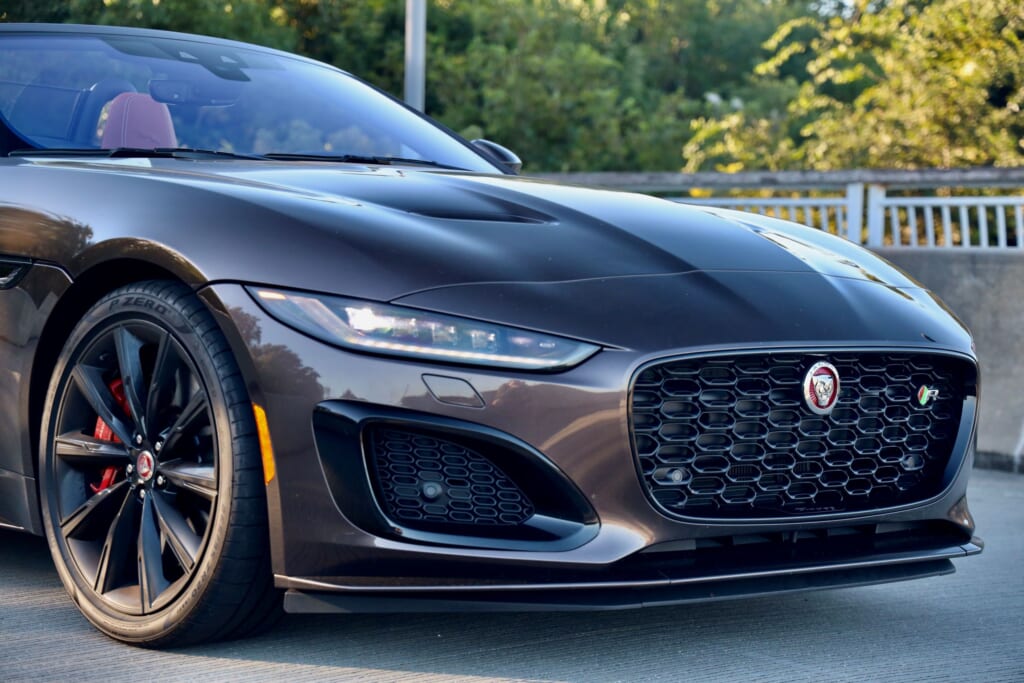 Simply put, this isn't designed for trips to the grocery store, let alone Costco. It's for the trip from a suburban garage to an executive parking lot; or better yet, to the windiest and most deserted road you can find.
Experience and Performance
I crammed a duffel bag into the trunk of the F-Type, removed the top in twelve seconds flat, and headed off to Asheville, North Carolina. I spent the first hour with the top down. Just because I could, I guess.
The road noise I could handle, but not the feeling of vulnerability that comes from driving with a top down and your eyes at the level of truckers' wheels. So I pulled over to put a little canvas between me and the big rigs. The beautiful crackle of the exhaust drew stares when I fired it back up in the rest area parking lot. But then again, so did the New Jersey plates in the heart of South Carolina.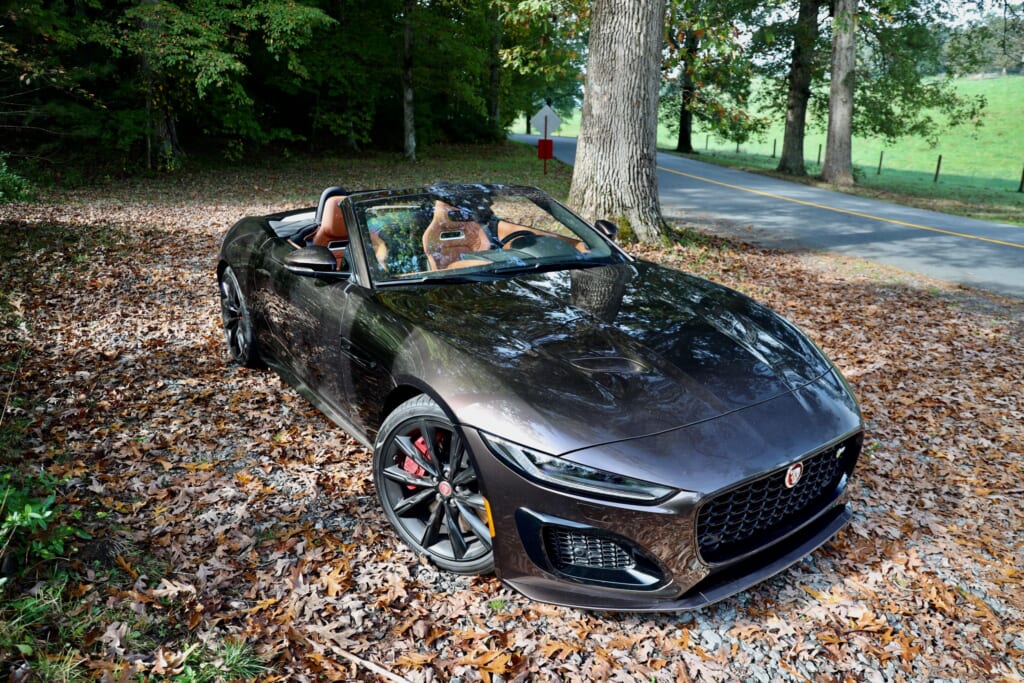 A freeway is not the best way to enjoy the F-Type, apart from merging onto it in the first place and the delightfully nimble lane changes. Driving any high-performance car on a freeway, I'm reminded of the Top Gear adage: In traffic, all cars go the same speed.
It wasn't until I had a forced detour on some country roads that I could feel what the 575-hoursepower and 516 pound-feet of torque in an all-wheel-drive two-seater really means. Suddenly I had stop signs to accelerate from, and deserted windy roads through farmland, where all the slowing down and speeding up again gives you the feeling you want.
You get a hell of a lot more out of going from zero to 45 mph over and over in a car like this than you do driving 70-something for hours on end. And despite the detour, I still beat the EPA estimate of 24mpg with a solid 26.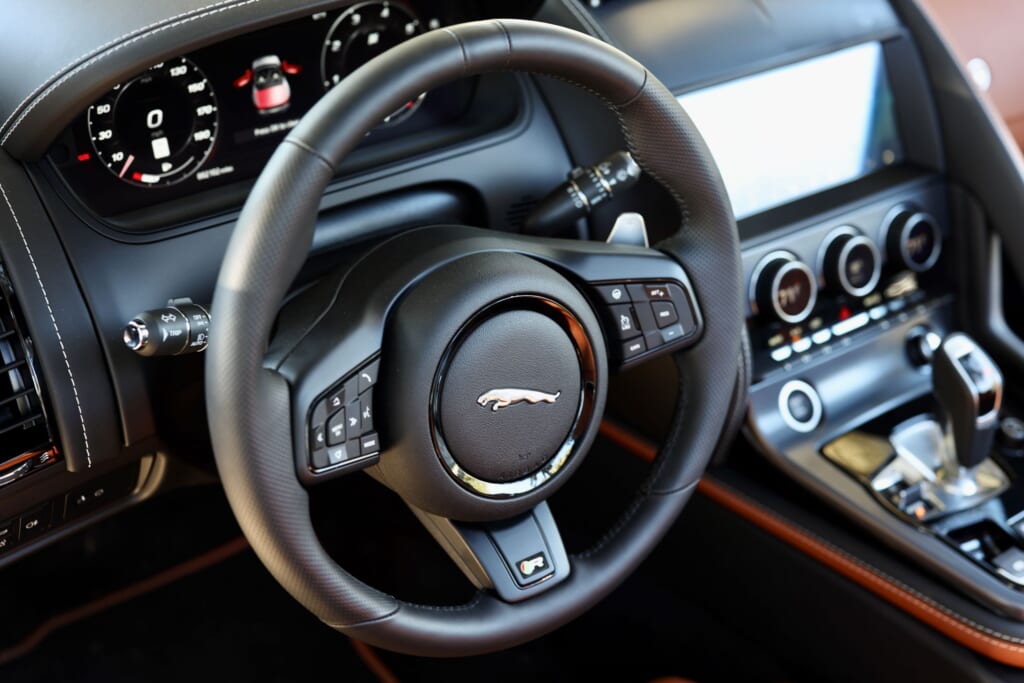 As soon as I pulled through the gates of the Biltmore Estate, that top came back down. It was a glorious afternoon in the mountains, and the Jag was purring. And again, I felt the "why" of this car. But it was three days later, when I got back to my home base of Charleston with all the freeway miles behind me, when I decided that the F-Type truly is at its best as a city car.
In the city, you get to enjoy every one of the F-Type's strengths and none of its limitations––provided you don't mind a grocery bag in the passenger seat. If an SUV in a city is a bull in a china closet, then the F-Type R in a city is a particularly agile cat who grew up in a china closet.
Trying out different cars is like trying out different personalities, and I've learned what types of cars appeal to what types of people. When I'm road-testing a red Stingray Corvette, for example, I get randos trying to snap a selfie sitting on the hood. But drive around in a Tourmaline Brown F-Type R, and the thing naturally selects for connoisseurs.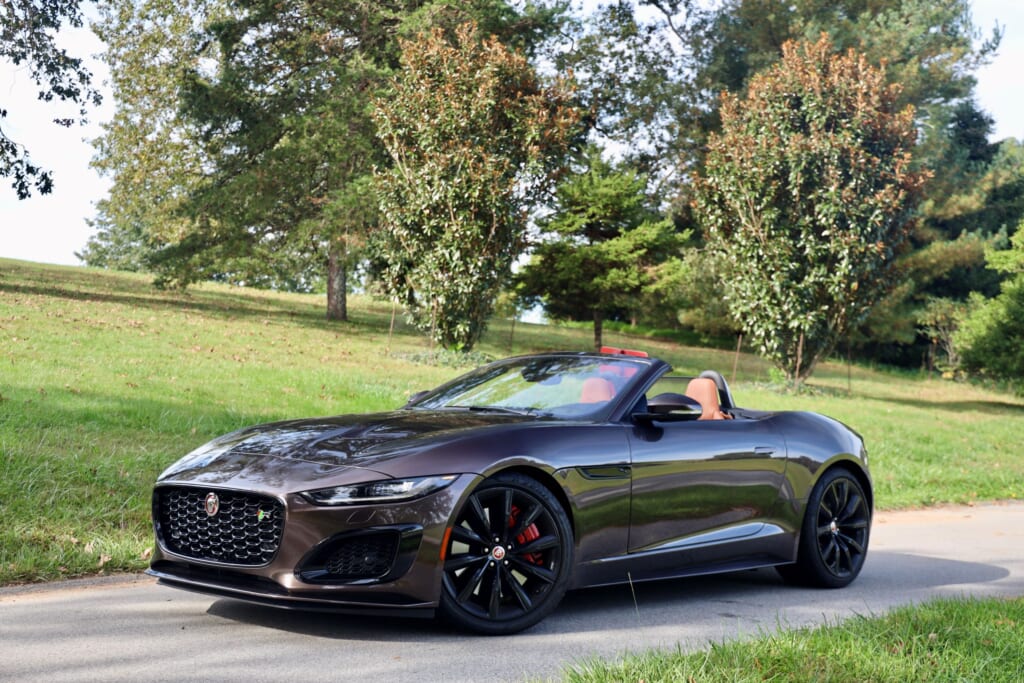 My favorite was a pair of elegant Charleston ladies who flagged me down during their weekly park walk, and who knew more about the engine than I did. The people who noticed it, noticed it for the right reasons.
Who Is This Car For?
When my parents got married, my father owned a Bracken Orange MGB GT. But as soon as I came into the picture, the two-seater sports car was quickly replaced by a succession of Volvos. That MGB GT was always mythic to me because I only knew about it from stories my father told, and from the one cameo appearance it made in an 8mm home movie.
But when my father died a few years ago, and I came into possession of a vast collection of boxes of things he saved through the years, one of these artifacts was the mint-condition 45-year-old manual for the MGB GT.
It was a freeze-frame of a time and place that had always been just beyond my comprehension, until I held that manual in my hands and finally understood what that car had meant to him.
For my father, and for many of us, the chance to own a British Roadster comes either before you build your nest or after it's empty; the phases of life when passion can take precedence over practicality. That's why he kept the manual of a car he drove when he was 25 for the rest of his life.
So, if you find yourself in such a phase with $100,000 on hand, then it's safe to say the F-Type R is pretty much made for you.