Jeep Is Bringing These 7 Custom Off-Road Monsters to a Safari in the Middle of the Desert
We're obsessed.
Some people celebrate Easter with solemn church services followed by a fancy brunch. Some people hide brightly colored eggs and eat chocolates. Jeep celebrates Easter by building a slew of cool custom off-road monsters and taking them to Moab, Utah for the annual Jeep Easter Safari.
This year's crop of Easter Safari concepts includes seven killer project Jeeps that give a glimpse of the current thinking inside the company, and maybe provide a preview of upcoming models like the hotly anticipated aluminum-bodied 2018 Wrangler.
Jeep Quicksand. This black beauty is a stretched-wheelbase two-door Wrangler meant to be a sand-slaying hot rod. The intake stacks feeding a 392 Hemi V8 protrude through the hood and the exhaust dumps out through downturned open headers.
The interior is stripped down to achieve that minimalist hot rod aesthetic, with old-style low-back bucket seats, aluminum door panels, tilt-out windshield glass and a vintage-look chrome roll bar.
Jeep CJ66. The CJ66 is built using a 1966 CJ-5 body mounted atop a frame from a 1997-2006-generation Wrangler (code-named "TJ"), with added elements of the current-generation "JK" Wrangler. Power is courtesy of 5.7-liter 345 Hemi V8, powering the CJ66 through a Dana 44 axles front and rear.
Matte black hood and stripes contrast the CJ66's Copper Canyon paint, and modern JK headlights and LED fog lights update the CJ66's vintage style.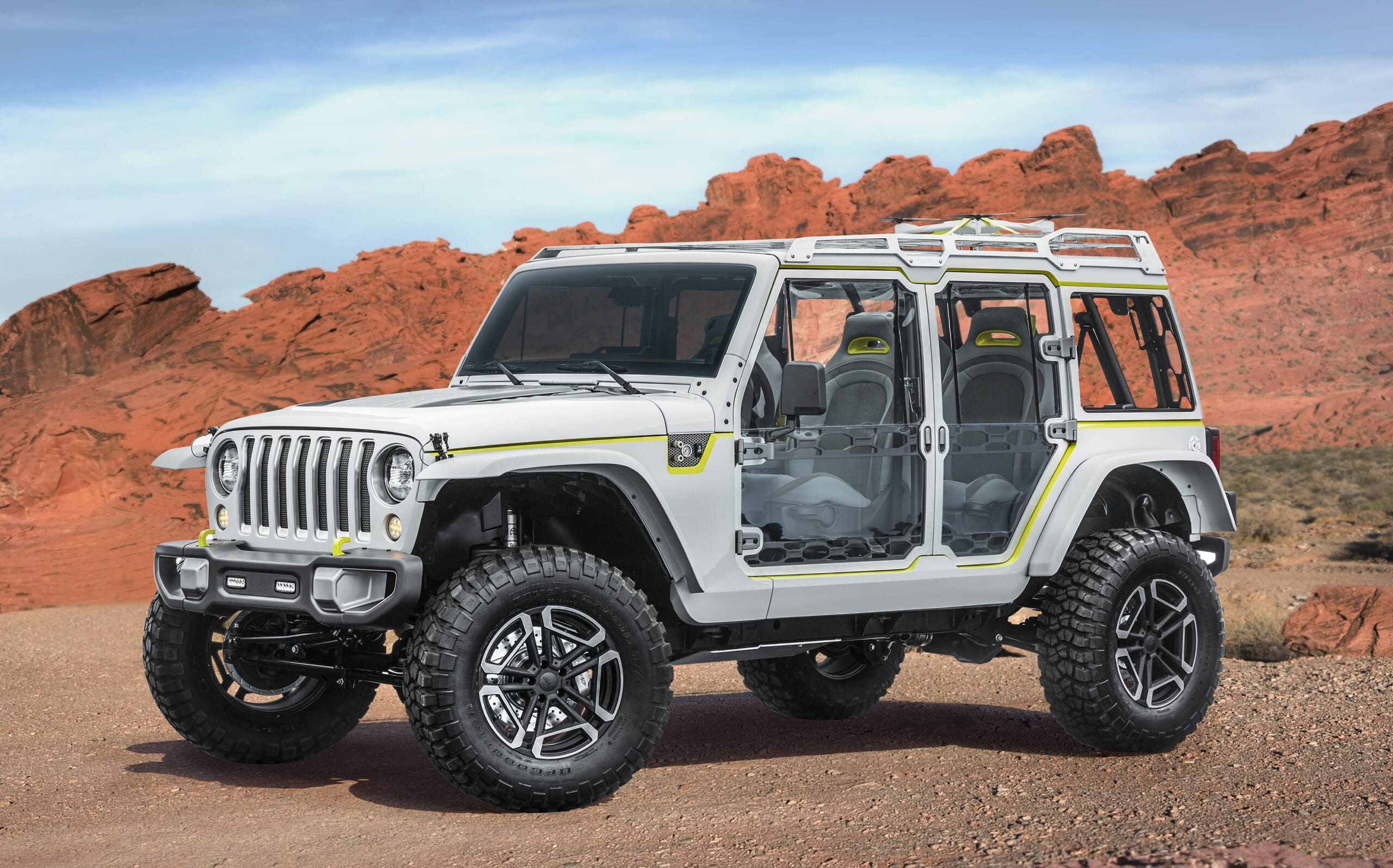 Jeep Safari. The Wrangler Unlimited-based Safari concept aims to maximize its appeal to sightseeing back seat passengers, with see-through "windoors," made of lightweight aluminum and clear vinyl and a translucent hard top roof panel.
A drone docks atop the aluminum roof rack to get close-up looks at distant objects, and the rear bucket seats are turn sideways to face out the sides, for easier spotting of wildlife and scenery outside the Jeep.
Jeep Trailpass. While the Wrangler is Jeep's iconic model, the brand likes to highlight the off-road capability of its other models, so it built the Trailpass to showcase the Cherokee in rugged conditions. 
This urban-oriented machine is countrified with the addition of a 1.5-inch lift kit and 18-inch wheels, plus a utilitarian Jeep roof basket and protective cross rails and rock rails to guard against frame damage while crawling over Moab's forbidding terrain.
Jeep Luminator. This concept machine highlights progress in lighting technology and it is bedazzled with an array of advanced lighting features developed for it by Italian electronics giant Magnetti Marelli.
The Luminator's astounding lighting array includes magnetic underbody rock lights, LED projector beam headlamps, LED tail lamps, A-pillar-mounted high-powered LED spot lights, upper bumper LED auxiliary lighting (with cornering fog lamps controlled by the steering angle), low-profile integrated overhead LED auxiliary spot lights protected behind the windshield, LED versions of the standard Wrangler fog lamps and turn signals, a hood-mounted scanning LED light bar module with active spot and dynamic following technology (to spot wildlife or hazards on the trail ahead).
If this isn't crazy enough, the center high-mount stop light also acts as a scouting/trail lamp with four-color LEDs for trail rides, indicating stop (red), 1-3 miles per hour (amber), 3-25 mph (green) or providing rear flood lighting (white).
Jeep Grand One. The "JZ"-generation Jeep Grand Cherokee debuted a quarter-century ago as a 1993 model and Jeep is commemorating that momentous event with the Grand One concept. 
Jeep's team dressed up this classic with 18-inch lace-style wheels mounting 33-inch BFGoodrich Mud-Terrain KM2 tires, a 2-inch suspension lift, locking front and rear differentials, high-clearance fender flares, trimmed fascias and a subtle wood grain treatment on the body.
They reinforced the Grand One's retro vibe with an authentic '90s-vintage car phone installed inside.
Jeep Switchback. Take a close look at the Switchback's concept hood, as it might preview the design of the upcoming 2018 Wrangler's hood. Elsewhere, this concept vehicle showcases a catalog full of Mopar and Jeep Performance Parts aftermarket accessories, such as front and rear Dana 44 axles, a 4-inch lift, Fox off-road shocks, heavy-duty cast differential covers, 10th anniversary steel front and rear bumpers, Rubicon winch, grille, winch guard, and cold air intake.
It also includes an axle-back exhaust, 17-inch concept wheels and 37-inch BFGoodrich Mud-Terrain KM2 tires, Jeep Performance Parts high-top fender flares, Mopar black fuel door and tail lamp guards, and Jeep Performance Parts swing gate hinge reinforcement with oversized spare tire carrier.
Those nifty half doors might not be included on the upcoming next-generation Wrangler, but maybe we can hope for them to appear in the company's parts catalog. If they do, maybe installing them can be your Easter activity next year.