2019 Jeep Easter Safari Concepts Are Ultimate Gladiators
Off-road awesomeness.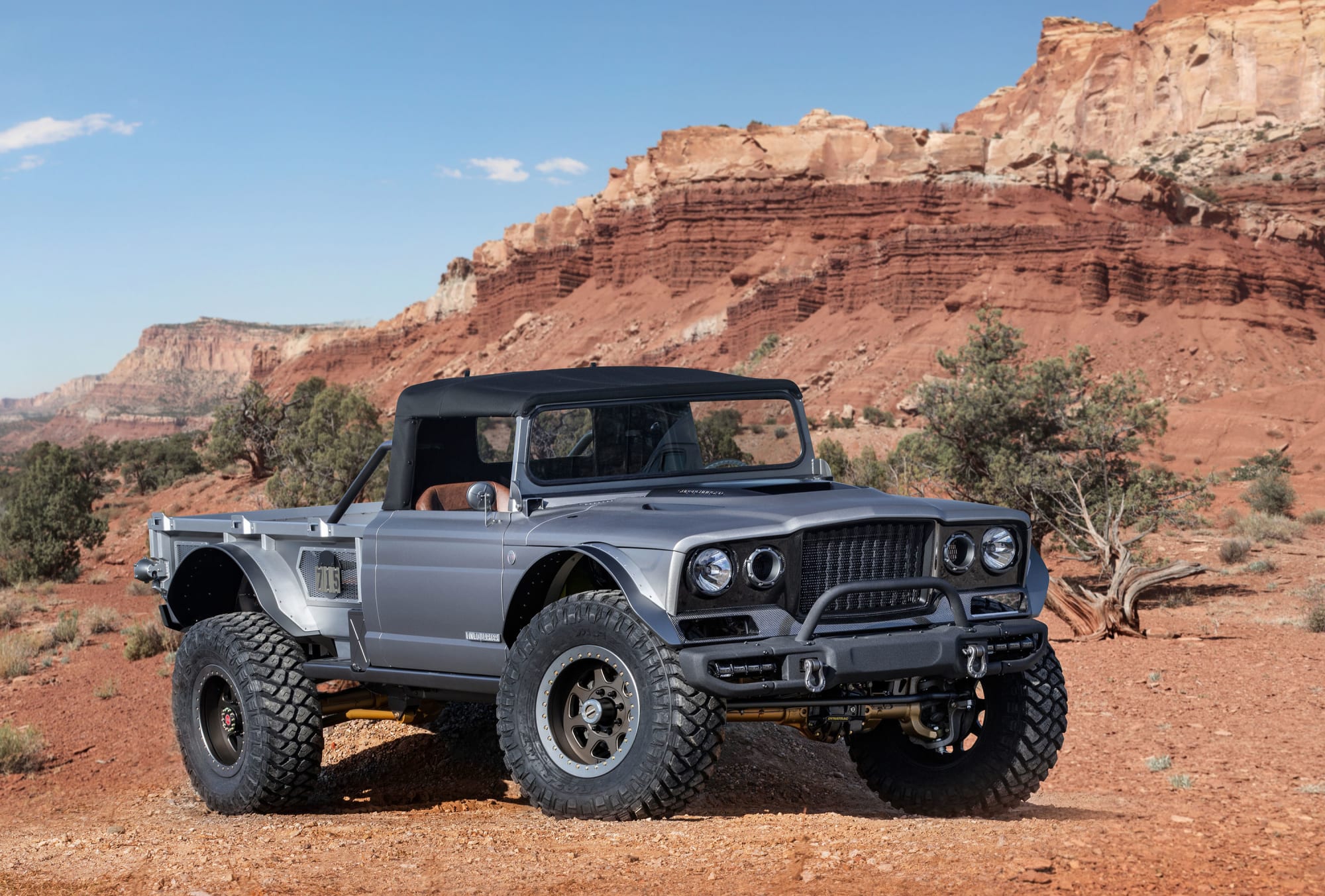 Jeep just unveiled the customized versions of the company's badass off-roaders that will storm the desert at the annual Easter Jeep Safari in Moab this month, and they're all based on the much-hyped Gladiator pickup. 
A stand-out is the tactical-spec "Five-Quarter." As Car and Driver notes, it's based on the 1968 Kaiser Jeep M-715, which was one of the first military vehicles ever derived from a production car. 
Don't let its retro looks fool you: a 6.2-liter supercharged Hellcrate Hemi V8 endows the Five-Quarter with a modern output above 700 horsepower. 
Though they're all "concepts," each one of these beastly 4x4s is very real and serves as a showcase for numerous Mopar performance parts you can buy online. 
With descriptions from Road and Track, check out Jeep's Easter Safari roster below:  
Jeep J6
This rig lost its rear doors but gained 12 inches over the standard five-foot Gladiator bed for better proportions. The color, badging and interior all take cues from the 1978 Jeep Honcho, and the truck's wheelbase is identical to that of a four-door Wrangler.
Jeep Five-Quarter
This truck started life as a 1968 Jeep M-715, blessed with that carbon-fiber front bodywork, a free-flow aluminum bed, a chopped roof, and a link-and-coil suspension.
Jeep Wayout
The Gator Green paint will be production-available soon, while the two-person bed-top tent, side awning, and gear racks help you carry along all the essentials. Dual auxiliary fuel tanks are flush-fit into the bed sides.
Jeep Flatbill
Integrated slide-out ramps make loading and unloading the bikes easy, while the high-clearance flares, deeply vented hood and 40-inch tires provide the appropriate Monster Energy aesthetic.
Jeep JT Scrambler
For awhile, there were rumors that Jeep would call its new Wrangler-based pickup "Scrambler," after the early 1980s CJ8 pickup variant. This concept pays direct homage to that machine, with Scrambler-style graphics in a killer color combo.
Jeep Gladiator Gravity
Bed rails and drawers hold your gear, tube doors and a bikini roof maximize the open-air experience, and rock rails and a two-inch lift kit with 37-inch tires help you get further into the wilderness.

Out of all this year's Gladiator concepts, this is the one you could most easily recreate with a Mopar catalog and a credit card.