The 707 HP Jeep Trailcat Is An Absolute Off-Road Beast
Jeep has unleashed the Trailcat and six other killer concepts.
What's it take to pump up a Jeep Wrangler to 707 horsepower? First, you drop in Chrysler's supercharged Hellcat Hemi engine, then you stretch the wheelbase an extra foot to boost this insane off-roader's stability and you chop the windshield down lower for racier looks. Result: the impressive Jeep Trailcat concept created for the 50th annual Jeep Easter Safari at the rock-crawling mecca of Moab, Utah.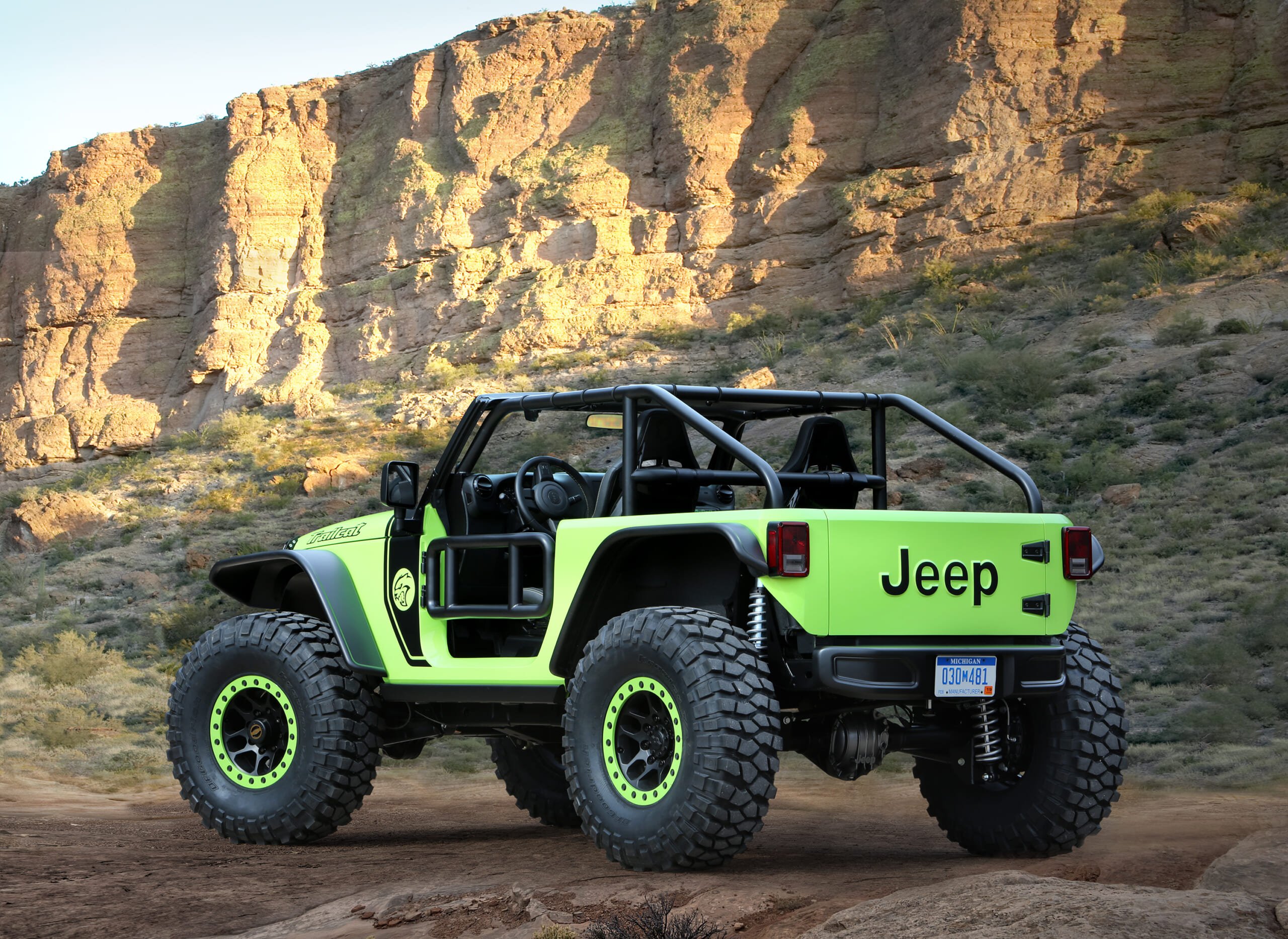 Jeep cooked up seven special editions for the occasion, with the Trailcat the most hellacious of the lot. In addition to its ferocious engine, the Trailcat is upgraded with 17-inch beadlock wheels, 39.5-inch BF-Goodrich Krawler T/A KX tires, front and rear Dana 60 axles and Fox shocks.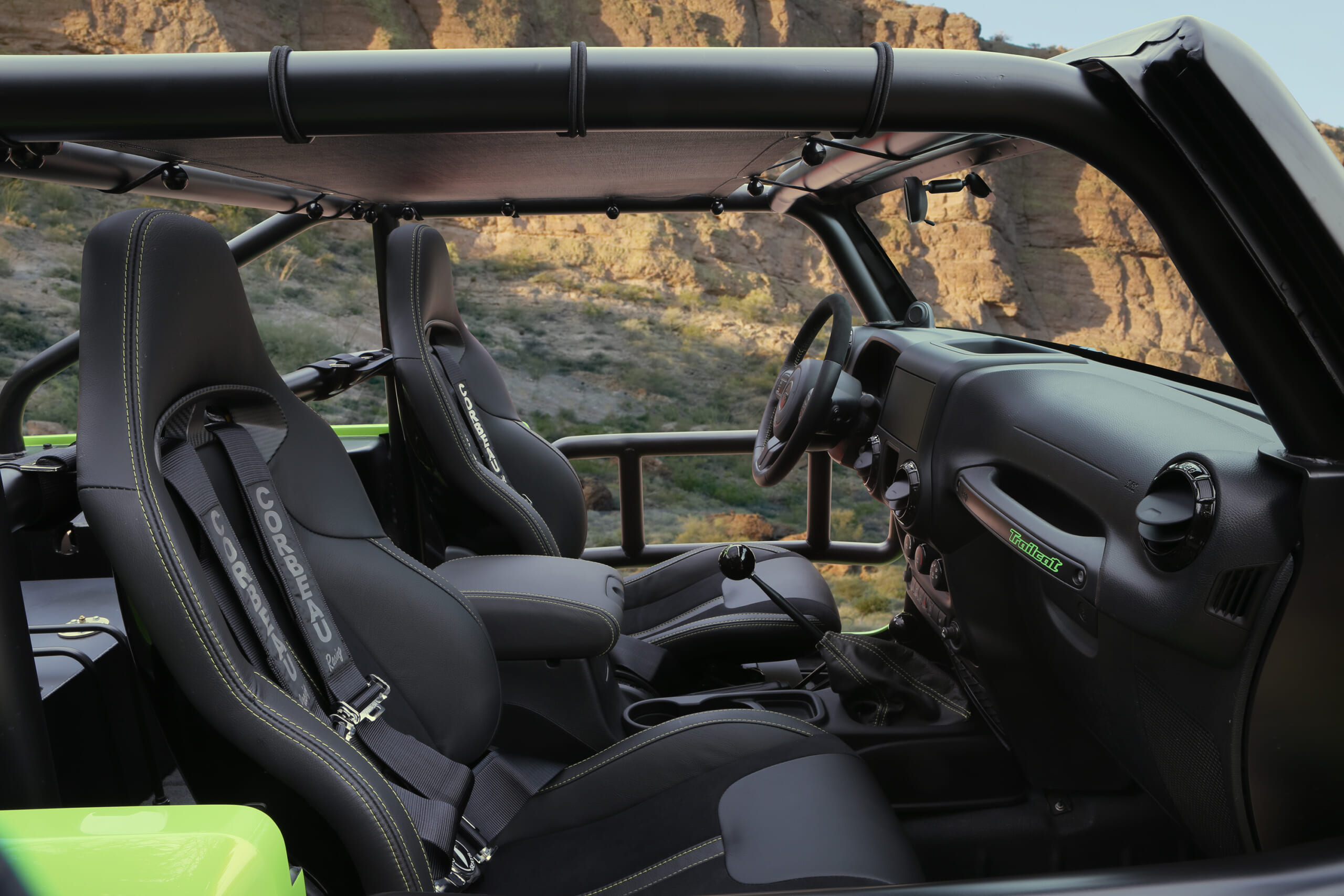 The other six concepts shown are the Crew Chief 715, the Shortcut, the Trailstorm, the Renegade Commander, the Commanche and the FC 150. "We're delighted to share seven of the most capable and eye-catching concept Jeep vehicles we've ever created at this year's historic event," gushed Mike Manley, head of Jeep in the trucks' press announcement.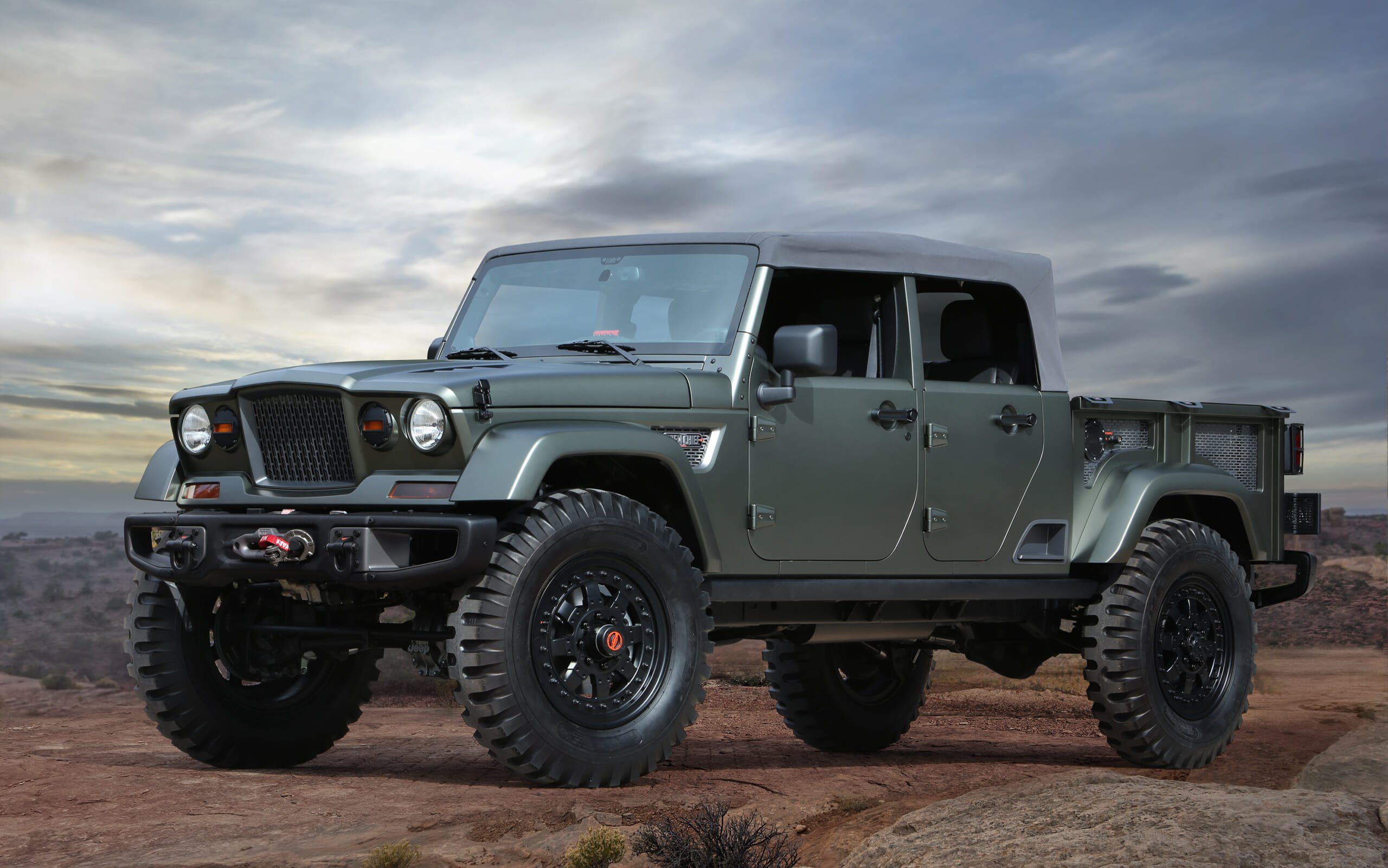 The Crew Chief 715 is a Wrangler Unlimited modified in the mold of the old Kaiser M715 military truck. In addition to the custom front sheetmetal and military-style cargo bed, the Crew Chief is underpinned with Dana 60 front and rear axles and a 4-inch lift kit with Jeep Performance Parts/Fox 2.0 Remote Reservoir shocks. 
It uses a stock Chrysler 3.6-liter V6 engine and five-speed automatic transmission. An automatic might not seem as authentic to the Crew Chief's styling as a manual, but they make rock crawling much easier thanks to the lack of a clutch pedal and the torque converter's torque multiplication for low-speed driving.
The Shortcut concept is civilian old-school, off-road from the Mad Men era. Its inspiration is the stubby CJ-5 civilian Jeep. Designers shortened a Wrangler by a foot (maybe this is where they got the extra 12 inches for the Trailcat!) and mounted 17-inch steel wheels with 35-inch BF-Goodrich Mud-Terrain T/A KM2 to achieve just the right appearance.
The Shortcut is also beefed up with Dana 44 axles front and rear and Fox shocks with a 2-inch lift. As with the Crew Chief, the powertrain is untouched, so it remains a 3.6-liter V6 and five-speed automatic. Plaid-upholstered low-back seats give the Shortcut the perfect pre-National Highway Traffic Safety Administration look.
The Wrangler Unlimited-based Trailstorm is an examination of ultimate off-road capability, with extra space for gear and fuel tanks, an interior that is coated with easily cleaned bed liner material and Mopar all-weather floor mats.
Mechanically, the Trailstorm gets 17-inch concept off-road wheels, 37-inch tires, a 2-inch lift kit with Fox shocks, a Jeep Performance Parts Rubicon winch, and Dana 44 front and rear axles. Cut-down half doors clear the view out of the Trailstorm. Again, power is stock Wrangler.
Jeep's designers also gave some attention to the company's tiny Renegade subcompact SUV, starting with the Comanche, which deserves a mention just for its "Beige Against The Machine" paint color. 
Obviously, the design team cut off the Renegade's steel roof and rear bodywork, replacing them with a folding soft top and open cargo bed. It features 16-inch painted wheels and 32-inch BF-Goodrich All Terrain T/A tires.

Powered is by a European-market 2.0-liter diesel I-4 engine and 9-speed automatic transmission with Jeep Active Drive Lock, which includes low range and a locking rear differential for climbing out of tough situations.
The Renegade Commander features A 2-inch lift kit and 17-inch Rubicon aluminum wheels with 29.5-inch BF-Goodrich All-Terrain T/A KO2 tires.
The Renegade Commander's coolest detail is its hood graphic, which shows a map of the 7-Mile Rim drive at Moab. Otherwise, this one is mostly stock, with rock rails, skid plates and modified exhaust to withstand the abuse of Moab.
Not all of the concepts are new trucks posing as old ones. The 1960 FC 150 (the FC stands for "forward controls," in reference to its forward-mounted cab) body is remounted atop the chassis of a 2005 Wrangler in place of the original CJ5 chassis.
It has been upgraded with a Dana 44 front axle, Dana 60 rear axle and 17-inch white steel wheels and 33-inch BF-Goodrich Mud-Terrain T/A KM2 tires. It is powered by a 2005-vintage 4.0-liter inline six-cylinder engine and three-speed automatic transmission.
If they act fast, loyal Jeep fanatics can see these concepts up close at the Jeep Easter Safari.
For the latest car news, follow @MaximRides and Dan Carney on Twitter.